Multnomah County is recommending that all people 5 and older wear masks indoors, regardless of vaccine status.
Sponsored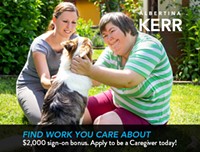 Become an Albertina Kerr Caregiver & help people experiencing intellectual and developmental disabilities.
The county, which previously recommended that only unvaccinated people wear masks indoors, announced the new recommendations in a press release Monday in response to a dramatic spike in COVID-19 cases across the state. While the county highly encourages people and businesses to follow the new recommendations, the guidelines will not be enforced in any way and individual businesses are still able to dictate their own masking policies.
Oregon has more than doubled its number of new daily COVID cases during July. The Oregon Health Authority reported almost 1,000 new COVID cases over the weekend, compared to 219 cases reported during the last weekend in June.
The press release cites an increase in social activities and the spread of the highly-transmissible Delta variant for the rise in cases. According to the county, universal masking reduces the risk of infection by at least 70 percent.
"We have an opportunity to make a difference in our county's case rates right now," said Multnomah County Health Director Jessica Guernsey. "But if we don't act, we can expect an exponential rise in cases, especially in pockets with low vaccinations."
The Delta variant has run rampant in unvaccinated communities, many of which are also communities of color. While vaccinated Oregonians are largely protected from the virus and its variants, fully vaccinated people can still catch the virus and become mildly-ill and can transmit the virus to other people.
A recent report from the Oregon Health and Science University (OHSU) projected that Oregon will see 300 COVID deaths in the next three months if there is no intervention. If the state reintroduces masking requirements for all people, the report predicts 227 of those deaths will be avoided.
"We need a quick course correction to protect children and other people right now," Guernsey said. "And masks offer that protection."
Update 7/27 5:30 pm:
The Oregon Health Authority (OHA) now recommends all people, vaccinated and unvaccinated, wear masks indoors. The agency announced the change in guidelines Tuesday afternoon after the Centers for Disease Control and Prevention (CDC) made the same recommendation a few hours earlier.
"The highly contagious Delta variant has increased tenfold in the past two weeks in Oregon, and it is now estimated to be associated with 80 percent of the new cases in Oregon," state epidemiologist Dean Sidelinger said in a press release. "The use of face masks provides significant protection for individuals who are unvaccinated as well as an additional level protection from a small but known risk of infection by the virus for persons who have already been vaccinated."