All Oregon K-12 teachers, staff, and volunteers must get vaccinated against COVID-19, Governor Kate Brown announced Thursday, citing the need to protect students who are not eligible for the vaccine from the highly contagious Delta variant. Brown is also strengthening her earlier vaccine requirements for state healthcare workers by
removing the option for workers to undergo weekly COVID-19 testing
if they do not want to get fully vaccinated.
Sponsored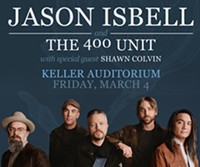 Jason Isbell has established himself as one of the most respected songwriters of his generation. Don't miss Jason Isbell and the 400 Unit, March 4th at Keller Auditorium!
The new requirements mandate education staff and healthcare workers be fully vaccinated by October 18, or six weeks after the vaccine is expected to receive full approval from the US Food and Drug Administration (FDA), whichever date comes later. The current COVID vaccines only have emergency authorization from the FDA, not full authorization.
The recent surge of the Delta variant has caused Oregon to shatter previous pandemic records, prompting these new mandates. The Oregon Health Authority (OHA) reported 12,741 new COVID cases last week—and set a new daily average record of 1,820 cases per day. Cases increased 53 percent from the week prior, making it the fifth consecutive week Oregon has seen an increase in cases. The number of new weekly hospitalizations due to COVID symptoms more than doubled as well, rising from 224 to 546 people hospitalized. Because of this surge, only 6 percent of ICU beds and 7 percent of standard hospital beds are available throughout the state.
Brown's Thursday announcement comes a day after Portland Public Schools (PPS) announced a vaccine requirement for its staff. Under the PPS rule, all PPS staff must show proof of vaccination by September 1, before students are back in the classroom. In July, Brown mandated all K-12 students to wear masks in the classroom during the upcoming school year.
Brown's announcement leaves some questions unanswered. For school staff, it's unclear if there are any exemptions to the vaccine requirement, or if staff will be fired for refusing to comply. In Washington, Governor Jay Inslee announced Wednesday that all school employees must get vaccinated or be fired. Brown has not announced such consequences, but will discuss the new requirement during a press conference Thursday. You can watch it live here:
For healthcare workers, Brown's removal of the testing alternative turns her previous healthcare worker vaccine mandate into a state requirement. Oregon law prohibits healthcare employers from requiring immunizations of their employees as a condition for employment, unless that immunization is required by state or federal law. By turning vaccination for healthcare workers into a state requirement, Brown appears to be giving hospitals and other healthcare employers the ability to require the vaccine as a condition of employment.
The OHA reports that, as of July 3, 70 percent of healthcare workers have received at least one dose of the vaccine.