On a chart graphing COVID-19 vaccination rates in Oregon by race, one green line soars significantly higher than the rest. The Oregon Health Authority (OHA) reports the COVID vaccination rate amongst Pacific Islanders in Oregon is at a
stunningly high 90 percent
as of September 8. Even more remarkable is the data out of the Portland metro region: OHA reports that 100 percent of all Pacific Islanders in Multnomah County have been vaccinated.
Noticeably absent is the celebration from state health officials for the Pacific Islander community shattering the state's goal of reaching 80 percent vaccination for Oregonians of color. That's because the numbers don't accurately reflect the rate of vaccinations for Oregon Pacific Islanders. In reality, community health workers believe the number of vaccinated Pacific Islanders is far lower than what OHA reports.
Sponsored
Sketch comedy troupes from all over N. America descend on The Siren Theater for 3 glorious nights.
The artificially high vaccination rates amongst Oregon's Pacific Islander community reveal a long history of undercounting and underinvestment in one of the state's fastest growing racial groups.
"This community has long been invisible because nobody was tracking Pacific Islanders, even from the federal level," said Joe Enlet, the Micronesia Consul General in Oregon. "So, there indeed is a gap between communities and these systems."
Enlet believes population data for Pacific Islanders in Oregon may be undercounted because of the way Micronesian people move to the US.
As of 2014, more than half of Pacific Islanders living in Multnomah County were born outside of the country—most likely on an island signed on to the Compact of Free Association (COFA) agreement with the US. COFA is a financial agreement between the US and the Federated States of Micronesia, Republic of the Marshall Islands, and Republic of Palau. The US assists the COFA islands financially in return for control over the islands' land, water, and air space. The agreement also allows COFA islanders to move to the US without a visa, green card, or any restrictions on their length of stay. COFA islanders hold a nonimmigrant status in the US, but can never become US citizens.
According to Enlet, who serves as a diplomat for the Micronesian islands, Oregon has the highest concentration of COFA Islanders within the contiguous United States, with hundreds—if not thousands—of COFA Islanders moving to the state every year. But, because COFA Islanders aren't processed through US immigration channels, the racial data of COFA Islanders is not being captured and included in the state's population data, leading to the chronic undercounting of the Pacific Islander community.
That undercounting has likely inflated the reported vaccination rates for Pacific Islanders in Oregon. Community leaders doing on-the-ground vaccine outreach know those numbers are inaccurate.
"When those numbers came out, at first we were surprised, and maybe a little suspicious," said Jacinta Galea'i of the Samoa Pacific Development Corporation (SPDC), a community organization performing vaccine outreach in southern Oregon.
Galea'i and other community health workers are suspicious of the high numbers because they still see vaccine hesitancy and vaccine access problems within their community—and because many Pacific Islanders in Oregon have minimal access to public health services and infrastructure. Because COFA Islanders are not US citizens, they are barred from accessing public health programs like the Supplemental Nutrition Assistance Program (SNAP) and Temporary Assistance for Needy Families (TANF). Historically, COFA nonimmigrants were unable to enroll in Medicaid, until decades of advocacy and a global pandemic inspired the federal government to restore the group's healthcare eligibility at the end of 2020.
While the recent change in Medicaid eligibility was welcome, Enlet says the damage of not having access to affordable healthcare had already been done.
"If people had the option of Medicaid [before the pandemic], they would have at least built up some level of community immunity," Enlet said. "If you're excluded from those programs, on a health level, on a policy level, on a social level, everything is working against you. No wonder COVID-19 thrives in our communities."
---
"When those numbers came out, at first we were surprised, and maybe a little suspicious."
---
Enlet believes the history of Pacific Islander people not being able to access public and civil programs contributed to the high numbers of COVID cases within the Pacific Islander population in Oregon. According to OHA, Pacific Islanders have the highest rate of COVID cases out of all racial and ethnic groups. As of September 8, Pacific Islanders average 11,564 COVID cases per 100,000 people. In comparison, white Oregonians average 4,331 cases per 100,000 people. During the surge of COVID cases in the summer of 2020, Pacific Islanders made up three percent of COVID cases despite only representing 0.5 percent of the state population.
It's expected that undercounting has probably skewed those case rates as well. Enlet believes that the first time many COFA islanders ever had to document their race in Oregon is when they were reporting a positive COVID case or being admitted to the hospital, meaning the number of COVID cases was likely disproportional to the underreported population size.
Despite unreliable state data, the stories of COVID's impact on the community show that the high case rates can't be exclusively attributed to inflation.
"I think we all experienced [the impacts of COVID] upfront and personal," said Manumalo Ala'ilima, executive director of the United Territories of Pacific Islanders Alliance Portland (UTOPIA PDX), a nonprofit supporting queer and trans Pacific Islanders. "We had family members and friends die early on. It was constant—right when you had one funeral, there was another funeral."
Ala'ilima lost five of their family members to COVID, and cites the profound suffering the pandemic caused for the Pacific Islander community as one of the reasons community groups worked so hard to bolster vaccine outreach.
To counteract the historic lack of access to public health systems, Pacific Islander community groups formed their own infrastructure to fight the rapid spread of COVID in their communities. Early in the pandemic, 10 organizations across the state—including UTOPIA PDX and SPDC—formed the Oregon Pacific Islander Coalition and began collaborating to host COVID-19 testing sites, translate and share information on the virus, and host vaccination clinics.
According to Jackie Leung, the executive director of Micronesian Islander Community Oregon (MIC), collaborating was key to raising awareness about each organization's services outside of the community they regularly served. The coalition also turned to faith-based groups and neighborhoods with high Pacific Islander populations to share information with people who did not regularly engage with nonprofit services.
In an effort to connect with vaccine skeptics, the coalition also hosts vaccine events in tandem with other community services, like back-to-school events where they distribute school supplies and food boxes, as well as vaccines. Kapiolani Mickey, a MIC community health worker, said those community events provided her with opportunities to interact with unvaccinated people in person and correct misinformation about the vaccine.
Mickey, whose husband died of COVID in January, uses her personal experience with the virus to explain the vaccine's importance to people who are hesitant about getting the vaccine.
"I still cry about it when I talk about it, but that's the only way I can relate the message to the community," Mickey said. "I always tell them, 'Don't be afraid of the vaccine because the vaccine is not gonna kill you, but COVID will.'"
Ala'ilima of UTOPIA PDX is proud of the work the coalition has done to vaccinate community members, but does not trust the state's data to give an accurate portrayal of vaccination rates in the community. According to OHA data, new weekly COVID cases within the Pacific Islander community have minimally decreased since vaccines were introduced to the public at the beginning of 2021. In 2020, Pacific Islanders averaged 29 weekly COVID cases. Since mid-June 2021, when the OHA reported Pacific Islanders reached at least an 80 percent vaccination rate, the community averaged 22 new COVID cases per week. The decrease is promising, but not what health workers would expect from an 80 to 90 percent vaccination rate.
The state's reported vaccination rate does not match what Pacific Islander health workers are hearing on the ground. Ala'ilima and Galea'i are currently coordinating new vaccine clinics in southern Oregon, where community members are reporting clusters of unvaccinated Pacific Islanders. Additionally, most of the coalition members offer wrap-around COVID services, like food delivery, bill support, and COVID testing. For the past month, Ala'ilima says UTOPIA PDX has been addressing a "barrage of [COVID] cases" that has kept the group's wrap-around service providers busy—another indication that vaccination rates are lower than OHA data indicates.
As the Delta variant sweeps through unvaccinated communities, the coalition isn't slowing down their efforts.
"We shouldn't be content or comfortable," said Galea'i with the SPDC. "We still have to keep talking and keep looking for people in our community who have not been vaccinated."
The SPDC is leading the coalition's vaccination efforts in southern Oregon, aiming to address pockets of unvaccinated Pacific Islanders in the state's more rural areas. In the Portland metro area, the coalition's vaccine events are still vaccinating up to 40 people per event and the groups are expecting to ramp up again once the vaccine is approved for children under 12.
While the Oregon Pacific Islander Coalition members are kept busy with responding to the immediate community needs caused by the pandemic, getting people vaccinated is a surface level issue in comparison to the root causes that created health disparities within the Pacific Islander community in the first place, according to Enlet.
"We've been sounding the alarm for the longest time, and so now it's like, here you go, this is a direct result of non-investment," said Enlet. "This is a critical moment for decision makers and policy makers to focus on vulnerable communities, because they will cost society, in the long run. If you don't take care of them right now and invest in these communities, this is what's going to happen."
---
"The data was in front of them before COVID. But it's screaming at them now."
---
Investment, according to Enlet, means creating more opportunities for COFA islanders—who can't vote—to participate in civic decisions, as well as making them eligible for basic government safety net programs, like SNAP and TANF.
"Access to safety net programs is just human rights," Enlet said, noting that solutions to addressing health disparity need to go further. "I shouldn't spend my time saying [the programs are] a solution because everybody already has to have that right."
Oregon Pacific Islander Coalition members also want to see the infrastructure they built during the pandemic maintained and used to build a better relationship between public health systems and the Pacific Islander community after the threat of COVID subsides. Ala'ilima of UTOPIA PDX is grateful for the support the coalition has received from county health departments, like funding for community health worker positions and vaccine supplies, but stressed that the swell of Pacific Islander public health infrastructure the coalition built during the pandemic only got the community caught up to where they should have been all along.
"We're expected to serve our community because no one else is doing it, but we definitely did not have the technical assistance to get us to the place where our counterparts have been for decades," Ala'ilima said.
The coalition believes they have a better chance of getting that technical assistance from local health authorities now that the pandemic has made the community's health disparities too obvious to ignore.
"The data was in front of them before COVID," Galea'i said, "but it's screaming at them now."
Sponsored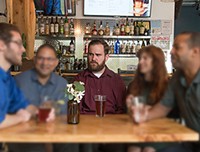 Adults aged 18-35 with good hearing will be paid for their time. Located at the Portland VA Medical Center