The Mercury provides news and fun every single day—but your help is essential. If you believe Portland benefits from smart, local journalism and arts coverage, please consider making a small monthly contribution, because without you, there is no us. Thanks for your support!
IN LOCAL NEWS:
Sponsored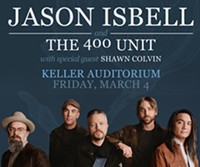 Jason Isbell has established himself as one of the most respected songwriters of his generation. Don't miss Jason Isbell and the 400 Unit, March 4th at Keller Auditorium!
• First things first, the most delicious week of the year HAS FINALLY ARRIVED! The Mercury's WING WEEK is happening all this week (through Oct 10) with 24 creative wing dishes from your fave restaurants and bars—and they're only $6 per plate! GET YOUR WINGS ON.
• Good news for fans of criminal justice reform: A ruling issued by the Oregon Supreme Court this morning will likely have the effect of clearing all current death sentences in the state, and possibly ending Oregon's death penalty entirely! Our Blair Stenvick has the details on this monumentally important decision.
(1/3) In light of the ruling coming out of the Oregon Supreme Court that will likely clear the state's death row, here's one of my favorite news features I wrote from 2 yrs ago: Oregon's Death Penalty Is Almost Nonexistent—So Why Can't We Get Rid of It? https://t.co/fgc2oqsDNH
— Blair Stenvick (@BlairStenvick) October 7, 2021
• The Portland Thorns took a powerful, emotional pause during their game last night with the Houston Dash, gathering midfield for a one-minute silent protest of the unacceptable behavior of front office management and the NWSL following the revelation that former coach Paul Riley allegedly sexually coerced and harassed players.
pic.twitter.com/fkG79FqJ5Q
— CBS Sports Soccer (@CBSSportsSoccer) October 6, 2021
• Shortly after Thorns players released a blistering statement about management's refusal to protect players, the Thorns' front office announced they were putting current GM Gavin Wilkinson on administrative leave while an investigation of how the management handled sexual abuse allegations gets underway.
• Sorry anti-vaxxers, but you've suffered another loss in the courts. An Oregon Court of Appeals has refused to stop the state's mandate that requires healthcare workers, as well as firefighters and paramedics, to get vaccinated.
Regional DEA officials say there's been a 275% increase in seizures of the counterfeit pharmaceuticals in the past year, including fentanyl. The spike has also led to more overdoses and deaths.https://t.co/qUuIku6udJ
— OPB (@OPB) October 7, 2021
• Woo-hoo, it's time for the newest edition of POP QUIZ PDX! And it's filled with fun, sassy-ass Qs about your fave topics: zoo animals, Portland con artists (new and old), and mmmmm... Halloween candy! TIME TO GET QUIZZY!
• If you like your horror laced with oddball smarts and dark comedy, check out this Chase Hutchinson review of A24's newest joint, Lamb.
IN NATIONAL/WORLD NEWS:
• Sensing they were walking into a public relations nightmare, Senate Republicans have made an abrupt about-face, and have agreed with Dems to extend the debt ceiling (i.e. the government's ability to borrow money) into December—a move that may have possibly avoided a global economic emergency. (Sorry, I'm not giving the GOP credit for doing what was merely "the decent thing.")
Jan. 6 panel issues subpoenas for right-wing 'Stop the Steal' group and organizers https://t.co/dzyDD8lx8b
— NPR Politics (@nprpolitics) October 7, 2021
• A new Senate Judiciary Committee report details the extraordinary lengths Trump went to in his attempt to overthrow the 2020 election, pushing GOP leaders across the country to declare massive voter fraud, and using intimidation tactics against the Justice Department to the point where there were almost mass resignations.
• Meanwhile Trump and his lawyers are advising his former aides—including Mark Meadows, Kash Patel, Dan Scavino, and Stephen Bannon—to ignore subpoenas to appear before Congress and answer questions about the former president's involvement with the January 6 domestic terrorist attack on the capitol. (Good! I'd love to see all these guys in jail.)
• Pfizer pharmaceutical is asking the FDA for emergency approval of their COVID vaccine for kids ages 5 to 11, and an FDA advisory committee has agreed to consider it at a meeting later this month.
• Today in "things we don't talk about enough": "Artist puts coffin on Trump's Hollywood star to highlight preventable COVID-19 deaths."
• Good news (for now): A federal judge has temporarily blocked the unbelievably cruel Texas abortion ban that has been forcing residents to get the medical procedure out of state. Appeals will surely happen, but for the moment we can breathe easier.
An excellent piece about Dave Chappelle and his tired transphobia. https://t.co/x1t54pmzx1
— Mark Harris (@MarkHarrisNYC) October 7, 2021
• Something to look forward to *other than* Dave Chappelle:

It's Agatha all the way! Marvel Studios is developing a WandaVision spin-off series for Disney+ that will see Kathryn Hahn returning as dark witch Agatha Harkness. https://t.co/eSIihBvkG3
— Consequence (@consequence) October 7, 2021
• Get ready for the fun fright of your life with SLAY—the Mercury's short HORROR film fest coming at ya online from Oct 22-31, and LIVE and IN-PERSON at the Clinton Street Theater on Oct 29 & 30! GET THOSE TICKETS NOW.
• And now... THE WEATHER REPORT: A mostly cloudy day tomorrow with a high of 62!
• And finally, today in NOBODY DOES IT BETTER....

The most amazing two-minutes you'll spend all day... pic.twitter.com/DbsQIz9ynz
— Rex Chapman🏇🏼 (@RexChapman) October 7, 2021