In the pantheon of musicians celebrating iconic anniversaries in their careers, it's common to hear remastered releases and even cover albums. Yet when you're not only paying homage to yourself but to an album that changed the music landscape, it seems only appropriate to take things to another level—which is exactly what we are getting from rapper Nas.
Sponsored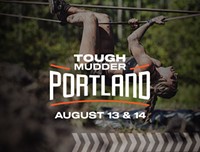 Lock in your summer adventure, Portland. Join us for world famous obstacles over a 5K or 10K distance.
His 1994 album, Illmatic (recently selected by the Library of Congress for preservation in the National Recording Registry), was gifted to us 25 years ago, and hip-hop music and its fans have never been the same. He has continued to curate a library of music that's the envy of fellow artisst and justifiably garnered him a legion of loyal fans. Just as Bob Dylan, another American musical giant, eventually went electric, we now get Nas going classical.
A performance with Nas and the Oregon Symphony will be held at the Arlene Schnitzer Concert Hall on November 10, led by Music Director David Danzmayr. They will be highlighting over a quarter-century's worth of Nas' greatest records, utilizing instrumentals from the full orchestra. We don't know exactly which tracks Nas will be performing with the Oregon Symphony—but we do know there's plenty of material to work with.
Hip-hop has its roots firmly planted in streets and elevated by its poets, but has never been tethered by preconceived boundaries of genre. Despite its early emergence from the tower speakers of Brooklyn's 808 DJs to the jazzy sounds of groups like Digable Planets and A Tribe Called Quest, we've heard what the music can be and where it can go. Luckily ,it's coming to our own backyard. You need only hear Nas' 14th studio album, King's Disease II (just released this August and creating sustainable buzz) to recognize the musical texture he plays with that can only be enhanced by some of the best instrumental musicians in the world. A track like "Death Row East," off this album, is rich with the type of production made for the masters of wind instruments to take to another level and enhance the depth of Nas' lyrics.
Journeying through his vast volume of music, it's to be expected that a classic like "One Love" or "If I Ruled the World" will be a fascinating experience when reinterpreted by the Oregon Symphony. What has potential to be the song everyone leaves the concert talking about and won't soon forget is "I Can" from the 2002 album God's Son. This song is designed to soar, yet with this musical collaboration there exists the potential to reach heights not even imaged by Nas himself. This is reason alone to experience the one-time-only event. Lyrically, "I Can" was one of the most uplifting songs at the time of its release, delivering an inspirationally honest and positive message with a bit of forgotten (untaught) history straight to the youth. Instrumentally, "I Can" sets up perfectly for this collaboration, as the original version even samples Ludwig van Beethoven's "Für Elise" and a choir of children to make the message an almost spiritual experience.
And nothing can make an auditorium of concert-goers feel a spiritual experience like the orchestral mastery of the Oregon Symphony.
---

Nas is performing with the Oregon Symphony for one night only, 7:30 pm Wednesday, November 10. You can find tickets here. Proof of COVID-19 vaccination or a negative test is required.
Sponsored
Virtual Auction Event & Drag Queen Fashion Show. You won't want to miss this show!