Over the last few years, Laser Malena-Webber—one half of the Portland-based folk-pop-comedy band The Doubleclicks—has been grappling with coming out as nonbinary, getting gender-confirming surgery, and the inherent challenges of being a human being with a body.
Sponsored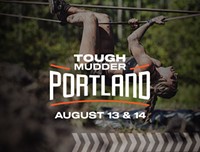 Lock in your summer adventure, Portland. Join us for world famous obstacles over a 5K or 10K distance.
"As I came out as a nonbinary person, I read a lot a of stories about robots and thought a lot about myself," they say. "I increasingly identify as a brain in a box, or wishing I was a brain in a box, and started writing more songs about that."
It was these musings that prompted Malena-Webber to start writing a musical—which eventually became Teaching a Robot to Love, out in album form this Friday, November 19.
"There's obviously a big trope about non-binary characters—frequently when we look to media for someone genderless, it's a robot or an alien," they say. "So when we try to find ourselves, we look at R2D2 or someone. Which on one hand is a bummer, because it'd be really cool if there were more human nonbinary characters, because there have been nonbinary people throughout the history of the world."
"But also," they add, "robots are dope."
Teaching a Robot to Love is about a protagonist with the opposite problem: A robot who wants desperately to take human form. It's also about "a group of queer friends growing and changing." For Malena-Webber, writing and performing as the robot character was therapeutic.
"It was wonderful to remember what is so great about being a person and interacting with humans," they say. "It's actually really lovely."
They co-wrote the album with bandmate Aubrey Turner, and music collaborator E. Aaron Wilson, who brought an 80s synth pop feel to some of the tracks. The trio first thought the musical was written in March of 2020. As the world soon shut down and recording got delayed, the musical book grew to include 20 songs, twice the original length. It turns out the social isolation of quarantine provided useful inspiration for a musical about the importance of human connection.
"This is the longest project we ever made," says Turner. "I'm glad [the pandemic] forced us to spend more time on the musical, because it turned out we had a lot more to say."
The Doubleclicks are premiering "Normal Human Party," the first video from Teaching a Robot to Love—which they hope to stage for the first time in 2022—with the Mercury today.
"It's a song about throwing a party and having anxiety, which is relatable," Turner says. "It's a song sung by a robot right after they get a body, and they wanted to have a party."
Watch it here:
Sponsored
Virtual Auction Event & Drag Queen Fashion Show. You won't want to miss this show!