If one of the primary "reasons for the season" is to stuff one's face with sugary, delicious cakes, pies, and cookies, then
Holler Treats
should go to the top of your holiday go-to list. Providing a mouth-watering assortment of those aforementioned goodies, this new bakery/coffee shop hang-out is a very excellent place to snag those yummy gifts for hard-to-please pals, or... well, you know... stuffing one own's face.
Sponsored
Sketch comedy troupes from all over N. America descend on The Siren Theater for 3 glorious nights.
Opened this past August, Holler Treats is nestled directly next to Sellwood's fried chicken-forward Holler, and is the latest edition to the Holler Hospitality Group restaurant empire, which also includes Bullard Tavern and Abigail Hall. And while Holler Hospitality's other restaurants focus on top-notch cocktails and comfort food, Holler Treats' colorful, brightly sunlit space has a very different mission: serving up some of the best coffee and sweets in town.
Curated by pastry chef Danielle Bailey, Holler Treat's menu consists of house-made ice cream, floats, pies, party cakes, and cookies—all to be enjoyed at home or on the premises with a hot cup of joe locally roasted by
Good Coffee
. The space also serves as an excellent choice for those sleepy, early morning meetups thanks to their menu of morning pastries, quiches, granola, tea cakes, and kolaches.
Bailey's pedigree is a laundry list of well-known, mid-2010 Portland eating establishments. She's an alumni of Western Culinary Institute and Lovejoy Bakers, as well as beloved, local pastry makers Pix Pâtisserie. Bailey also served a stint as head pastry chef at Vitaley Paley's late, great Imperial, which closed at the height of the pandemic. Her tenure at Imperial led to meeting Holler co-founders Douglas Adams—who has since left the organization to pursue fatherhood and other projects—and Jennifer Quist, who coaxed her to join the Bullard team, where her creative desserts grabbed a lot of attention, thereby inspiring the birth of Holler Treats.
But while the Holler family is primarily famous for Southern-style comfort, for Bailey, the focus is on providing the neighborhood with a place to gather for a morning or afternoon sip 'n' snack.
"I'd like people to see us as a quick, delicious place to grab a treat and coffee—as well as getting breakfast or hosting birthday parties," Bailey says. "And sometimes... well, one just has to have a homemade ice cream sandwich."
And make no mistake: That aforementioned ice cream sandwich is a showstopper. At least double the size and thickness of a store-bought ice cream sandy, Holler Treat's version can be easily shared with two (or even three) people. In fact, this is something I highly recommend—it's the finest incarnation of the cold dessert treat I've ever eaten, and could easily incapacitate those who try to take one down alone. (And trust me, you'll be tempted to try!)
Other don't-miss picks from their menu: Daily rotating ice cream scoop flavors (nothing "weird or savory" Bailey assures us), slices or full pies (of the berry, black bottom pecan, and salted honey variety), classic root beer, orange creamsicle, and apple pie floats, party cakes (Funfetti, Oreo Chocolate, S'mores, and more), and a wide array of cookies (chocolate crackle, almond butterscotch chip, chocolate chip toffee). Slices and small plate desserts always have a home in their display case.
But of particular note right now is their seasonal holiday menu, which pretty much solves the problem of "where can I pick up something delicious for holiday parties or gifts—
and this is important
—with very little effort on my part?" I was already a Holler Treat fan after purchasing their bourbon pecan pie which was the bonafide HIT of my Friendsgiving dinner, which is why I've already bookmarked Holler Treat's holiday menu, which includes festive turns on cakes, pies, and gift-worthy cookie boxes.
Of particular note is the Red Velvet Yule Log—a staple dessert down South, this version is delicately moist, with a rich cream cheese frosting and festooned with a chocolate Christmas tree decoration on the side. Unlike its Southern counterpart, whose sugary contents could knock the teeth from your mouth, Holler Treat's Red Velvet cake is not overly sweet, allowing its rich frosting to supply a very manageable sugar rush.
Meanwhile, their Assorted Holiday Cookie box is adorably wrapped and ready to present to your grateful friends and relatives, containing a whopping 16 delicious confections, including chocolate peppermint tea shortbread, cranberry jam thumbprint, chocolate crackle, and (be still my heart) pistachio cardamom shortbread with lemon frosting. I don't think anyone would blame you for carefully unwrapping the box and skimming one of each off the top for yourself—particularly the chocolate crackle and pistachio cardamom shortbread, as both are almost mind-numbingly delicious.
And not to beat a dead sleigh-pulling horse, but for god's sake do not miss their holiday peppermint chocolate chip ice cream sandwich, which is an absolute juggernaut of flavor (thanks to the inclusion of real mint), and was literally dragged away from my mouth by my jealous, vengeful family. It is that good.
Rounding out the holiday menu are such seasonal winners as the aforementioned bourbon pecan pie, pear and apple crumble, and sweet potato pie, a chocolate espresso yule log, and even more examples of that delightful store-made ice cream (malted milk chocolate, vanilla, and rum raisin). The only thing missing from the Holler Treats experience is a few more gluten-free and vegan options (besides certain ice cream and sorbet), but they're still young and so are you... so let's all remain patient as they continue to grow their menu.
And though walking in with any of these delights will make you the hero of all upcoming holiday parties, there's certainly nothing wrong with enjoying Holler's treats with a steaming cup of coffee by yourself in the shop and away from the crowds. While it may be the season of giving, it never hurts to take some time (and a cookie) for yourself.
Holler Treats, 7119 SE Milwaukie, Mon-Wed 10 am-7 pm, Thurs-Sun 10 am-9 pm, hollertreatspdx.com; order holiday treats by Dec 21, pick up between Dec 20 and noon on Dec 24
---
Sponsored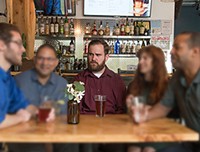 Adults aged 18-35 with good hearing will be paid for their time. Located at the Portland VA Medical Center