Opening its doors last April, Vietnamese woman-owned coffee roaster and café Portland Cà Phê has garnered a lot of well-deserved attention for specializing in single origin arabica and robusta coffee grown in the Central Highlands of Vietnam. Upon entering the cafe, it's hard not to notice the beautiful mural by Alex Chiu which depicts various regions in the country: Hanoi, Huế, Da Nang, Hội An, Nha Trang, Đà Lạt, Saigon (now Ho Chi Minh), and Mekong Delta. When owner Kimberly Dam started the business last spring, one of her goals was to challenge the stigma around coffee grown in Vietnam, and prove that it isn't just a super bitter, dark, and strong accompaniment to sweetened condensed milk.
Sponsored
Sketch comedy troupes from all over N. America descend on The Siren Theater for 3 glorious nights.
The menu at Portland Cà Phê's new brick and mortar certainly shows a range of flavors, offering the usual syrup options like vanilla and hazelnut, but also more unique choices like cardamom, lavender, rose, ginger, and ube (sweet purple yam). Alternative milks include oat, almond, and coconut. For their traditional, extra-caffeinated cà phê sữa đá (Vietnamese iced coffee) made with roasted arabica and robusta beans, they are happy to make it with sweetened condensed coconut milk instead of regular condensed. Lattes or steamers with housemade ube syrup are just as magical as their bright purple hue suggests, so it's no wonder why they're so popular. Some customers love their beverages topped with cheese foam, described by my barista as "liquid cheesecake" which adds a topping of even more sweetness.
Caffeine sensitivities beware: Decaf is currently not on the menu, so you'll have to settle for an iced tea, such as their hibiscus mango concoction, or a delightful ube steamer, which tastes like the sweet milk that's left over following a bowl of Cap'n Crunch. They also offer matcha lattes with matcha from Mizuba Tea Co., Diaspora Chai lattes, and a few other selections from Portland's Smith Teamaker.
The Southeast café is doing non-coffee things really well, too. The bánh mì sandwiches are a notable highlight, and it's no wonder since Dam's mother, Que Bui, owns the House of Bánh Mì. All their bánh mì selections feature a crusty baguette with pickled carrots and daikon, cilantro, cucumber, jalapeño, egg butter, and soy sauce. Being a vegetarian, I tried the teriyaki tofu and the fried onion tofu bánh mì, and both were absolutely stellar.
Since they don't go too heavy on the spicy mayo, the bites end up being both zesty and refreshing, and it's hard not to exclaim "yummm!" while eating their filling tofu sandwiches. Since they're happy to customize any bánh mì, in the future I'll be ordering mine with extra cucumber to get some added crunch in every bite. Other notable food items include an ultra moist lemon-poppyseed muffin with strawberry frosting, as well as cinnamon rolls, and housemade Pop-Tarts in various flavors, such as apple cinnamon and mixed berry.
And because ambiance is always critical, they're playing lots of current and throwback pop in the café, such as during my visit when I heard Justin Bieber's "Hold On," "Stuck On You (feat. Ariana Grande)," along with R&B like Destiny's Child's "Jumpin', Jumpin'," and Montell Jordan's "This Is How We Do It." Despite being in a slightly offbeat part of town, their line of excited customers continues to flow in. Once the shop procures some WiFi, this place will make an excellent place (for vaccinated customers) to post up to do some work on their laptop, and grab a very enjoyable lunch.
Portland Cà Phê, 2815 SE Holgate, Mon-Fri 7:30 am-4 pm, Sat-Sun 8 am-4 pm
---
Sponsored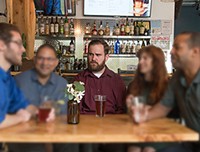 Adults aged 18-35 with good hearing will be paid for their time. Located at the Portland VA Medical Center