The Mercury provides news and fun every single day—but your help is essential. If you believe Portland benefits from smart, local journalism and arts coverage, please consider making a small monthly contribution, because without you, there is no us. Thanks for your support!
Sponsored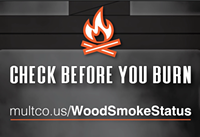 Having clean air means reducing wood smoke. Check before your burn from October 1-March 1.

Good morning, Portland! We've made it to a new year, ya'll. I am personally grateful to leave 2021 in the dust, with its false promises of a post-pandemic life, monster weather systems fueled by climate change, and weird COVID-19 spin-off series (Omicron is the "Frasier" of COVID's "Cheers"). Yet I have no false illusions about what 2022 may bring: The third year of a global pandemic, an Oregon governor's race, midterm elections, continued economic chaos, and a world without Betty White? Ick. All I can promise is that the Mercury will be here by your side to help guide you through whatever shitstorm this new year brings.
Starting... now:
- The Black Portland advocacy group Don't Shoot Portland is rallying to reclaim the Albina Arts Center, a former hub for Portland's Black community in North Portland. The building is currently overseen by the Oregon Community Foundation, but Don't Shoot leaders say it's time the facility is returned to Black-led nonprofit like theirs.
- ICYMI: On Thursday, the city released the results of an investigation into false hit-and-run allegations made against City Commissioner Jo Ann Hardesty in March, revealing that, yep, the former police union president was the guy who leaked the false accusations to the media.
New: As Portland's public safety system teetered in 2021, city elected leaders, time and again, struggled to deliver on modest short-term remedies—while their bigger-picture reforms got off to a sluggish start or failed to launch at all.

A detailed look👇https://t.co/iDYiYl7jN8

— Shane D. Kavanaugh (@shanedkavanaugh) January 2, 2022
- The Atlantic printed a deep dive into the question inspiring some in Eastern Oregon: "What if we were just Idaho?" Make time for this investigation into the grassroots movement to establish a "greater Idaho" that is absent Oregon's urban elites (and Black residents?).
- After sustaining a unseasonably bizarre wildfire Thursday, the Colorado region stretching between Denver and Boulder was blanketed by 10 inches of snow Sunday—throwing a wrench into the fire investigation and recovery efforts. It's still unclear what caused the fire that torched nearly 1,000 homes.
- Twitter has permanently banned US Rep. Marjorie Taylor Greene's personal account for violating its rules around COVID-19 misinformation. This is the result of Twitter's new "five strikes" rule, banning people who post COVID falsehoods in five separate instances. Yet Greene, who says Twitter "can't handle the truth," still has full access to her congressional account. Buckle up.
- A CBS News poll regarding the January 6 insurrection at the US Capitol found that 4 in 10 Republicans believe those who went into the Capitol "were actually left-leaning groups pretending to be Trump supporters." A few more bonkers revelations from the poll here.
- South African bishop and anti-apartheid activist Desmond Tutu was laid to rest Saturday, with his ashes interned in Cape Town. Instead of cremation, Tutu requested his body be aquamated, or aqua cremated, a cremation process much greener than cremation. And here's the local angle: The Mercury took a peek into Portland's first aqua cremation service in 2019. Learn up!
- Sudanese Prime Minister Abdalla Hamdok resigned Sunday, after Sudanese security forces killed three protesters during an anti-coup rally near the capital. Hamdok entered office in October via a military coup, a move that sparked demonstrations and unrest throughout the country. It's not yet clear what's next for the exhausted nation.
- I leave you with a sign-off from Betty:

Betty White improvising on the spot while Bea Arthur and Rue McClanahan crack up laughing is the only thing you need to watch today. pic.twitter.com/UEXDfxTQtr

— Tim Fullerton (@TimFullerton) December 31, 2021