Hard of hearing and deaf Oregonians now have an option to declare their hearing status on their drivers license and vehicle registration thanks to a
new state law
aiming to protect hard of hearing drivers during traffic stops.
Sponsored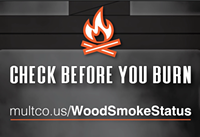 Having clean air means reducing wood smoke. Check before your burn from October 1-March 1.
As of January 3, hard of hearing drivers can apply to add a note on their driving record and a small icon of an ear with a slash through it to their physical drivers license or ID card. This is the first time the Department of Motor Vehicles (DMV) has offered drivers the opportunity to indicate their hearing status.
According to a 2016 survey from Western Oregon University, about 51 percent of deaf and hard of hearing Oregonians reported having difficulty communicating with the police within the previous year. That difficulty can include a non-hearing driver's lack of response to a command being perceived as dismissing the officer instead of not understanding them, potentially escalating the danger of the traffic stop for the driver. With the new indicator option, law enforcement officers will be able to see that a person is hard of hearing or deaf when they look up the driver's license plate from a patrol car prior to interacting with them during a traffic stop.
"This significant milestone is geared to build trust and cooperation between more than one million Oregonians with hearing loss and our law enforcement," said Chad Ludwig, executive director of Bridges Oregon, one of the deaf advocacy groups that lobbied for the new law. "It will foster a better understanding of communication needs while protecting and facilitating a strong relationship with law enforcement officers."
Portland Police Bureau spokesperson Nathan Sheppard said the new law "looks like an amazing opportunity" to help the police better serve deaf and hard of hearing communities.
"Although we can't predict with certainty the extent to which this extra information added to a driver license or registration might be helpful, it is certainly another tool to help increase the chances of a positive and useful interaction between officers and the community we serve," Sheppard said.
Portland police officers have an interpreter app on their work phones that can connect them with live language interpreters—including ASL interpreters—while out in the field, according to Sheppard. Officers can also request interpreter services if a hard of hearing person requests the service, and always have a "good ole' fashioned pen and paper available," Sheppard said.
Drivers can immediately add the indicator to their driving record by renewing or replacing their drivers license or vehicle registration card online at DMV2U.com. Standard renewal and replacement fees apply, but there is no additional fee for adding the indicator. No documentation is required to add the indicator to a driving record.