[For the entire month of January, Portland Music Month features 100+ musical acts designed to get you into our city's great clubs and venues, and $1 from each ticket goes to support individual music artists and their professional needs. Find out a lot more here, and enjoy the following preview of an upcoming Portland Music Month pick!—eds.]
Sponsored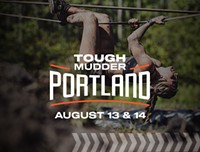 Lock in your summer adventure, Portland. Join us for world famous obstacles over a 5K or 10K distance.
Within the beautiful collage of live music options descending upon our city during week four of Portland Music Month is the sweet reggae sounds of Bumpin Uglies. This group consists of founding member, guitarist, and lead vocalist Brandon Hardesty, and is rounded out by Bassist Dave "Wolfie" Wolf and drummer TJ Haslett. These musicians embody a funky rhythm that's authentic and passionate, providing the sound that makes reggae so universally beloved.
They'll be joined by Artiskal Sound System and singer/songwriter Joey Harkum who are the Uglies' support acts during the group's "Slow Burn Winter Tour." Their spring tour was cancelled due to safety issues stemming from (you guessed it) COVID, as has been the case with acts across the country. During the time in-between, the boys have remained busy focusing on their music which, if all goes well, will be shared with crowds like those attending their Star Theater show on January 22.
"For the last ten years, we've been on what feels like the never-ending tour," Hardesty explains. "So in a year where the tour is forced to stop, we decided to double down on the music-making portion of our job description."
A product of this effort is their new track and the tour name, "Slow Burn." This single captures so many classic elements of a soulful reggae song with some modern edge that include a subtle scratch that no self-respecting fan of late-90's Ska-Rock will miss. The tranquility, mixed with fun, repeatable lyrics, makes it a song designed to stir a live audience.
Adding to the reggae vibe will be supporting act, Artikal Sound System, who are based out of South Florida and founded by Chris Montague (guitar) and Fabian Acuña (bass). Their story began in 2012 as a backing band for a series of Caribbean singers before picking up keyboard player Christopher Cope and drummer Adam Kampf. But the final piece of the sonic puzzle came together with the addition of their neighbor, female vocalist Logan Rex.
According to the band's website, "After nearly a decade of playing together, the boys sound tight and powerful, creating the perfect foundation for their jazz-influenced singer to dance around on lyrically and literally. What you hear is the sound of friendship, hard work, imagination and the hope to spread their message of love and the importance of having a good time."
Rex's vocal skills are evident within her boundless range and smooth delivery. Yet she also has a vocal swagger that's coated with a certain edginess, such as with reggae artists like Koffee, or what mainstream fans may recognize from Rihanna.
However the evening will begin with Joey Harkum, who spent a decade touring as the lead singer and songwriter of Baltimore-based band Pasadena before going it alone. Harkum's beauty on the guitar paired with poignant lyrics make for a collection of music worth showing up and settling in early for and absorbing.
While reggae has always struggled to be recognized as a chart-topping style of music, it's a genre people forget they actually love until they hear it again—and with this show, we'll get an amazing reminder.
Star Theater, Sat Jan 22, 8:30 pm, 21+, $15, tickets here

---