While Portland-born rapper and Benson Polytechnic High School graduate Aminé lives in Los Angeles nowadays, the fact that he continues to proudly represent Portland (and his native neighborhood of Woodlawn) is undeniable.
Sponsored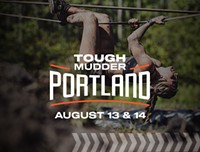 Lock in your summer adventure, Portland. Join us for world famous obstacles over a 5K or 10K distance.
He's certainly the most well-known and successful hip-hop act to ever come from the Rose City, and with every release he shows that it's not just a fluke. Many were introduced to the artist by his viral hit "Caroline" from 2016—the music video for which sees him horsing around outside a Big Kahuna Burger restaurant (a fictional Hawaiian-themed fast food chain made famous from Quentin Tarantino films) while wearing a Pulp Fiction T-shirt, riding in a sedan, playing video games, and eating bananas.
Since then, the artist has continued to evolve over the last several years while increasingly repping his hometown. His video for "Shimmy," a song off his 2020 project Limbo, is a love letter to Portland in which the artist showcases essential Portland landmarks like Providence Park, the Oregon Convention Center, the Alberta Arts District, as well as food staples like Kee's Loaded Kitchen food cart (along with owner Kiauna Nelson), and a Mike's Drive-In location. The joyful rapper has become known for his striking visuals, using a banana mascot as well including canary yellow in his video imagery and stage aesthetics.
Since his 2017 studio debut Good for You, Aminé has been making all kinds of celebratory star caliber moves—from his political anti-Trump rap tacked on at the end of "Caroline" during his post election performance on The Tonight Show Starring Jimmy Fallon, to making his acting debut in a 2020 episode of HBO's Insecure, playing Kelly's obliviously sincere love interest Darnell.
His latest effort, TWOPOINTFIVE, the sequel to 2018's ONEPOINTFIVE, is overwhelmingly produced by Lido and longtime collaborator Pasqué, and maintains Aminé's tendency to make bright, colorful music. The hyper-pop-tinged lead single, "Charmader," is a pleasant earworm that provides a preview for what to expect on the full 12-track project. In the almost cartoonish music video we see Aminé hanging out with a giant Clifford-sized doodle at a cabin in the woods, working out with his bae, smoking weed, chopping vegetables (next to, you guessed it, bananas), pruning flowers, and shuffling through his vinyl collection. It's a perfectly upbeat visual for a song that hears him rap "People be so phony, that's why I be on my lonely."

The album as a whole (or mixtape/EP/whatever) plays with distortion, altered-pitch vocals, chaotic raps, dance beats, and lots of nonchalant cultural references. One highlight is "Colors," on which he compares his states of mind to Starburst colors and wishes he were happier: "I wanna be happy like when I find a Starburst that's colored pink/ And then I find myself feelin' like the colors in between/ Stranger to my family so now I get no sleep/ My insides colored blue, but girl my Range is colored green." Meanwhile, "Mad Funny Freestyle" is a bouncy, braggadocious get-money-fuck-bitches anthem, and "Dididumduhduh" is a sultry downtempo ditty with voice distortion that should probably go on for another two minutes. "Between the Lines" sees the rapper struggling with the idea of commitment.
Let's hope he'll perform all of the above at his upcoming Portland stop on "The Best Tour Ever Tour." In the past, Aminé has played epic shows at Portland venues like Crystal Ballroom and the Roseland, but later this month he will be upgraded when he plays a massive show at Moda Center's Theater of the Clouds stage. Ready yourselves for stunningly sweet stage design, fun visuals, and a set packed with crowd-pleasing cuts.
Moda Center: Theater of the Clouds, 1 N Center Ct, Sat Jan 29, 8 pm,, $29.50-60, all ages, tickets and more info
---