The Mercury provides news and fun every single day—but your help is essential. If you believe Portland benefits from smart, local journalism and arts coverage, please consider making a small monthly contribution, because without you, there is no us. Thanks for your support!
Sponsored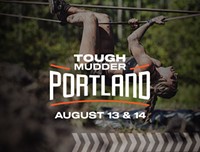 Lock in your summer adventure, Portland. Join us for world famous obstacles over a 5K or 10K distance.
Good afternoon, Portland!
Hope you're enjoying the sunny sunshine. Here are the day's headlines:
IN LOCAL NEWS:
• A Multnomah County committee voted yesterday to advance plans for a new, earthquake-resistant Burnside Bridge with one less lane for cars in an effort to expedite the construction process and save taxpayers some $240 million. Construction, already pushed back a year, could commence as soon as 2025.
• Criminal justice reform advocates and leaders in the state legislature are hopeful that a bill compensating wrongly convicted Oregonians for the time they spent behind bars will pass in the upcoming legislative session after it died in committee in 2021. The Oregon Department of Justice supports its passage.
• Researchers at OHSU have found that people infected with COVID and then vaccinated, or vaccinated and then infected, have an immune response ten times more potent than the immune response of people who have only been vaccinated—suggesting a potential path to super-immunity for a segment of the population and underscoring the value of getting vaccinated.
This Wednesday, Portland City Council will take public comment on a decision to seek vendors for a police body camera program. It's the first step in the latest plan to get cops equipped with cameras.

Here's the last time body cams came to City Hall:https://t.co/NsRJWpBdPh
— Alex Zielinski (@alex_zee) January 25, 2022
• The FBI raided the Illinois headquarters of the COVID-19 testing company currently under investigation by the Oregon Department of Justice and myriad other agencies across multiple states on Saturday.
Calling all music lovers: Win FREE TIX to see jazz greats Kurt Elling & Charlie Hunter AND the delightful Delgani String Quartet with the Mercury's FREE TICKET TUESDAY!https://t.co/8wYr0ieS9o
— Portland Mercury 🗞 (@portlandmercury) January 25, 2022
• Good news: it's FREE TICKETS TUESDAY—yes, that's FREE TICKETS TUESDAY—here at the Mercury. Enter here to win tickets Kurt Elling and Charlie Hunter and the Delgani String Quartet here.
IN NATIONAL NEWS:
• A group of ten Indigenous tribes are reclaiming ancestral land on the northern California coast after the Save the Redwoods League announced that it will transfer control of more than 500 acres on the Lost Coast, or Tc'ih-Léh-Dûñ, to the InterTribal Sinkyone Wilderness Council. The tribes will, rightfully, be responsible for protecting the land.
• The Florida Republican Party, led by 2024 GOP hopeful Ron DeSantis, is attempting to pass a bill that would require governments to produce economic impact statements for any ordinances they pass and another that would allow businesses to sue the government for passing any law that impeded its ability to make a profit.
• US and NATO officials continue to prepare for a possible Russian invasion of Ukraine, with the US planning to help direct natural gas supplies to Europe in the event that the continent's Russian supply is cut off in a potential conflict.
President Joe Biden said that he would consider imposing direct sanctions on President Vladimir Putin if Russia invades Ukraine, as Western leaders stepped up preparations for any Russian military action in Ukraine https://t.co/aVQTLSqPWu pic.twitter.com/ozVNa5FlfA
— Reuters (@Reuters) January 25, 2022
• Jerry Falwell Jr. is back in the news a year-and-a-half after resigning as president of Liberty University, telling Vanity Fair, "People think I'm a religious person. But I'm not." I'm sure many Christians would readily agree.
• It's back for 2022! America's sexiest, funnest dirty movie fest, HUMP! Coming at ya starting February 24 at Revolution Hall—GET YOUR TICKETS NOW!
• Finally...
Old Australian guy in my train says he knows Ye lol pic.twitter.com/93xhFh5Cr4
— She Extends (Read Pinned!) (@68tilinfinity) January 24, 2022