The Mercury provides news and fun every single day—but your help is essential. If you believe Portland benefits from smart, local journalism and arts coverage, please consider making a small monthly contribution, because without you, there is no us. Thanks for your support!
Sponsored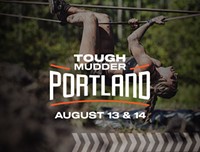 Lock in your summer adventure, Portland. Join us for world famous obstacles over a 5K or 10K distance.
Good, sunny afternoon, Portland! It's another beautiful winter day. (Enjoy it while you got it.) Here are the headlines!
IN LOCAL NEWS:
• Portland City Council is meeting this week to discuss selecting a vendor to operate the city's new police body camera program—a key step towards the implantation of an accountability measure that has been in the works for... (*checks notes*)... nearly a decade? Alex Zielinski has the story.
• Oregon's housing department is again taking applications for rental assistance, restarting its program after an eight-week hiatus thanks to new funding from the state legislature. A spokesperson said that the department estimates it has between $43 and $60 million to distribute to renters who apply starting today. (So get going!)
After several weeks of deliberate inaccessibility, Oregon's rental assistance program (OERAP) is now available! https://t.co/3XwBFFzlZA Providing proof of application can halt a non-payment eviction. Apply while you still can, it will only be open for 3-5 weeks!
— DontEvictPDX (@DontEvictPDX) January 26, 2022
• The Portland Clean Energy Fund is bolstering its proposal review process ahead of its second year of funding after last year giving $12 million to an organization whose executive director had spent time in prison for financial crimes. Isabella Garcia has more.
• Rotisserie chicken is delicious, and a new restaurant on NW 23rd is taking the classic meal to the next level—sourcing pasture-raised chickens and preparing them over the course of three days. Rotigo, short for rotisserie to go, also serves as a wine bar and market. Janey Wong has our review.
Newsy nugget: Mayor Wheeler says the OIR Group's report on racial/political bias within PPB will be released by the end of this month. (Aka by Monday).
— Alex Zielinski (@alex_zee) January 26, 2022
• The Oregon Department of Education has announced that it is withholding COVID relief funds from the Alsea School District in Benton County after the small district announced it would stop requiring masking in its schools in defiance of a state order. Very much related: Alsea schools are closed this week because of a rash of COVID outbreaks.
IN NATIONAL NEWS:
• Justice Stephen Breyer will—thank God—reportedly retire from the Supreme Court at the end of its current term, giving President Biden the opportunity to appoint his successor while the Democratic Party retains control of the Senate. Breyer, 83, is one of the court's three liberal justices and its oldest member.
• Biden, remember, promised during the 2020 campaign to appoint a Black woman to the Supreme Court—and White House press secretary Jen Psaki reiterated during her press briefing today that the president is standing by that commitment. Here are a few leading candidates for the role.
• The US and its allies continue to prepare for a possible Russian invasion of Ukraine, but Ukrainian officials are saying that a full-scale invasion is exceedingly unlikely and a targeted attack in the eastern part of the country is a bigger possibility.
Neoliberalism in Chile has led to the partial privatization of transit. On election day, private bus companies companies staged a boycott, refusing to transport working-class voters to the polls in an effort to hurt the socialist candidate. Story here: https://t.co/kv0pLK0XuA
— Meagan Day (@meaganmday) January 26, 2022
• Progressive leader Nina Turner is launching a second bid for Congress, setting up a rematch with moderate Rep. Shontel Brown for the Cleveland-based U.S. House seat that Brown narrowly won in a bitter special election last August.
• The Biden administration has chosen to mark the anniversary of the 2011 Egyptian revolution by approving a $2.5 billion arms sale to Egypt despite serious ongoing human rights concerns—even as Congressional Democrats were urging the administration not to approve a separate $130 million military financing package.
• It's back for 2022! America's sexiest, funnest dirty movie fest, HUMP! Coming at ya starting February 24 at Revolution Hall—GET YOUR TICKETS NOW!
• Finally... don't agonize, organize.
Become ungovernable pic.twitter.com/1ykOOLgnld
— Read The Dispossessed by Ursula K. LeGuin (@JoshuaPotash) January 26, 2022