Spitting at a TriMet employee is now punishable with a lifetime ban on riding the TriMet system.
Sponsored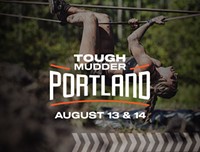 Lock in your summer adventure, Portland. Join us for world famous obstacles over a 5K or 10K distance.
TriMet's board of directors unanimously approved the code change at a meeting Wednesday. TriMet officials say that no specific incident caused the code change, but rather the board took action in an effort to support bus operators who have faced an increase in attacks throughout the pandemic.
"Most riders treat our operators and other frontline employees with respect, but those who don't should lose the privilege to use our transit system," said TriMet General Manager Sam Desue.
Spitting at and on people is a crime in Oregon and has always been in violation of TriMet code. Wednesday's code change, however, classifies spitting on a bus driver or other TriMet employee as a "serious physical offense"—a level of severity needed to give TriMet the authority to ban a rider.
TriMet first introduced rider bans in 2017. According to TriMet spokesperson Roberta Altstadt, TriMet officials wrote the ban policy so it could only apply in very specific cases where a serious physical offense, like assault, occurred.
"When we first created that policy, we worked with the community because there was concern that having the ability to issue long-term exclusions and lifetime bans could really be impactful on somebody, especially as they try to get back on track in the community and may really rely on transit," Altstadt said.
A first offense is punishable by a six month to a year ban and a second offense is punishable up to a lifetime ban at the discretion of the general manager. Former general manager Doug Kelsey issued the agency's first and only lifetime ban in 2019 against Jared Walter, a man who assaulted dozens of women while riding the bus.
Prior to 2017, TriMet worked with the Multnomah County District Attorney's (MCDA) office to include limited TriMet bans as part of an offender's sentence or parole for crimes committed on the TriMet system. However, the bans were ultimately up to the MCDA's office and were applied with less consistency than TriMet wanted, according to Altstadt.
"Spitting on an operator is absolutely outrageous, it's not acceptable, and it's never been something that TriMet has ever wanted to see happen to our folks," Altstadt said. "Now it can be up to TriMet and the general manager to issue long-term exclusions up to the lifetime ban."
While TriMet does not track the number of spitting incidents against drivers, TriMet union president Shirley Block said that instances of riders spitting and pouring liquids on drivers have increased with the rise of attacks on drivers during the pandemic. Block estimates that she received 300 reports of drivers being attacked during 2021.
"The drivers out there—full-time and part-time operators—are really tapped out," Block told the Mercury in December. "They're overworked. They're exhausted. They're nervous because we have so many assaults that are going on right now."
Block said that Desue consulted with the union before proposing the code change. TriMet is also piloting a new design in its buses: a large floor-to-ceiling shield that separates drivers from riders.
During Wednesday's meeting, the board also approved a code change that allows TriMet security staff to respond to non-criminal violations and prohibits transit police from checking fare in most cases. Both changes aim to rely less on police within the TriMet system as part of the agency's Reimagining Safety project.
The code changes will go into effect February 25.
Sponsored
Virtual Auction Event & Drag Queen Fashion Show. You won't want to miss this show!