Harriet Tubman Middle School students will not be relocated to the Martin Luther King Jr. Elementary School building as many had feared, Portland Public Schools (PPS) announced Friday. PPS officials are still deciding where Harriet Tubman students will move in 2027.
Sponsored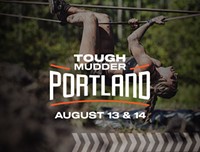 Lock in your summer adventure, Portland. Join us for world famous obstacles over a 5K or 10K distance.
Harriet Tubman Middle School, which sits next to the Interstate 5 corridor in the Rose Quarter, has long been polluted by the freeway. According to a Portland State University study, the air quality next to the freeway is so dangerous that students shouldn't be allowed to play outside.
The Oregon Department of Transportation's plan to widen the I-5 Rose Quarter corridor in an effort to address traffic congestion would move the freeway even closer to the school grounds. The middle school is currently about 50 feet away from the freeway, at the closest point. According to early design plans, the freeway project would move the wall separating the freeway from the school less than 25 feet from the building.
Concerned that the project will only worsen the air quality around the school, the PPS board pledged in July 2021 that if the state moves forward with the freeway project, it will "rebuild Harriet Tubman Middle School in a safe, healthy location." Governor Kate Brown said she will seek $120 million for the relocation project during next month's legislative session.
However, finding a new location for the school is a challenge.
In an effort to keep the new school location within the existing boundaries of the Harriet Tubman community, PPS officials proposed relocating the Harriet Tubman student body to the Dr. Martin Luther King Jr. Elementary School in the nearby King neighborhood—one of several elementary schools that feed into Harriet Tubman Middle School—in November 2021.
Parents and members of the MLK Jr. school community immediately rallied against the proposal, citing equity concerns that would come with merging the two majority non-white student populations into a single school or displacing MLK Jr. students to other elementary schools. As of 2021, 60.9 percent of Harriet Tubman students and 71.7 percent of MLK Jr. students are children of color, respectively.
"The [MLK Jr.] PTA's consensus is we want the best for both schools," said Tyler Brown, MLK Jr. parent and vice president of the school Parent Teacher Alliance (PTA), at a rally. "I want Northeast Portland to continue to thrive… It's important to have Black schools in a white state."
PPS met with Harriet Tubman and MLK Jr. community members in December, during which members of the public urged the district to take MLK Jr. off their list of possible relocation sites. The district's announcement Friday cited the community's concerns as a reason for its decision.
"We deeply appreciate our engaged communities and will continue to take into account both present-day implications and historical context as our community moves forward with the future relocation of Harriet Tubman Middle School," a PPS press release stated. "As we prepare for additional community discussions, we are sharing that we agree that this future middle school should enhance–and not displace–existing school communities in the Albina neighborhood."
PTA members at MLK Jr. Elementary School were "relieved" at the district's decision.
"As we heal from the trauma, we appreciate that our school community is safe and will remain engaged with school district leaders in the discussion of where to relocate Harriet Tubman Middle School," said MLK Jr. PTA president Tiffany Robinson.
Construction on the Rose Quarter I-5 project is slated to begin in late 2023. According to PPS staff, ODOT's construction directly next to the school can be done during the summers—when school is out of session—until September 2027, when construction will continue year-round next to the school. That means Harriet Tubman must move to a new location by August 2027 in order to avoid construction-related learning environment disruptions.
To meet that timeline, the PPS board must decide on a new location for Harriet Tubman Middle School by May 2022. PPS staff estimates that the process of building a new school or upgrading an existing PPS building will take a minimum of four years.
District staff are expected to provide the PPS board with a list of all the possible future sites for Harriet Tubman Middle School on February 1. The board members will narrow the possibilities down over the next couple months and present PPS staff with two possible sites for more in-depth study in mid-April. There will be opportunities for public comment and community discussions throughout the board's whittling process.
Community members can join members of the PPS board on February 7 from 5:30 pm to 7:30 pm at the Blanchard Educational Service Center to discuss possible sites for Harriet Tubman Middle School.