Portland City Council will vote on a resolution next week that will solidify the city's commitment to restoring both the fountain base of the Thompson Elk statue and the statue itself—both which were removed from their downtown Portland home after they were partially damaged during 2020's racial justice protests
Sponsored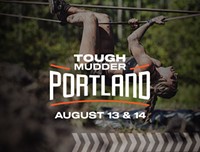 Lock in your summer adventure, Portland. Join us for world famous obstacles over a 5K or 10K distance.
It's the latest step in what's become a labyrinthine and politically tense path to return the elk statue to its original location—in the middle of SW Main St between SW 3rd and SW 4th. For many, the removal of the statue was a sign of weakness from city government on the heels of the momentous protests, while others clung to a personal feeling of sentimentality associated with the 122-year-old city landmark.
"For countless Portlanders, The Elk is part of the soul of our City, and restoration of the fountain is connected to the healing of Portland," said City Commissioner Dan Ryan in a Friday press statement. "I look forward to celebrating the return of the Thompson Elk Fountain with our community as we heal together."
The resolution, introduced by Ryan and City Commissioner Carmen Rubio (who oversees the city's parks bureau), simply directs the city's Office of Management and Finance to work with all related city departments to "fully restore and return the Thompson Elk Fountain to its original condition and location to the extent feasible."
The city initially announced in February that the statue would be returning to its original location, but with a narrower base to help SE Main better accommodate for buses and bicyclists. But the news sparked instant outrage from historic preservationists and others who felt the concession was a symbolic sign of defeat by those who damaged the original fountain.
Notably, the monied anti-homeless group People for Portland began a public campaign to lobby city commissioners' offices to reject this plan and instead return the original fountain to the statue's base. It appears that campaign was a success.
On Friday, Ryan said that the "fountain base represented our vitality as a community."
A press release outlining next week's resolution explains that Portland Parks Foundation (PPF), a nonprofit that advocates for Portland's parks, offered the city financial support to thoroughly analyze how to restore the foundation base while not hampering transportation. The city has not set aside any public funding to back this resolution.
According to PPF's director Randy Gragg, an unnamed "civic patron" offered to fund the upfront costs of such an analysis last month. The findings will inform what decision city council makes regarding the elk statue and its fountain base.
"The Foundation's investment will help us understand how to repair the Fountain, what it will cost, and also address the core safety concerns with having a fountain in the middle of the street," said Rubio in the Friday press release. "I look forward to their findings and appreciate their ongoing partnership."
City Commissioners will vote on the resolution at Wednesday's city council session.