The Mercury provides news and fun every single day—but your help is essential. If you believe Portland benefits from smart, local journalism and arts coverage, please consider making a small monthly contribution, because without you, there is no us. Thanks for your support!
Good morning, Portland! Let's get right into it.
In local news:
• Election workers are hard at work counting your ballots (I'm looking at you Clackamas County), but here's what we know so far: Commish Ryan appears to have a solid hold on reelection, Commish Hardesty will have a runoff with one of her challengers this November, Jamie McLeod-Skinner is still leading Kurt Schrader, and Tina Kotek is the Democratic nominee for Governor. There's more where that came from in the Mercury's election round up.
• In union news: Cannabis growers at CBN Holdings have been on strike for more than two weeks in an attempt to get the company to recognize their union. However, agricultural workers are not covered under the National Labor Relations Act, which means that there is no government agency that can require CBN Holdings to recognize the union or enforce the company's adherence to labor laws. "It doesn't really make sense that you have this big industry in the state of Oregon, and you only have certain people that get the protections," said a United Food and Commercial Workers Local 555 representative.
• BREAKING: We're still in a pandemic
COVID-19 cases have doubled in Oregon over the past month, prompting differing COVID safety recommendations from state and county health officials. https://t.co/FOd8gjINe2
— Portland Mercury 🗞 (@portlandmercury) May 18, 2022
• St. Charles Health, a hospital system in central Oregon, will lay off 105 caregivers and cut 76 vacant positions in an attempt to recoup pandemic costs, the health system announced Wednesday. Leaders at St. Charles said the hospital incurred $21.8 million in losses from January to April alone. The hospital attributed the financial strain to having to hire traveling nurses and short contract staff, both of which require higher wages, to respond to the pandemic.
• Do you like funny people being funny? You do? How wonderful! Check out Chase Hutchinson's convo with comedy duo Girl God, who are preforming in Portland this weekend.
"We are the most famous trans comedy duo of all time," Clark said in an interview fresh off a performance at the Netflix Is a Joke comedy festival in Los Angeles.

"Yeah, I think we can actually for sure say that," Freud echoed. "Name one other."

"I actually can't think of any other trans comedy duos, I wish I could," Clark said.

"Are you sure, what about Abbott and Costello?" Freud asked.

"Fair, okay. But we're more famous than them for sure," Clark responded.
An unofficial MCSO challenge coin relating to 2020 protests underwent a review by the sheriff's office after Street Roots first reported on the coin in April. The review is complete, but the office is refusing to release the results, @k_rambo_ reports.https://t.co/PSJVadehf3
— Street Roots (@StreetRoots) May 18, 2022
In national news and international:
• About one third of all Americans should be wearing masks indoors, the US Centers for Disease Control and Prevention (CDC) said Wednesday. COVID cases are rising across the country, with areas in the Midwest and Northeast seeing particularly large surges. "We urge local leaders to encourage use of prevention strategies like masks in public indoor settings and increasing access to testing and treatment,"said CDC director Rochelle Walensky.
• New York Attorney General Letitia James announced she will launch an investigation into any online resources the Buffalo shooter "used to discuss and amplify his intentions and acts to carry out this attack." The white gunman, who drove three hours from his home to a Black neighborhood and shot 13 people in a grocery store, allegedly shared his plans online five months prior to the shooting and streamed the shooting on Twitch before it was removed form the platform. The probe will include Twitch, 4chan, 8chan, and Discord.
• Congrats to Taylor Swift, who received a honorary doctorate from New York University and delivered the class of 2022 commencement speech.
"Learn to live alongside cringe." Taylor Swift gives a commencement speech after receiving an honorary doctorate from NYU.

Full story: https://t.co/efwVnVBcjE pic.twitter.com/jSrVbSfwLF
— The Associated Press (@AP) May 18, 2022
• A mother in Chicago was charged with child endangerment Wednesday after her 8-year-old son took her gun to school where it went off in his backpack, striking another student. The injured student was taken to the hospital in good condition, according to Chicago police. The gun was allegedly under the mother's bed when her son took it. "This may not have been an intentional act, but it is a supremely negligent act," said a county judge.
• Russia is claiming to have a laser weapon prototype that they are using in Ukraine. The weapon, which supposedly burned up a Ukrainian drone three miles away within five seconds, would give Russia significant firepower in its ongoing invasion of Ukraine—if it's actually real. US defense officials say there is no proof that Russia has deployed a laser weapon and Ukrainian President Volodymyr Zelensky dismissed the claims as propaganda. "The clearer it became that they had no chance in the war, the more propaganda there was about an amazing weapon that would be so powerful as to ensure a turning point," Zelensky said in a video address.
• And let's end today with this phenomenal Freudian slip by former President George W. Bush.
Former President George W. Bush: "The decision of one man to launch a wholly unjustified and brutal invasion of Iraq. I mean of Ukraine." pic.twitter.com/UMwNMwMnmX
— Sahil Kapur (@sahilkapur) May 19, 2022
Sponsored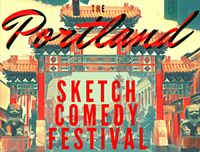 Sketch comedy troupes from all over N. America descend on The Siren Theater for 3 glorious nights.