Hello
Mercury
Music readers! It's Mac Smiff, and I'll be covering for our beloved Jennifer Moore while she takes some time to celebrate and bond with her adorable new baby! No worries, she'll be back. But in the meantime you'll have to put up with me.
This weekend contains the much anticipated confluence of Juneteenth and the annual Pride Festival, so expect it to be busy outside, even if this rain keeps falling through the first days of summer. There's more than enough events planned, and there's no way I could ever cover them all for the rate the Merc is paying, but let me bend your ear for a minute about a few events, Hear in Portland, that sparked my interest, and might spark yours as well.
[Correction: An earlier version of this article gave the former address of Rainbow City as the location for La Familia Fest. The correct address—Rainbow City's new location—is 301 NW 4th. Yes, it says the old address on their site, but the Mercury STILL regrets this error.]
La Familia Fest
Tonight Portland-based collective La Familia holds mini-festival La Familia Fest at Rainbow City's relatively new location on NW 4th. The fest boasts the buzzing trio of Swiggle Mandela, Timmi Hendrixxx, and Jasey Cordeta whose street and industry cred recently skyrocketed following a collaboration with Harlem, New York, legend Jim Jones. A whole contingent of hip-hop artists take the stage—including Anthony Rivera, Ugly Gang, and Hinnessy Da Goon—for what should be heavy-hitting, but light-hearted and raucous time. (Rainbow City, 301 NW 4th, Thurs June 16, 9:30 pm, $20, 21+, tickets here)
Blast To The Past
Also tonight, new drink company El Hempe—which infuses terpenes into alcoholic beverages, giving them the taste of weed but without the THC or CBD—is getting into events with a Y2K throwback party at Bossanova Ballroom. Tres Noir hosts the evening, which featuring sounds from Verbz the DJ. In one of the of the wildest promotions I've ever seen, attendees will be allowed to dodge the cover fee by bringing in an empty can of El Hempe. The night also includes big name features like Bay-area legend Nef the Pharaoh, and performances by the sneakily popular trio of HS.Ry, fr3do, and HS.Dro: a recent University of Oregon graduate who's made a name for himself with silky vocals. (Bossanova Ballroom, 722 E Burnside, Thurs June 16, 9 pm, $20 door, 21+, tickets here)
---
The Flow Show
Every month, local MC and producer Chain Taylor and DJ Arcadia have been holding a massive freestyle event called the Flow Show, and this week is its one year anniversary! In celebration, the event has expanded out to two weekend nights and promises over 40 artists, sharing and testing their improv rap abilities in front of all-ages crowds. Highly suggest checking out young up-and-comers Bremer Baden, Refugio, and Glam Doll who've all had standout performances at The Thesis lately. (Mano Oculta, 1420 SE Powell, Fri June 17 & Fri June 18, 7pm, $10, all-ages, tickets here)
---
ReBirthed
Local artist, creator, and operator of the greenHAUS co-working space Cole Reed puts her spin on celebrating Juneteenth with ReBirthed: a block party that brings together yoga, textiles, fashion, business and, of course, music in the center of Old Town/Chinatown. Mid-afternoon musical performances from Stotle of Heavy Gold, Mic Capes, Veana Baby, Woehishijee, and more precede a runway show that goes on until 7 pm. (Tuck Lang Gallery, 140 NW 4th, Sat June 18, Noon, FREE)
---
Juneteenth Oregon Presents: Juneteenth 2022
The holiday may be new to many, but Juneteenth Oregon is celebrating 50 years of existence this weekend, collaborating with PDX Jazz to bring none other than Jay Electronica to Portland to rock alongside some of the city's brightest. Fun fact: Mic Capes inclusion on Saturday's lineup means he's doing back-to-back performances on Saturday. He'll be joined by Rasheed Jamal, MadgesdiqCEG, and others on that big stage. On Sunday, the soul shows up—Mike Phillips, Liv Warfield and Tahirah Memory and BridgeCity Soul keep the party going. This could potentially be the biggest Juneteenth event Portland has ever seen. Don't miss out. (Lillis-Albina Park, N Flint Avenue and Russell Street, Sat June 18, 11am and Sun June 19, Noon, FREE, tickets here)
---
Pride Northwest: Mainstage
Last but certainly not least, Pride Northwest takes over Tom McCall Waterfront Park with the annual Portland Pride Waterfront Festival. Celebrated outdoors since 1976, its one of the largest pride celebrations on the West coast and the jewel of Pride Month. The festival includes an eclectic two-day Mainstage concert that highlights some of the Pacific Northwest's dynamic artists, such as award-winning hip-hop artist Roullette Delgato—who strongly established himself as a staple in the hip-hop community since sharing his own coming out story a few years back—and the highly talented stripper, model, songwriter, rockstar, and self-described "queerdo," Toxic. (Tom McCall Waterfront Park, 98 SW Naito Pkwy, Sat-Sun June 18-19, Noon, $8 suggested donation)
---
Sponsored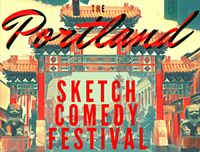 Sketch comedy troupes from all over N. America descend on The Siren Theater for 3 glorious nights.