LOCAL AUTHOR Chelsea Cain loves dark humor. Her Heartsick series, starring Portland detective Archie Sheridan and serial killer Gretchen Lowell, is a dark, messy, cinematic parade of murder, lust, and addiction—with all those elements intertwined. But it's funny, too, and features strong women characters, thereby making Cain (a former Mercury contributor) a very reasonable choice to pen a new Marvel series starring S.H.I.E.L.D.'s most kickass female spy, Bobbi Morse (AKA Mockingbird).
Usually a secondary character in the Marvel Universe, serving as an intermediary between S.H.I.E.L.D. and more famous heroes, Bobbi's life took a severe left-hand turn during a New Avengers storyline, in which her near-death was averted by Nick Fury's Infinity Formula and Captain America's Super Soldier Serum. Though her life was saved, this weird cocktail gave her powers she's just now beginning to understand—and this is where Cain's Mockingbird series takes off.
Illustrated by Kate Niemczyk in a crisp, retro style that practically pops off the page, Mockingbird portrays Bobbi Morse as a knife-sharp super spy enduring the day-to-day bureaucracy of your average faceless corporation. Wary of her new abilities, S.H.I.E.L.D. requires her to drop whatever mission she's working on to undergo various (and sometimes hilarious) medical tests, and though she may feign normality, there's a lot she's not telling doctors. (This includes hallucinating geriatric zombies.)
Confused? In her afterword, Cain calls this first issue of Mockingbird "a puzzle box," but assures readers the pieces will eventually come together. No need to worry: Mockingbird is a fun, Easter-egg-filled, and action-packed breath of fresh air in the male-dominated world of comics. And with an author as accomplished and competent as Cain at the helm, the reader is in very good hands.
---
Mockingbird, Issue #1
by Chelsea Cain, Kate Niemczyk
(Marvel Comics)
Sponsored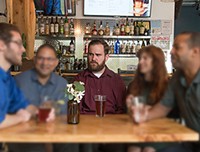 Adults aged 18-35 with good hearing will be paid for their time. Located at the Portland VA Medical Center