It must be hard to have the Johnny Cash of modern horror for a father. Nevertheless, both of Stephen King's sons turned out to be novelists.
His oldest son, Joe Hill, writes horror under that pseudonym. His younger son, Owen King, claimed that he naively thought no one would care about his dad when releasing his first book, Double Feature, in 2013. He considered his writing comedy.
But that didn't stop the younger King from joining in on his father's press junket interviews for The Shining sequel Doctor Sleep. A story emerged that Owen King had provided edits to Doctor Sleep, because in all his years of exposure to his dad's writing, he'd never read The Shining—or even seen the movie. [*GIANT EYES EMOJI*—Eds.]
With Sleeping Beauties, the father-son duo collaborated properly, and the result is a post-apocalyptic magical feminist thriller about what would happen if all the women in the world fell asleep and became cocooned in moth-like sacks. Their male counterparts flail, drink, shoot guns, and rationalize their increasingly poor choices. It's like Lysistrata except the women don't do anything.
Originally conceived as a script for TV (Orange Is The New Black meets Supernatural, I guess), the concept for Sleeping Beauties feels derivative, but Stephen King has built his career on seemingly simple premises. Engaging point-of-view characters and action-packed writing are what readers really look for in a King thriller, and Sleeping Beauties does not disappoint.
King still knows his way around the vertigo-inducing decline of a society in crisis conveyed through three characters: Likable therapist Clint Norcross hides his rough past from his super-cool wife because he doesn't think she can handle it. Responsible veterinarian Frank Geary explains away violent outbursts that frighten his young daughter. Don Peters, an irredeemable manchild, uses his authority to take advantage of women inmates at the county prison.
The similar reasoning patterns for all three present an obvious commentary. These men, while they disgust one another, share an underlying identical contempt for women; it's simply operating at varying intensities.
That's a bold idea to float and a very Stephen King thing to try. In fact, it's challenging to locate Owen King in this book because Sleeping Beauties uses all of his dad's regular dance moves and ultimately returns to the elder King's standard theme: the evil men do.
---
Sleeping Beauties
by Stephen King & Owen King
(Scribner)
Sponsored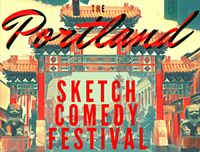 Sketch comedy troupes from all over N. America descend on The Siren Theater for 3 glorious nights.