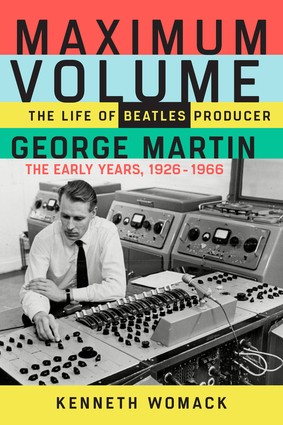 Kenneth Womack's new book on
George Martin
is the first of two volumes (the second comes out next year), and it seems to be the first biography of the Beatles producer, which is kind of surprising. That alone makes
Maximum Volume: The Life of Beatles Producer George Martin, The Early Years 1926-1966
a significant work in and of itself (although Martin himself wrote a pair of memoirs in the '90s, the first of which—1994's
All You Need Is Ears
—Womack sources for insight into his early years).
Womack's book, perhaps unsurprisingly, is dominated by Martin's working relationship with the Beatles, which began in 1962—quite late in the 40 years this first volume surveys—but takes up more than three quarters of the text. While Martin's pre-Beatles years are covered more than adequately, it might have been fun to dive deeper into his groundbreaking work producing comedy records with the likes of Beyond the Fringe and Peter Sellers, much of which demanded wild creativity in the studio and stood him in good stead when the Beatles began to expand beyond their two-guitars-bass-and-drums sonic template. Britain's "satire boom" of the early '60s contributed a huge part to the Beatles' DNA, something that often gets overlooked by critics and fans.
Regardless, Womack's research is definitive, and his book is thorough, at times almost repetitively so—Maximum Volume provides an overview of each individual recording session the Beatles undertook, despite such territory having been covered extensively in countless other Beatle books. I'd say the prose could be tightened perhaps one or two percent, as he reiterates certain points a few times, but despite the comprehensiveness of his profile, Maximum Volume generally remains a speedy, flowing read. The insights are numerous, even for Beatles scholars: Martin's scandals were few, but it's interesting to learn his upbringing was one of abject poverty, something he deliberately tried to conceal by acquiring a posh accent, and he carried on an affair during his first marriage with the woman who eventually became his second wife. The book is also invaluable in providing insight into his struggles with Parlophone Records' parent corporation, EMI, which at times threatened to overshadow his artistic and commercial breakthroughs with the Beatles. While the conflict with EMI was complicated and tough to summarize, Womack provides an ample overview without getting too bogged down in the details.
The lack of attention played to Martin's personal life does in fact make sense: He was essentially a workaholic, and any accurate biography would need to be dominated by his work in the studio. Although I think I would have preferred a slightly tamped down text and for both volumes to be contained within a larger, single book, Maximum Volume will be a great Christmas gift for any dyed-in-the-wool Beatles fan, especially those who've already read all the familiar Beatle bios. Judging from Womack's insight into the first half of Martin's life, paired with the clean, readable functionality of his prose, I feel safe in saying that with the upcoming second volume, he's got you covered for next year, too.
Maximum Volume: The Life of Beatles Producer George Martin, The Early Years 1926-1966
by Kenneth Womack
(Chicago Review Press)