If 2017 left you wanting to opt out of the annual year-end list tradition altogether, I get it: The impulse to torch this motherfucker of a year—with its nascent fascism, environmental catastrophe, national tragedies, distressing tweets from the Cabbage Patch Doll in Chief, and profound disrespect for anyone who isn't a straight white cis guy—is, I think, a natural one. It might even be healthy? But to cast aside this year is to also ignore Democratic triumphs in the South (the South!), the de-lightful inability of the GOP to pass nearly anything, and a national reckoning with sexual abuse and assault that, while painful to most and surprising to some, isn't shocking to the women who've been putting up with this shit for hundreds of years with no recourse. This was also a good year for books, a development that requires no positive spin to appreciate. Here are some of our favorites from the year that was. MEGAN BURBANK
---
The Show That Never Ends:
The Rise and Fall of Prog Rock
by David Weigel (Norton)
Earlier this month,
Washington Post
reporter David Weigel earned the wrath of our dipshit president by tweeting a photo of a Trump rally before the full crowd had entered the arena. Weigel apologized and removed the tweet, but Trump kept grumping, so I feel it is of utmost importance to urge you to purchase multiple copies of Weigel's recent book simply to piss Trump off. Although it has nothing to do with politics, Weigel's
The Show That Never Ends: The Rise and Fall of Prog Rock
is a great read—an invaluable, gossipy tome for progressive rock eggheads, and a charming overview of the genre for neophytes. Weigel's affection for the ornate, oft-times pompous music made by British male musicians in the early '70s is infectious, and while he never plays down prog's ridiculous excess, he also shines a light on its forward-thinking ambition and craggy beauty. NED LANNAMANN
---
What Happened
by Hillary Rodham Clinton (Simon & Schuster)
I found Hillary Rodham Clinton's
What Happened
hard to get through for a number of reasons: It's about the worst thing that happened in 2016 and the fallout from it, so nearly every page made me cry, and it's a long book that hops right into the weeds of public policy, media analysis, sexism in politics (boy howdy is there a lot!), and the Trump campaign's alleged collusion with Russia. Oh, and it also captures the particular sadness of being an ambitious woman who is disliked for having goals and a brain, in a way that is devastatingly recognizable and reminded me why I made the choice, like Clinton did, to attend college without men. But I made it through (being on deadline helped!) and I'm glad I did, because
What Happened
is an oddly cathartic book; full of dry humor and no-nonsense fact-finding, it confirms what I knew to be true throughout the 2016 campaign: HRC was right about almost everything, and she would've been an amazing president. That year, I spent a lot of time trying to synthesize some kind of understandable defense of Hillary Clinton for people who hated her for irrational reasons. In 2017, I no longer cared to. I like her, and reading her book helped me process the 2016 election, and I won't apologize for either of those things. MEGAN BURBANK
---
Walkaway
by Cory Doctorow (Tor)
The near-future of Cory Doctorow's
Walkaway
holds up a cracked mirror to 2017: The wealthy huddle in cities and mansions, reaping the benefits of oligarchy. Yet just outside city limits, vast swaths of wilderness have been surrendered to "walkaways"—a semi-federated mass of rebels and weirdos who've left behind the crumbling remnants of capitalism in order to build... well, whatever comes next. These aren't roving bands of
Mad Max
scavengers; in Doctorow's future, 3D printing is powerful and accessible enough to create just about
anything
. In this post-scarcity world, no one has to go without, and the former basis of society—the maintenance of power, health, and safety by denying them to others—has fundamentally changed. (A simple truth uttered by one of Doctorow's characters—"Our identities exist in combination with other people"—has enormous ramifications.) But even as the old ways die, Doctorow's more interested in what we'll replace them with. Nearly every page of
Walkaway
boasts an exhilaratingly potent or inventive idea; with enthusiasm and cleverness, Doctorow imagines a sprawling, open-source society of makers and doers. Powering it all is Doctorow's humane earnestness—and an unspoken challenge. When the world has gone to shit, he argues, don't surrender. Walk away. Look around. Join up. And help create "the first days of a better world." ERIK HENRIKSEN
---
Sing, Unburied, Sing
by Jesmyn Ward (Scribner)
In Jesmyn Ward's
Sing,
Unburied,
Sing
, 13-year-old Jojo goes on an uncomfortable road trip with his volatile young mother and small sister to pick up his white father, recently released from Parchman Penitentiary in Mississippi. Ward builds Jojo with as much care as she does Leonie, his errant, drug-using mother. Cruel toward her children and consistently prioritizing her relationship with Jojo's dad over motherhood, she's easy to hate. But the chapters from Leonie's perspective imbue in the reader a reluctant empathy, revealing a proud woman wounded by the untimely death of her only brother, Given. With shades of Toni Morrison's
Beloved
, the book explores historical trauma haunting future generations of Black Americans. We see this in the spirits that follow the small family; in the way that Parchman—once a prison farm Jojo's Black grandfather was sent to unjustly as a teen—continues decades later as Mississippi State Penitentiary; in the way racialized violence—from cops and civilians alike—constantly licks like a flame on the edge of Jojo's world. The book is a story of difficult love, necessary survival, and the past meeting present, and is a worthy winner of this year's National Book Award. KJERSTIN JOHNSON
---
Tell Me How it Ends: An Essay in Forty Questions
Valeria Luiselli (Coffee House Press)
Valeria Luiselli's
Tell Me How it Ends: An Essay in Forty Questions
is the 2017 book I think everyone should read. Using her time volunteering as a New York court interpreter for unaccompanied Central American children as the book's spine, Luiselli's 100-page essay is an accessible and devastating look at the reality of northward migration to the United States. Deeply researched, personal, and written in distilled, gorgeous prose that demands to be read,
Tell Me How it Ends
captures the great injustices that come from trying to lump complex lives and circumstances into a single political issue. JOSHUA JAMES AMBERSON
---
Against the Fascist Creep
by Alexander Reid Ross (AK Press)
Portland anti-fascist journalist and lecturer Alexander Reid Ross' book made waves in leftist circles as one of the most thoroughly researched histories of fascist organizing and theoretical lineage from Mussolini to the so-called alt-right of today. It clarifies that fascists understand race and nationality through a mythic lens, advocating for a strict and bloody separation, but that this will be disguised through mainstream appeals to nationalism and co-option of movements like ecological justice, socialism, and anti-imperialism. The particular phenomenon Ross points to is the far right's tendency both to use leftist language from a nationalist lens and infiltrate anti-capitalist organizations in their opposition to liberal-capitalism. Ross also doesn't reduce the "creeping fascists'" cynical anti-capitalist organizing tactics to "horseshoe theory," the centrist position that claims the radical left inevitably ends up becoming the same as the far right. Rather,
Against the Fascist Creep
urges the radical left to recognize and confront fascism wherever it attempts to rear its ugly head. CAMERON CROWELL
---
Hostage
by Guy Delisle
(Drawn and Quarterly)
I regret that
Hostage,
a 436-page nonfiction graphic novel by Quebecois cartoonist Guy Delisle that recounts the 1997 kidnapping of Doctors Without Borders administrator Christophe André, seemed to fall through the cracks this year. I'm not a fan of Delisle's other work, but by working in close cooperation with André, he's captured a sparse, methodical narrative that feels true to life. Making Andre's imprisonment into a comic allows the reader to feel the time stolen from a hostage's life, while André's pragmatic perspective and approaches to maintaining his sanity are oddly comforting. SUZETTE SMITH
---
Homing Instincts:
Early Motherhood on a Midwestern Farm
by Sarah Menkedick (Pantheon)
I got so much out of Sarah Menkedick's
Homing Instincts: Early Motherhood on a Midwestern Farm
. This memoir is about the author's transition from being a world traveler and adventurer to becoming a new mother living on a farm in rural Ohio. I am not a mom, and I'm not convinced I want to be one, but reading her book brought me to understand why someone might. Menkedick's prose is so beautiful and descriptive that I found myself tearing up reading her words, even when they were happy. I am in awe of writing that induces empathy and allows us to experience someone else's place in a meaningful, lasting way. I still think about her family sometimes. MERYL WILLIAMS
---
HONORABLE MENTIONS:
Forest Dark by Nicole Krauss (HarperCollins)
Oathbringer by Brandon Sanderson (Tor)
On A Sunbeam by Tillie Walden (self-published)
Rabbit Cake by Annie Hartnett (Tin House)
The Answers by Catherine Lacey (Farrar, Straus & Giroux)
The Trouble with Reality by Brooke Gladstone (Workman)
There Are More Beautiful Things Than Beyoncé by Morgan Parker (Tin House)
Too Fat, Too Slutty, Too Loud by Anne Helen Petersen (Plume)
We Are Never Meeting In Real Life by Samantha Irby (Vintage)
What About the Rest of Your Life by Sung Yim (Perfect Day Publishing)
What it Means When a Man Falls from the Sky by Lesley Nneka Arimah (Riverhead Books)
You Don't Have to Say You Love Me by Sherman Alexie (Little, Brown)
Sponsored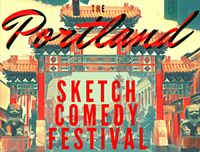 Sketch comedy troupes from all over N. America descend on The Siren Theater for 3 glorious nights.