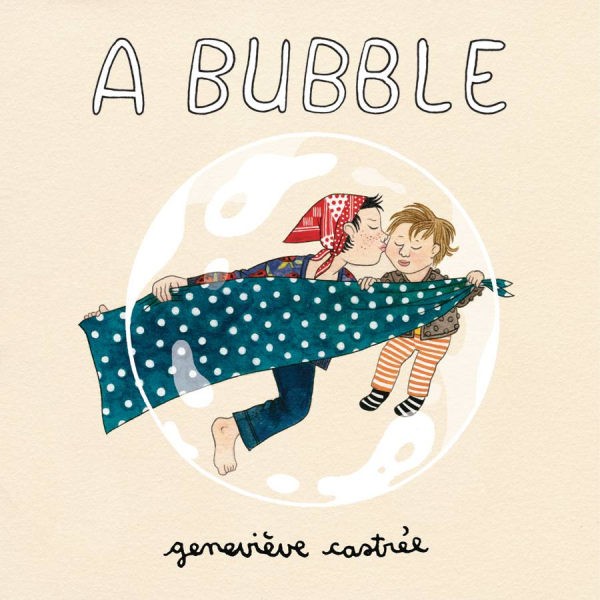 I have never reviewed a baby book before, but this one feels significant. A Bubble, the beautiful children's book just released from comics publisher Drawn & Quarterly, is the last work of comics artist and musician Geneviève Castrée. Published within a stone's throw of the two-year anniversary of Castrée's death, it's hard to imagine who exactly will love such a sad book. Who is this book for? Castrée's widower, musician Phil Elverum, simply says, "It's for our daughter." He also notes that, despite the work's personal feel, Castrée always intended it to be published. "It's a beautiful thing she made, even though it's wrapped in such a devastating context. I am still amazed at her devotion to her creative projects. She was unique in terms of her artistic inspiration."
Geneviève Castrée was one of my favorite comics illustrators. Her meticulous folk-art style filled her pages with motion and vibrant color. Large expressive faces, wiggly arms, and bending legs were emblems of her work. I've compared her drawing style to master illustrator Maurice Sendak, but Castrée also bore the influence of '90s indie artists like Julie Doucet. Her subject matter was similarly autobiographical, personal in a way that broke conventions and encouraged her readers to face reality even as they read evocatively drawn cartoons. For example, her 2013 graphic novel Susceptible explored Castrée's difficult younger years when she realized that—despite being a teenager—she needed to be responsible for her immature parents.
In a way, A Bubble is deeply autobiographical, too. Diagnosed a mere four months after the birth of her and Elverum's daughter, Castrée spent her final time buried in A Bubble. In the book's story, a mother lives in a bubble. She goes through various stages of illness inside the bubble, sometimes drawn with oxygen tubing, sometimes bald and wearing a knit cap. Elverum says that all the clothing is their own, lovingly recorded by Castrée's detailed brushwork.
The mother, called Maman (Castrée was Quebecois), sometimes pulls her daughter into her bubble to draw, but she cannot leave it to join her family for a walk in the woods. Pages are illustrated with "salmon berries, roses, and animals that were present in interactions between Geneviève and our daughter," Elverum explains. One day the bubble pops and Maman ends up on the ground, freed from her bubble. She takes her daughter out for ice cream. "Ice cream was one of the many unhealthy foods she wasn't allowing herself to eat during her year of cancer treatment," Elverum says. "She attributed cancer, and bad health, to many foods. To eat ice cream in A Bubble means that all is well."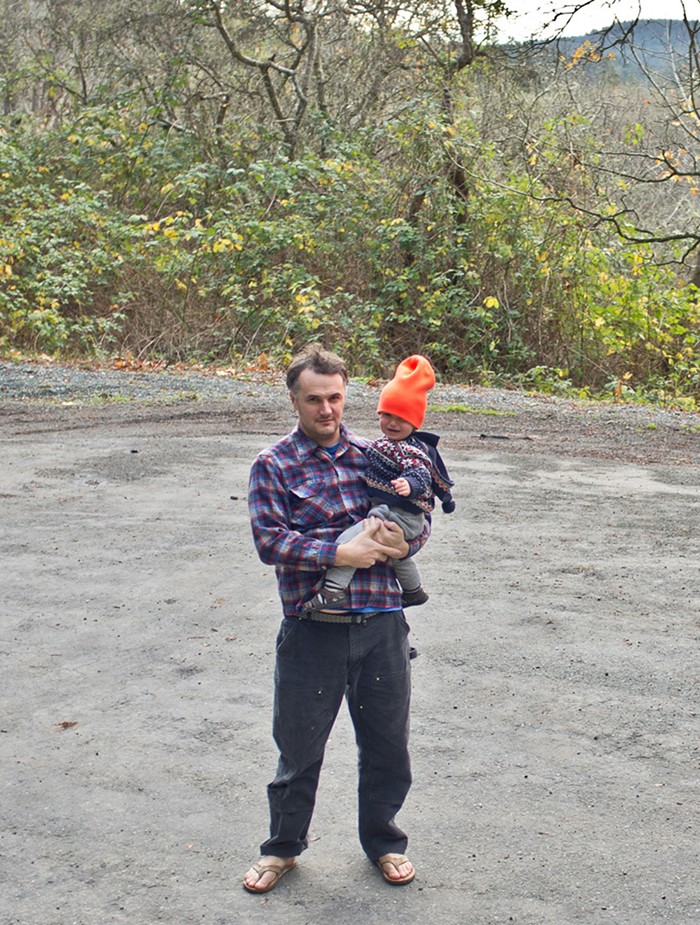 Though she worked on it right up until her death, Castrée left some aspects of her baby book unfinished. Portland comics artist and family friend Anders Nilsen stepped in to hand-letter the text, draw the book's bubble shapes, and touch up certain details. "He was a great help to me in the months after she died, going through her artwork and archives, and figuring out a future for it." Elverum says. "I found his guidance so crucial." Nilsen is an indie cartoonist known for his Big Questions series. He also made the award-winning Don't Go Where I Can't Follow, about losing his fiancée to cancer, in 2006.
A Bubble can't satisfy all the things I wanted from Geneviève Castrée. Castrée should have had a long career, blooming through the fruitful years of her life. Instead we're left with glimpses of her unique imagination via issues of the Drawn & Quarterly Showcase, Susceptible, and now her last book. A Bubble is Castrée's dream that she couldn't live, created for the page.