When local artist and zinester Nicole Georges discussed her sexuality with her mom last year, it turned into such an awkward conversation that the 27-year-old made a video re-creation of it to gain some perspective. "It's my coming-out story with my dog playing my mom. She was like, 'Why are you a lesbian? Didn't you like making love to men?' Someone asked me to show it at a queer film festival but I'm not really a filmmaker. I might put it on YouTube, though."
Georges' follies probably translate better in her highly entertaining zine, Invincible Summer. The newest issue (#13) shows, through words and comics, how she got kicked out of the band she started, what you need for a vegan pumpkin cheesecake, and where not to go for a torturous toothache.
Georges' art has popped up everywhere the past two years. After illustrating the Tin House book Food and Booze in 2006, her work has appeared in magazines, rock posters, and art shows (she's currently showing at the Fresh Pot on North Mississippi until February). "My goal for last year was to be more deliberate. I started drawing things with pencils before I put ink over it, which I hardly did before."
Though her work has become more polished, Georges' punk/DIY roots still show proudly. She made her first zine in Kansas when she was 13. "It was about ska music and aliens. Bands would get mad at me for asking stupid questions like, 'What's your favorite cheese?' Then I made a really awkward emo zine where I called out all my friends for being sexist."
She's learned a little about zine etiquette since then. "My early zines used real names, and now I ask people to choose their own pseudonym. Usually if I'm courting someone, I'll bait them with gifts, like my comics, so they can see what could happen."
Georges has her second full-length book coming out in the spring (from Microcosm) and she also published a 2008 calendar. She came back from last year's Sister Spit tour with a literary agent, so more book projects look to be in her future and she's feeling pretty confident. "Sometimes I feel like the Jay-Z of illustrators in my own head. Like 'I'm the best drawer alive! I can draw anything.'"
Sponsored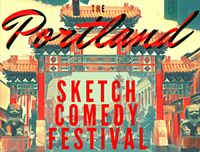 Sketch comedy troupes from all over N. America descend on The Siren Theater for 3 glorious nights.