Finding the Perfect Brunch for You
Kelly's Olympian | 426 SW Washington
Do you spend a lot of time hungover? Do you like motorcycles? Kelly's Olympian is the spot for you. Kelly's isn't for that fancy Tinder date you knew was out of your league. Kelly's is where you take that hot biker you woke up with and probably won't introduce to your parents. I suggest you order breakfast accordingly. Go with the Road Hog: two eggs, two strips of bacon, and two sausage links, or the El Camino Scramble. Stick around 'til happy hour for all your deep-fried delights on the cheap. Did I mention a two-page beer menu and such signature cocktails as the Sissy Bar and Monkey Butt? Leave class at home. Kelly's is a genuine piece of Portland history. D. MARTIN AUSTIN Brunch hours: Daily 10 am-4 pm, $$
Sponsored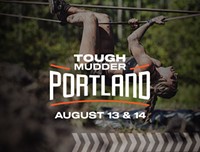 Lock in your summer adventure, Portland. Join us for world famous obstacles over a 5K or 10K distance.
---
Tik Tok | 3330 SE 82nd, 11215 SE Division
Tik Tok will serve you eggs at 3 am or get you drunk at 10 am, and do a damn fine job of it. The Tik Tok Scramble is a gigantic pile of eggs, sausage, bacon, potatoes, and vegetables, which you can have topped with gravy for another buck in a display of artful decadence that's worth waiting in line for—except you don't have to wait in line. It has everything. The highlight of Tik Tok's brunch menu (which they call "breakfast") is their bloody mary bar. The server supplied me with a pint glass filled with ice and a substantial amount of vodka (I think I said "holy fuck!" at the sight of it), and then gave me the run of various pickled vegetables, hot sauces, and tomato drink mixes. I piled my icy glass with Secret Aardvark, Worcestershire sauce, whatever was in Tik Tok's house drink mix, and pickled olives and asparagus spears. Alcohol and capsaicin both made their presence known as I mopped up the scramble, which was too big to finish. JOE STRECKERT Brunch hours: 24 hours, 7 days a week, $
---
The Roxy | 1121 SW Stark
If you're looking for a taste of Old Portland, no matter what time of night or day (except for Monday, when they're closed) look no further than the Roxy. For more than two decades, this 24-hour diner has been a destination for late-night carousers in need of a 4 am fix, or a before-work hangover meal. Breakfast at the Roxy, like any good diner worth its salt, is served anytime, in large portions, and naturally, named after second-rate actors or classic B-movies. I had the "Ghost and Mr. Chicken," which is chicken-fried steak and a big heaping of flavorless sausage gravy, with a side of runny eggs and greasy hash browns. Mind you, this isn't food meant to be savored, shared, or Instagrammed; it is meant to sop up booze—and in that, the Roxy triumphs. SANTI ELIJAH HOLLEY Brunch hours: 24 hours (closed Monday), $
---
Sandy Hut | 1430 NE Sandy
If you've got a splitting headache and jangled nerves to soothe, take the edge off at one of Portland's most storied dive bars, the Sandy Hut. It's not too bright inside, there's no wait, and the bar can whip up any beverage you require—including coffee, mimosas, or a house bloody—but best of all is the no-BS weekend brunch menu. Hew to the classics for standard greasy-spoon fare, such as the Basics (eggs, toast, and potatoes or grits) or the Lumberjack (eggs, sausage, biscuits, cheddar cheese, and gravy), or branch out with the Stumptown Fry (a West Coast classic with eggs and fried oysters) and a very serviceable eggs benedict. Only snag is you'll have to order at the bar, but the kind bartenders will come around and refill that coffee mug once you're snug in your seat. NED LANNAMANN Brunch hours: Sat & Sun 11 am-2:30 pm, $$
---
Delta Cafe | 4607 SE Woodstock
I don't love eggs, but I love all that mess that comes with them. My fantasy of ordering a bunch of sides is encouraged by Delta's choose-your-own-heartburn platter of three Cajun comfort foods. I picked tangy vegetarian collard greens, cheesy grits, and biscuits with veggie gravy that earns its Mardi Gras beads—so convincing, I double-checked that it wasn't sausage. If you're lucky, the pastry of the day is piping hot beignets covered in a snowpocalypse of powdered sugar. I paid my respects at Delta's shrine to the patron saint of day-drinking, who blessed the table with a Bloody Maria: spicy housemade mix and cilantro-infused tequila, garnished with a salad of pickles. They're not dive bar prices, but the portions aren't for the faint of appetite, either. ELLEN FREEMAN Brunch hours: Daily, 9 am-2 pm $$
---
Tom's Restaurant | 3871 SE Division
At the corner of Southeast César E. Chávez and Division marked by a sign with Tom Jones' '70s Vegas font, Tom's Restaurant celebrates 40 years of serving traditional breakfast and lunch fare that hasn't changed much since the day it opened. The whole "bacon and eggs" thing is what Tom's is all about, only here it's bacon (or sausage or ham), an egg, and pancakes (or French toast), and for a few bucks more, a heart-attacking, stomach-filling, smile-inducing plate of chicken-fried steak. It's not topped with Jacobsen salt or artisanal harissa, but with gravy. Plenty of hammy bits in it, plus a slab of hashbrowns, two eggs, and toast. Other upsides include never having to wait in line, a coffee cup that will never hit empty thanks to attentive waitstaff, and something called a butterhorn, described by one waitress as, "Like an apple fritter without the apple." BRIAN YAEGER Brunch hours: Daily 7 am-9:30 pm, $
---
Nite Hawk Café & Lounge | 6423 N Interstate
The Nite Hawk technically eschews anything as newfangled as brunch—they just serve breakfast all day. The food is straight-up, hearty fare served with the assumption that if people are here they have appetites: The rib-eye steak and eggs and chicken fried steak provide a notion of how heavy duty the menu can get. There's lighter fare as well, with the omelets probably falling mid-range—the veggie was fluffy and stuffed with bell pepper, onions, spinach, tomato, and mushroom. It was gloriously unsophisticated and tasty, and too big to finish, especially with the accompanying half-plate of crispy country fried potatoes. Good coffee, an oldies station playing, and a worn-in, vintage feel to the place only add to the charm. It can get busy, but it's the perfect no-hassle, unfussy brunch, whatever the time of day. MJ SKEGG Brunch hours: Sun-Thurs 7 am-8 pm, Fri & Sat 7 am-9 pm, $$
---
My Father's Place | 523 SE Grand
My Father's Place is one of Portland's premiere dive bars, and good news! They serve breakfast all day, so you can get a head start on your hangover. The weekend brunch scene is surprisingly family friendly—the brown booths and stained-glass lamps look pretty quaint in the daylight. They do have various knickknacks hanging from the ceiling, which caused me great stress during a recent visit (I'd be livid if my death were brought about by a loose ukulele). Write home to mother if she likes her food greasy, buttery, and affordable. The coffee is endearingly subpar—this is not for the Stumptown crowd. But between the rich, bright-yellow hollandaise of the eggs benedict, the crunchy goodness of the hash browns, and the reliable comfort of a short stack of pancakes, My Father's Place is exactly where you want to be for an old-fashioned, no-frills brunch. CIARA DOLAN Brunch hours: Daily 6 am-2:30 am, $
Sponsored
Virtual Auction Event & Drag Queen Fashion Show. You won't want to miss this show!