Wordstock
edition of
Mortified
—and, indeed, we actually learned some mortifying things about the man who leads our fair city. (And who knew there was anything remotely as mortifying as
all this
...?)
Deviating from the usual formula, in which presenters typically read aloud their embarrassing teenage journal entries, Adams instead shared incredibly awkward photos while fielding incredibly awkward questions from Mortified impresario Dave Nadelberg.
Adams, as he tells it, grew up as a closeted gay kid in a working-folks family, one of four children of divorced parents living on food stamps. He attended South Eugene High School, where he delivered the morning announcements, ran cross-country, and, ironically, represented "Afghanistan" in the Model United Nations club. But he did anything he could to hide the fact that his family lived in the housing projects on the other side of the prestigious school's athletic fields. He even ignored, when they were in school, a friend he had made inside the confines of the projects.
"That was one of the things I was afraid of being outed about," Adams said of being poor.
He also looked up to Shaun Cassidy for hair-care tips. He was slightly zitty (looking at his rather handsome senior picture, he said: "That was seriously touched up. I didn't have that clean a complexion"). And Adams said he dated "my share" of girls before giving up his fight against his true self. One poor lass got the worst of that battle. In a fit of nervousness, before a dance, Adams said he actually threw up on a date.
It wasn't until one day in particular—South Eugene High's Opposite Day, when Adams dressed in drag to help muster up school spirit—that he said he really began contemplating the long, slow road to self-acceptance. "I look a lot more comfortable in that picture, don't I?" he joked, saying later: "It started the process of being myself."
After the jump, that picture. Plus! More excerpts from Adams' chat.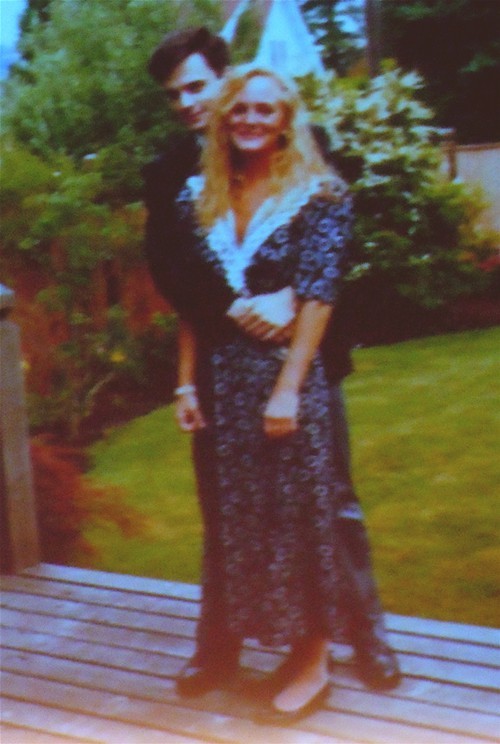 As you might expect, there were a fair amount of laughs. At one point Nadelberg came close to asking Adams if he'd ever been physical with a woman, and Adams was quick to say, preemptively, "Don't go there." Nadelberg needled back a bit by saying, "You've seen the show before," but decided to let the mayor off the hook. Adams later explained he was a "big fan of double-dating."
The mayor also had a good answer when he was asked if he ever felt, while in the middle of a bureaucratic meeting, or dealing with some political drama or another, like he was back in high school. The retort was short: "Yes."
Adams did say, more seriously, that the financial hardships his family endured helped push him into public service and political work. His family drew from food stamps and lived in subsidized housing, and with that help, his mother could manage to feed her kids while getting a high school diploma of her own and, eventually, attend college.
"I got a sense of how government can help folks get a leg up to self-sufficiency," Adams said.
At the end, he was asked if he'd have any advice for the boy he once was. That's when Adams let the room know he'd filmed a testimonial for the It Gets Better project. "You don't have to be as anxious about people knowing who you really are," he said. "It gets better. It really does."
That filmed testimonial, repeated here: