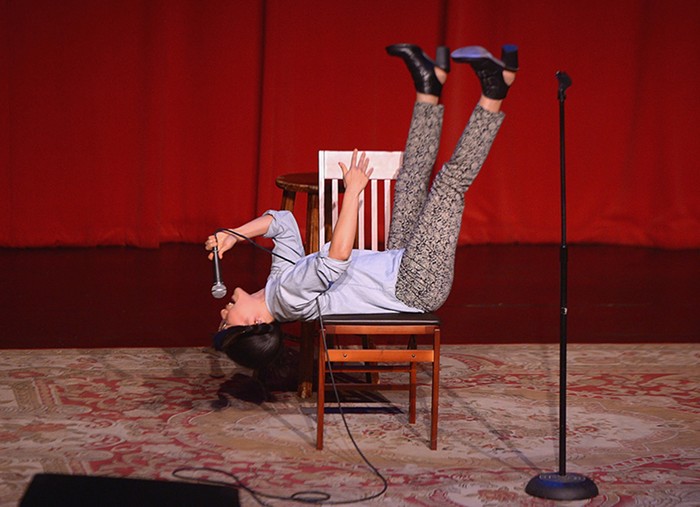 Women comics talking crudely about their bodies is nothing new, but a pregnant comedian was pretty unheard of until Ali Wong's Netflix special Baby Cobra. In her opening bit, Wong states, "Female comics don't get pregnant," because it's thought to be a career-ender. HA! Not in Wong's case. For her, it became a game-changer. In fact, since Baby Cobra, her celebrity status has blown up, and the demand for her comedy continues to increase.
"Last week a cop pulled me over for not having my headlights on and let me go when he realized I was 'that filthy pregnant comedian,'" Wong tells me. "When my husband and I go on a date, we purposely sit in a corner at the restaurant, and have me face a wall to minimize being recognized and interrupted during dinner."
In that now-famed hour-long special, the Vietnamese- and Chinese-American comic took the stage at 7 months pregnant and spoke on a number of topics: increasingly dry vaginas; dating within and outside of your race; appropriating your own culture via interior décor; intentionally trapping your Ivy League boyfriend into a marriage so you don't have to work anymore; and the hairiest details of having to take that dreaded workplace shit. A self-proclaimed control freak, Wong's onstage persona operates with a balance of bitterness, exhaustion, self-awareness, and wisdom—all made funnier by her casually ballooning belly.
Waddling though she was, Wong's special showcased her natural ability to walk the line between offensive and funny. She honestly pointed out the greatest parts of dating (and receiving head from) white men, but explained why it's best to marry someone inside your own race: so you can have fun being racist at home, obvi.
At one point Wong says she thinks "feminism is the worst thing that ever happened to women," and goes on to criticize Sheryl Sandberg ("I don't wanna lean in, I wanna lay down"). She says that by spoiling the secret that women "can do anything," we've given up the opportunity for sponsored days off and being the housewives some of us always dreamed we'd be. And it is fucking hilarious. The irony here, of course, is that the housewife life couldn't be further from Wong's reality, as she's clearly working into her third trimester.
"Anyone who is really paying attention understands that I was joking," says Wong. "I am clearly very passionate about stand-up and it is definitely WORK. There's nothing that inspires me more than fellow moms that continue to create and speak up."
Wong points to women like Lauryn Hill, Shonda Rhimes, Alicia Keys, Michelle Obama, Kara Walker, Erykah Badu, and Elizabeth Warren as her inspirations.
"Their voices, and the nature of them just doing what they do are so powerful," she says.
In addition to doing tapings with a bun in the oven, Wong has written for the TV show Fresh Off the Boat, which is about culture shock. But since having a child, she's had to shuffle her priorities.
"This past year I've been consulting there," she says. "I am still involved, but I have stepped back quite a bit. But I'm very close to the writing staff, and love seeing them, and love stealing snacks from the office. I check in with the creator/showrunner, Nahnatchka Khan, on a pretty regular basis for advice. She has been one of the most important mentors in my adult life."
Now that Wong is a mother—her kid is a little more than a year old and just started walking—I'm excited to hear about what kind of parent she's becoming. Wong tells me that she's been bringing her baby girl, her mother, and her husband to most of her tour stops.
"Thank goodness I got to the point where I could afford to bring them on the road," she says. "My baby sleeps pretty well on the plane and it's an opportunity to spend quality time with her, since I can't be distracted by house chores or email.
"But there was one time she threw up on my crotch in the beginning of a cross-country flight. My underwear was soaked in milk and bananas. It was so unpleasantly moist for five-and-a-half hours. I was worried a colony or a species would start growing down there."
Given this info, I guess I don't have to be too curious about whether her stand-up has the same nasty edge. Among my favorite parts of her special: when she confesses what a "disgusting pervert" she is in bed, and makes vivid jokes about things like poop and vagina slime.
"There's always going to be poop humor," Wong says. "I'm kind of obsessed with fecal matters."
Understandably, Wong wouldn't tell me much more about her new material, so we'll just have to see for ourselves. Luckily, after selling out the two initial shows on Thursday, the Newmark Theater has added two addition- al performances on Friday. And Wong tells me she's stoked to come to Portland for the first time, and to dine at a few nearby restaurants.
"I've never been! I'm so excited to shop tax-free. My toes are wiggling just thinking about it."
I think I speak for all of us when I say the feeling is mutual.