As a lover of cinema, I want Katie Skelly's comics to be movies. I want it so bad. But with a healthy imagination—you gotta do the voices—reading them as comics is great fun, too. Skelly's newest graphic novel My Pretty Vampire is a sensual, colorful rampage in which the the cute plum boobs of the main character, Clover, are as much abstract shapes as sexy body wiggles, and the destructive gore she causes takes the form of a flat splat of red inside a clean, crisp line drawing. Both create curious impressions. Is a boob without definition still sexy? Does cartoon blood evoke horror?
Compared to Skelly's previous graphic novels Nurse, Nurse and Operation Margarine, My Pretty Vampire represents a jump—from shades of gray to bright color, and from relatively PG-13 situations to sensual topless vampiric murder. It should be noted that sex has always been a part of Skelly's stories. In Nurse, Nurse, space-traversing Gemma hooked up with plenty of cute guys, but coyly (they're pictured smoking in bed). In recent years, Skelly's confidence in portraying sex has grown, no doubt in relation to her ongoing erotic webcomic, Agent, which she creates for the website Slutist. Agent has evolved from sexy jokes to trippy spy vs. sex-magic hallucinations. The result, it seems, is that Skelly has grown more confident at incorporating sexuality into her other work.
It's easy to see My Pretty Vampire as a love letter to the '70s woman-centric vampire films of Jean Rollin (Fascination, Requiem for A Vampire). If Skelly possesses a weakness, it's that her love for occult cinema causes her to possess the same low bar for making sense that cult cinema has. I wonder if the time spent on a beautiful curve of thigh doesn't rob us of precious panels that could have further fleshed out Clover's story. Another small drawback is that the size of My Pretty Vampire too closely resembles a children's picture book. I would never presume to tell a parent something is inappropriate for their kid (let the kids read G. I. Joe!) but hip parents will wanna give it a pre-flip. My Pretty Vampire contains adult situations—not to mention outfits—that kids will need help understanding.
---
My Pretty Vampire
by Katie Skelly
(Fantagraphics)
Sponsored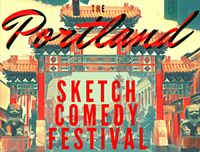 Sketch comedy troupes from all over N. America descend on The Siren Theater for 3 glorious nights.