I want to read something short. Do you ever feel that way? You're browsing at the comic book store and every good book is a three-pound magnum opus, promising to break you open and rebuild you like boot camp. But what if it's Sunday and I'm not willing to undergo ego death?
Short-form novella comics are my favorite. Like cassettes or seven-inch records, their brevity is part of their appeal. I can read a comic novella in an afternoon, kick the feeling around in my brain while I'm doing laundry, and fall asleep at a normal time. They never get any attention, though. That always goes to the big books. So since comic novellas are, for many, unknown pleasures, I have compiled some recent ones that, while they read quickly, lingered on in my mind.
---
I'm Not Here
by GG
(Koyama Press)
The atmospheric comics of Canadian cartoonist GG (G. Wong) have long rung the Twin Peaks/Lynchian dreamscape bell that hangs in my heart. GG has self-published her precise, digitally created short story comics on her website for years, so it's nice to see her looped up with Toronto publisher Koyama Press, which has amassed an impressive record for beautiful books and hot talent. I'm Not Here feels like a short black-and-white film. An unnamed woman catches her double in a photograph and begins to stalk her alter-ego, touching on unsettling notions of identity and diaspora. What actually happens in the story is up for interpretation. I'm still not sure what it means. Maybe you can tell me.
---
One Thing at a Time, Bud
by Kevin Budnik
(Birdcage Bottom Books)
Chicago comics memoirist Kevin Budnik is another artist who's built his readership largely online. He publishes four-panel diary comics daily on his social media accounts and collects them into monthly zines for his Patreon subscribers. One Thing at a Time, Bud, published by Birdcage Bottom Books, compiles Budnik's diary from his father's cancer diagnosis to the first part of treatment. Broken into small panels, this momentous change takes on a manageable shape. Budnik never shies away from the feelings involved, but also deftly avoids despair. I have so much respect for One Thing at a Time, Bud—for the humor and the humanity it exposes, and the way it shows life shouldering forward, as it inevitably does.
---
Before the Rain
by Anne Pomel
(Floating World Comics)
Dear to the heart of every Portland transplant are the memories of those first few weeks spent in town, gathering one's bearings and poking around the city's neighborhoods. Anne Pomel, a French illustrator who moved to Portland in 2015, captures this feeling perfectly in Before the Rain. I'm always hesitant to label a comic a visual poem, but Pomel deserves the label. There isn't much narrative to Before the Rain other than a soft-focus sense of disconnect communicated through glimpses of cats, hardwood floors, empty rooms, and old Portland houses, but an ineffable emotion boldly moves throughout. Pomel's gray pencil illustrations are photographic in detail. They capture rather than idealize movements. Her arrangement of these beautiful and familiar sights creates a stilted reading where you can almost hear the shutter click.
---
Reverse Flaneur
by M. Sabine Rear
(Self-published)
M. Sabine Rear is a blind Portland cartoonist and recent graduate of the IPRC's comics program. I didn't expect to be writing about her so soon, but Reverse Flaneur is very much worth your time. A travelogue of Rear's time spent traveling with her family in Vienna, Reverse Flaneur is fascinating for both Rear's chatty commentary on contemporary art and her experiences trying to view said art in museums while presenting as sight-disabled. Rear is a digital illustrator, but she has a variety in her line weight which gives her work a unique flow. Rear is one to watch!
Sponsored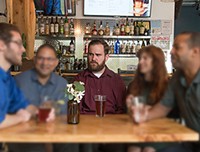 Adults aged 18-35 with good hearing will be paid for their time. Located at the Portland VA Medical Center