Boozilicious!
Portland has so many great bars, and so many top-notch mixologists... sometimes it's hard to know what to order! The Mercury is taking the guesswork out of your decision by asking the top bartenders in town to make their very best cocktails, and then reporting back to YOU with the results! Drink up, friends... in confidence!
Sponsored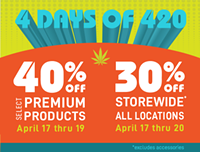 30-40% off Premier Dispensaries April 17-20
Flower, pre-rolls, edibles, carts and more.
These 4 Days of 420 are for you.
Pépé Le Moko—"Amaretto Sour"
You can't make a list of the city's best cocktails without talking to OG, put-Portland-on-the-map, barrel-aged-his-drinks-before-it-was-cool bartender Jeffrey Morgenthaler. He's famous for soverymany drinks, so I couldn't wait to see what he would choose as his finest. The answer: an amaretto sour ($14). Made with amaretto, overproof bourbon, lemon, egg whites Morgenthaler froths with an immersion blender, and a teaspoon of simple syrup, it's been on menu since Pépé Le Moko opened six years ago. Morgenthaler said it came from trying to make a guilty pleasure drink more balanced, and he landed on the extra-boozy whiskey as the way to do it. Soon, the recipe caught fire, and Morgenthaler says it's now the industry standard for how to make a good amaretto sour. "I've got a few drinks in contest for my best, but this one latched on so quickly and so deeply," he says. "I get people all the time telling me it's on the menu in their bar. It's not even mine anymore. It's just what everyone does now—it's kind of awesome." (407 SW 10th) ANDREA DAMEWOOD
Vintage Cocktail Lounge—"Resting Witch Face"
When bartender Tony Pepe asks what kind of spirit I like and I offer a totally unhelpful "anything," I end up with a deceptively simple cocktail: "It's Los Vecinos mezcal, Angostura Amaro, lime, simple syrup," he says, "and because I couldn't decide between rum and mezcal, it's topped with Dr. Bird Jamaican rum." (I've edited out the fascinating lessons I received on Los Vecinos and Dr. Bird, because newspapers are measured in column inches and Pepe speaks in amiable dissertations.) The name, Resting Witch Face ($10), is accurate—some kind of casual magic must be involved to combine rich, smoky mezcal with the aggro funk of Dr. Bird—but this drink is one spell I'll happily fall under any day. (7907 SE Stark) THOMAS Alexander ROSS
Shift Drinks—"Physically Forgotten"
Catering to the downtown after-work crowd, Shift Drinks is your answer to the ancient question: Who will bartend the bartender? When it comes to cocktails, Alise Moffatt's Physically Forgotten ($12) is a standard and favorite. Served up in a coupe glass—fresh from a lemon peel massage—the combination of Gordon's gin, Cynar Italian bitters, and Maraschino liqueur, and even more bitters on top—orange this time—gives the Physically Forgotten the pleasing aromatic bite of what expensive, luxury air will be like on Mars. It's ethereal, like the woman in the Paul Simon song, "Diamonds on the Soles of Her Shoes," from which the drink takes its name. (1200 SW Morrison) SUZETTE SMITH
Eem—"Mistakes Were Made"
Eric Nelson makes my favorite drinks in all the land, including a piña colada that I will request as my last meal when I'm inevitably executed for my crimes. Eem's whole tiki-revival cocktail list is a triumph, but Nelson said his best right now is the Mistakes Were Made ($12). Served over crunchy pebble ice, the drink has tequila, amaretto, lime, rhubarb, pink grapefruit, red wine, nutmeg, and mint. It hits almost all regions of your mouth: sweet from the amaretto, spices, sour grapefruit, bitter rhubarb, and a rich wine float. Very nice. Considering the ingredient list takes up all my word count, you could call this drink a mistake, but you'd be wrong. (3808 N Williams) ANDREA DAMEWOOD
Hey Love—"The Secret Life of Plants," "Highballer"
The plant-heavy, tropical-themed Hey Love may come off as the National Headquarters for Quirky Affectations, but no one can dispute their excellence and know-how behind the bar. Faced with the challenge of deciding between two "bests," I took one for the team and guzzled 'em both. (You're welcome.) For those who adore sweet drinks, like moi, you'll fall ass over teakettle for the Secret Life of Plants ($12)—a delightfully frosty mango Mai Tai made with oolong tea that smacked of fruity, honey overtones and just enough salt to ward off any excessively sweet edges. Those who don't want their sweet tooth massaged should try the dry, refreshing Highballer ($12), which features Toki Suntory Whiskey, super fizzy soda, lemon oil, and "science." (The "science" was explained to me, but after two such delicious drinks, who can remember such things?) (920 E Burnside) WM. STEVEN HUMPHREY
Deadshot—"Marble Hill"
Located in the same spot that previously housed Tennessee Red's and Associated, Deadshot—formerly a weekly pop-up from revered barman Adam Robinson—has significantly classed up the joint, combining elegant design, a confident cocktail menu, and a brass bar that's shinier than anything I've ever owned. As expected, the lineup of house cocktails is impressive; on a quiet afternoon, I scanned the list and took a chance on the Marble Hill ($13)—with blended Scotch, Calvados, vermouth, angelica, chicory, and bitters—and was rewarded with a pleasing Scotch burn, a smooth, just-the-right-level-of-syrupy mouthfeel, and a sharp, lingering aftertaste that had me thinking about another before I'd even finished my first. (2133 SE 11th) ERIK HENRIKSEN
The Automatic Bar—"Old Fashioned"
It's been less than a year since the Automatic Bar took over space long occupied by the beloved Victory Bar, but it's already managed to carve out a friendly, intimate, and cozy place in the ever-shifting Division Street canyon. When asked to pick a favorite drink, owner and bartender Andrew Finkelman flipped straight to the bar's sizable Old Fashioned menu, which offers traditional bourbon and rye takes on the classic, along with a few twists. The Scotch Old Fashioned ($11) is made with Monkey Shoulder Scotch and Bittercube Cherry Bark Vanilla and Angostura bitters, while the Japanese Old Fashioned ($12) takes Toki whiskey and adds Fee Brothers Plum and Angostura bitters. Both options offer refreshing takes that are guaranteed to hit the spot for lovers of the go-to whiskey drink. For even more delicious Old Fashioneds, see pg. 19. (3652 SE Division) CHIPP TERWILLIGER
Lulu—"Pear Pressure"
I don't usually trust a cocktail with more than three ingredients. Lulu's Pear Pressure ($14), however, promptly put that fear to rest. With rye, pear brandy, a splash of maple syrup (!!!), and herbal hints of amaro and orange bitters, this beverage tastes remarkably uncomplicated. The strong drink isn't overwhelmed with fruity or sugary flavors—it tastes more like a well-made old fashioned with a hint of crisp pear. We recommend you pair (pear?) this with a bougie brisket bánh mì ($12) from the kitchen—run by Chơi Luôn—for the full Lulu experience. (726 SE Grand) ALEX ZIELINSKI
Hale Pele—"Coconaut"
This staple of one of America's best Tiki bars is simple and tasty as hell: A healthy dose of blackstrap rum, lime juice, and cream of coconut syrup shaken up and served over crushed ice. The presentation? A danger to anyone who wants to keep their eyebrows intact. Sitting atop this tasty concoction called the "Coconaut" ($13) is a hollowed-out lime half, stuffed with sugarcubes and set aflame. Order this one early in the evening—otherwise your buzzed brain might inspire you dive in before the fire has died down and you'll wind up saying goodbye to your precious facial hair for a while. (2733 NE Broadway) ROBERT HAM
Victoria Bar—"The Florin"
As a gin enthusiast, I wasn't at all surprised to immediately enjoy sipping on Victoria Bar's most popular house cocktail, the Florin ($9). The light and fruity pink concoction is made with gin, strawberry, basil, lime, and soda water. Served on the rocks, it's slightly frothy, balanced in its sweetness, and quite refreshing. I see why my bartender, George, said this one's the crowd favorite. There's simply nothing wrong with this cocktail. But if you, too, are partial to gin, be sure to try Victoria's other gin-based house cocktail, the spicy and complex Fireswamp ($10). Mixed with cucumber, jalapeño, habanero shrub, lemon, and cava (Spanish sparkling wine), the Fireswamp is effervescent, unforgettable, and lowkey better than Florin. (4835 N Albina) JENNI MOORE
Hi-Top Tavern—"Gin Grin"
Fremont's Hi-Top Tavern—which, full disclosure, is partially owned by former Mercury music editor Ezra Caraeff—is beloved for its outdoor seating, which made it the perfect stop on a not-quite-spring day where it felt amazing just to sit outside and not be wet. Trying even harder to make spring happen, I tried out the Hi-Top's popular Gin Grin ($10), which is made of a bunch of stuff (Hendrick's Gin, lemon-basil shrub, pamplemousse liqueur, and lemon peel over a Borg cube of ice) but ultimately tastes just about exactly like sugary-sweet lemonade. In other words, this is one of those easy-drinking cocktails that promptly leads to several more, which promptly leads to you feeling like it's springtime no matter what season it actually is. (5015 NE Fremont) ERIK HENRIKSEN
Someday—"Brother's Keeper"
Tucked away in a Division Street alley, Someday is brand new (debuting in January of this year), discreet, and gives off a definite speakeasy vibe. The gorgeous black walnut bar and French doors that open onto picnic tables and food carts offset that "new rental house" feeling... and oh... those drinks. The pedigree of the barkeeps (Jessica Baesler of Coquine and Tusk, and Graham Files, formerly of Ava Gene's) make this a must-stop on your drinking adventures. I was advised to partake in the Brother's Keeper ($12), which was thick, bittersweet (thanks to the clove and cinnamon-infused bitters), and caressed the tongue with delectable caramel undertones. I loved it. Indeed a perfect winter drink, I can wait to see what they come up with when summer arrives, and those French doors are flung open. (3634 SE Division) WM. STEVEN HUMPHREY
Canard—"Wings of Liberty"
Canard may be a playground for Chef Gabe Rucker's Northwesty Frenchy Snacky food, but Bar Director Talia Auseklis is doing a lot of experimenting herself. In fact, Auseklis says her best drink—and best seller—came from a personal mission to make a stirred drink that's got as many layered flavors as a shaken cocktail. Enter the Wings of Liberty ($14): Auseklis pours Suntory Toki whisky and gives it a dose of pungent, grassy pandan leaf, sweet toasted rice, and Thai iced tea bitters. Served over one big cube, it's complex but goes down real easy. (734 E Burnside) ANDREA DAMEWOOD
Expatriate—"The Reckoner"
For a bar that's been a jewel of Portland's cocktail scene for more than half a decade and was recently named as a semifinalist for a James Beard award, it's telling that when asked to select a stand-out cocktail, Expatriate bartender Naureen was quick to recommend the newest addition to the menu, the Reckoner ($14), rather than some proven favorite. Crafted to bridge the gap between winter and spring, the cocktail takes Bank Note blended Scotch and livens it up with fresh lemon, chive, and Commissary Orgeat syrup, Bittermens Xocolatl Mole bitters, and some "legitimately spicy" serrano chilis. The end result is a fiery, unique, and irresistible seasonal cocktail that could be enjoyed year-round. Pair it with Expatriates' famous fried wonton nachos or Burmese coconut noodles and allow the heat to consume you while your mind wanders to some elusive vacation destination. (5424 NE 30th) CHIPP TERWILLIGER
Rum Club—"Rum Club Daiquiri"
The cocktail menu at Rum Club changes with the seasons and the whims of head bartender Michael Shea. But one mainstay is their tasty take on an old classic, the daiquiri ($10). The keys are Shea's choice of rum—Bacardí Reserva Ocho—and the little additions, including dashes of absinthe and bitters. It's the perfect balance of sweet and tart; easy to sip while not hiding the fact that you're drinking an intoxicant. All the better to keep you from downing a few too many of these and turning your walk up or down Rum Club's hillside locale into a test of will and balance. (720 SE Sandy) ROBERT HAM
Tope—"Carrot on My Wayward Son"
A visit to Tope, AKA the rooftop bar on the ninth floor of the Hoxton Hotel, is a real treat. Follow the signs back to the elevators and press the pink "TOPE" button. Ideally you'll arrive around sundown, but the views of the interior are nearly as stunning as the city and sky. According to bartender Emily, the Carrot on My Wayward Son ($13) is their most popular cocktail—having been on the menu the longest—but it's also won awards. Comprised of mezcal, carrot juice, lime, mole bitters, egg white, and sweet potato, this baby has the perfect combination of natural flavors. It's served straight-up, slightly foamy, measured in its sweetness, with a vegetable element I didn't know I needed. You'll want to savor every sip while in the presence of the bar's myriad monstera and golden pothos plants, and definitely make a point to try their squash taco (mind blowing, $5) with cashew crema. (15 NW 4th) JENNI MOORE
Angel Face—"Rosy Tequila Pendennis"
Angel Face's best cocktail is whatever you want it to be. This colorful, cozy bar is known for its bartender's ability to help you find the cocktail that will bring you the most joy at that exact moment. An order from a recent journey: "What alcohol would you like to drink?" "Tequila." "Sweet? Tart? Bitter?" "Tart." "Do you like pineapple?" "No." "Lime or Lemon?" "Lime." Final product was a rosy tequila pendennis—a drink usually served with gin—with apricot brandy and lime juice ($11). This Choose Your Own Adventure-style service, paired with crucial bartender wisdom, makes Angel Face's cocktails some of the best sips around. (14 NE 28th) ALEX ZIELINSKI
The Old Gold—"Distant Sky"
Served tall in a highball glass, this $12 aquavit sour looks, from the top, like a black-and-white cookie. The white silky-softness is achieved not by shaking with egg white, but with aquafaba—a byproduct of soaking legumes. "The kitchen makes it anyway when they prep chickpeas for the house hummus," says bar manager Colin Riley, "so we always have it on hand." (Besides being free and eco-friendly, it's also vegan.) It provides a luxurious body to Linie Aquavit, Swedish punsch, apple cider, lemon and orange juice, and cardamom bitters. Oh, and the dark side of that cookie look on top? A layer of cinnamon to make a horizon that could go either way—night sky over mountain snow, or sunshine on the plain? Better have another to find out. [The Old Gold is co-owned by former Mercury staffer Ezra Caraeff.—eds.] (2105 N Killingsworth ) THOMAS Alexander ROSS
Quaintrelle—"Bonafied Intrigue"
Quaintrelle Bar Manager Camille Cavan says if she has to tweak a new cocktail recipe more than a few times, she'll give it up. "I do it intuitively; I relate it to the way I write poetry," she says. Cavan came up with the big feminine energy behind the Bonafied Intrigue ($14) in two tries. She lightly smokes a glass before adding añejo tequila, pineapple rum, Stone Barn Nocino (walnut liqueur), handmade orgeat (orangeflower syrup), green tea cordial, and lemon, and tops it with her housemade rose salt. It's a gorgeous drink and a tropical warmer to boot. Cavan says she rotates drinks often, but this one's likely to stick around. (3936 N Mississippi) ANDREA DAMEWOOD