Eat and Drink Guide Fall 2017
Pure Spice | 2446 SE 87th
Dim sum is one of the best brunch adventures to undertake with a handful of friends. As long as everyone's mildly game (and free from dietary restrictions), the cheapness of each dish creates a low-risk, high-reward situation. And the more people you have, the more you get to try. If you've never done dim sum before, it's worth heading to HK Café for the full experience of pulling steamed buns off the many carts shuttling between packed tables. But if you're looking to up your game, head to Pure Spice, which tends to have no wait and serves its dishes cooked to order instead of off carts, upping the freshness. Delicate har gow shrimp dumplings and a hearty congee with preserved egg are always worth the investment. ANDREA DAMEWOOD Dim Sum hours: Daily 9:30 am-3:30 pm, $
---
Navarre | 10 NE 28th
When people ask me if I've ever traveled in Europe I tell them yes. Have I physically been to Italy, France, or Spain? No, I've never crossed the Atlantic. But I have been to Navarre and that should count. Walking into this beautiful space, you'll be greeted by jars of pickled vegetables, bowls of garlic, and bottles of wine lining the walls. It feels like walking into a rustic European pantry. The food is prepared simply and earnestly, and the menu changes on a daily basis. Everything they send out of the kitchen is delicious, but if you have to only order one thing, get the bread, butter, and jam and combine them generously! You may be saying, "Hey pal, I can get toast any damn place." Well, saying that makes you the dumbest SOB I ever met, and that's from a world traveler who's met a lot of people. W. CAMPION DRAPER Brunch hours: Sat & Sun 9:30 am- 2:30 pm, $$-$$$$
Sponsored
Win a behind-the-scenes tour of our kitchen, see how we make our artisan edibles, and get some swag.
---
Ha VL and Rose VL | 2738 SE 82nd #102; 6424 SE Powell
Don't get it twisted: Soup is very much a brunch food. And the most meticulous soups in the Pacific Northwest are at two restaurants owned by members of the same family: Ha VL and Rose VL. Both spots serve a rotating variety of two different Vietnamese soups each day, until they (usually) sell out. You'll have to do some Googling to find the daily menus, but keep your eyes peeled for the soul-saving chicken curry soup—with its solid coconut-cream base, heaped with bone-in thighs and potatoes—or the viscous crabflake soup, a bright red pork broth full of thick noodles, crab, quail eggs, and shrimp. This is where true acolytes do their worshipping. AD Brunch hours: Ha VL: Wed-Mon 8 am-4 pm, $$; Rose VL: Mon-Sat 9 am-5 pm, $$
---
Cameo Café | 8111 NE Sandy
Cameo Café is amazing. Looking like a cross between a diner and an old aunt's living room, they have brunch nailed. The menu covers traditional favorites—they're particularly keen on hotcake and waffle variants—but the real draw is the Korean twist on some of the dishes. Sue Gee's bindaetteok is a pancake built with vegetables, beans, spices and rice. Kimchi crops up in omelets and hashes and only makes a good dish better. Service is spot-on, and there always seems to be a friendly man with a small vacuum cleaning up the crumbs. Despite the low-key location, it gets busy. MJ SKEGG Brunch hours: Daily 6:30 am-3 pm, $$
---
Muscadine | 1465 NE Prescott, Suite F
Even though it was named one of Esquire's best new restaurants in 2015 and has received gobs of praise from local press, Muscadine still feels like a secret. Occupying the former home of beloved neighborhood bar Tiga and around the corner from the venerable Pok Pok Noi, the chill brunch spot has carved out a respectable name for itself in its small space. Chef/owner Laura Rohman—Mississippi native and Southern food emissary—offers tried-and-true Southern cuisine, with fried catfish, pulled pork biscuits, red eye ham, okra cakes, and more. Though the restaurant is perhaps best known for its fried chicken, on a recent visit I decided on the salmon croquettes, with sides of asparagus, coleslaw, and cornbread with sorghum butter. The salmon, served with tartar sauce, is fresh and light enough to melt in your mouth. Be forewarned: in Muscadine, as in the South, vegetarians and vegans won't find much of a welcome. But everyone else seeking an exceptional brunch with minimal wait will be as happy as a dead pig in the sun (it's a Southern thing, don't ask me). SANTI ELIJAH HOLLEY Brunch Hours: Wed-Mon 8 am-2 pm, $$
---
The Side Door | 425 SE Washington
Squirreled away in inner Southeast around the corner from My Father's Place, the Side Door is a cool little cafe that offers a small but excellent menu of breakfast bagel sandwiches, which—for a person who loves breakfast sandwiches like I do—is like a full breakfast menu. Why do we need that other stuff anyway? They also serve breakfast all day, so no judgment about your 4 pm brunch. The BLAT is my hangover standby: tomato to hydrate, bacon to replace your salts, and avocado to repair nutrition that was lost. Cream cheese is also a big part of the situation. If you don't like sandwiches (what is wrong with you?) there's always a pretty good special on the board—waffles, hash, or a breakfast burrito. SUZETTE SMITH Brunch hours: Mon-Fri 9 am-7 pm, Sat & Sun 11 am-7 pm, $
---
Ya Hala | 8005 SE Stark
Lebanese restaurant Ya Hala has been stuffing the stomachs of Montavilla residents with falafel for over a decade. But they do brunch, too. My recent Ya Hala brunch started with a Turkish Coffee and Saj bread as I scanned the menu. Along with lamb bacon and soujouc was a dish called Fried Houlmi and Rainbow Carrot, which I had to try. Rainbow carrots were served on a bed of arugula, along with the houlmi and eggs to spread around the top. Now I'll stop by anytime—and for more than just the falafel. NICK OLMSTEAD Brunch hours: Sat & Sun 9 am-2 pm, $$
---
Autentica | 5507 NE 30th
The upscale Mexican brunch at Autentica is hardly under the radar, but it's still a breeze to traipse in on a sunny Sunday and grab a table. That's a win for you. While the city's most popular brunch spots are choked with wailing babes, you're making tiny breakfast tacos with a hot basket of fresh tortillas and planning your day. Autentica's brunch options are part classic (chilaquiles! huevos rancheros!), part unique—and not-entirely egg-based like many spots around town. On a recent trip we dug the Torta Pierna (massive, flopsy, and stuffed with roasted pork) and the enchilada-like entomatadas. Both dishes needed a bit more punch, though, and the trio of salsas Autentica provided were up to the task. This is a perfectly charming place to do brunch. DIRK VANDERHART Brunch hours: Sat & Sun 10 am-2 pm, $$$
---
Broder Nord | 2240 N Interstate #160
If you've been to the original Broder, you know there's always a wait for the Swedish breakfast outpost's amazing food. So Broder Nord is a welcome overflow valve, duplicating much of the menu in a strange but appealing place in the industrial neighborhood near the Widmer brewery. Those wooden honeycomb things from the location's Gotham Tavern days are still intact, and there are plenty of good things to eat, like the Förlorade Ägg ("lost eggs"—a gorgeous mess of cream, parmesan, and unborn chicken), the Nord Bord (the textbook definition of a balanced breakfast, with eggs, parfait, cheese, bread, ham, and more), and the fika, or house pastries. Like most copies, it's not quite as good as the original, but at least you have better odds of getting a table. NED LANNAMANN Brunch hours: Daily 8 am-3 pm, $$
---
Cibo | 3539 SE Division
There is not a damn thing Italian restaurant/bar Cibo doesn't do excellently, and now this applies to their excellent brunch. Located on a non-annoying stretch of Division, there's no wait, lots of outdoor seating, and an unorthodox but terrific menu of breakfast and lunch fare. Get the bombolone, which are two sugar-covered pillowy doughnuts served with orange sauce, and any of the excellent egg dishes prepared in their awesome Ligurian oven, such as the frittata with Tallegio cheese and arugula, or the hearty steak and eggs. Or try the Eggs in Purgatory, a spicy, shakshuka-like dish of tomato, basil, and parmesan. If you're feeling lunchy, get a salad, grinder, or pizza—whatever you order, it'll taste amazing and be served with smiles galore from the terrific wait staff. NL Brunch hours: Sat & Sun 10:30 am-3 pm, $$
---
The Eisenhower Bagel House | 4350 N Interstate
This place isn't named after former president Dwight D. Eisenhower, but I would storm the beaches of Normandy to eat their bagels. Luckily they're located on North Interstate instead of a war-torn 1944 battlefield. They make their bagels fresh every day, and they offer a ton of flavors and spreads. Their bagel sandwich game is strong, too. I had the House, which was light enough to justify ordering an extra pastry on the side, but filling enough to kick-start a day of fun. If you're looking for something to unhinge your jaw, look no further than the self-titled Eisenhower sandwich, which boasts prosciutto, garlic potatoes, and rosemary. Toss in a mimosa or a tallboy of PBR, and you'll be ready for battle. WCD Brunch hours: Mon-Fri 7 am-3 pm, Sat & Sun 8 am-2 pm, $
---
Spitz | 2103 N Killingsworth
In the headlong rush to alleviate the most serious hangovers, speed and grease are your imperatives. Spitz has both. Limping into this new North Portland döner spot in the late morning, you'll find the seats blessedly unoccupied, and the eggs served as nasty as you want. The aptly named Hangover Basket is a heavy mound of breakfasty cheesy fries, topped with eggs, veggies, two cheeses, and sundry creamy goodness. Add beef or lamb to really make it count. For a less messy answer to the pain, stick with the Breakfast Döner Wrap, which is Spitz's entirely passable döner wrap (a Turkish sandwich akin to a shawarma) with scrambled eggs added. Apply the restaurant's Medichelada (a Mediterranean spin on a michelada) as needed. DVH Brunch hours: Sat & Sun 11 am-2 pm, $$
---
Wares | 2713 NE Sandy
Chef Johanna Ware is back running a restaurant after her previous spot Smallwares closed down, and every Portlander should breathe a sigh of relief. Just how good is her cooking? Let's put it this way: She actually made me like kale. Her food is often described as "inauthentic Asian," but that term fails to describe her range. For brunch, I tried the Turkish Eggs topped with tahini yogurt and served with chorizo butter on toast. It's a hard thing to pull off—most chefs apply too much yogurt—but at Wares it was perfectly balanced. I also had the fruit salad with lime leaf and shiso served in coconut milk. I loved that dish, but the real standout was the Seared Tuna Salad off their regular menu with egg, kimchi Thousand Island, pickles, and potatoes. Better still: This place is shockingly affordable for the quality on offer. ZAHIR JANMOHAMED Brunch hours: Sat & Sun 11 am-3 pm, $$
---
Bunk Bar | 1028 SE Water
The brilliance of Bunk's brunch is its subtlety. Open at 11 am, Bunk Bar on Water is a forgotten escape from the heat of the restless brunch lines in the rest of the city. And it has the two elements that together make for a flawless brunch. Food: Order one of their simple but mouthwatering breakfast sandwiches—I'd argue one of the best in Portland—gushing over with egg yolk and salty bacon, on a chewy, poppy-seed-dusted bun. Booze: Bunk has a full bar for all of your morning cocktail needs. I recommend replacing your go-to bloody mary with an Iceberg—a Rainer with a splash of frozen margarita on top—while lounging out on their sunny sidewalk. BRI BREY Brunch hours: Sun-Tues 11 am-9 pm, Wed & Thurs 11 am-10 pm, Fri & Sat 11 am-midnight
---
Tamale Boy | 668 N Russell
The Tamale Boy empire is small, but mighty. Late last year, the Woodlawn hotspot put down new roots in inner North Portland, and decided to throw a brunch menu into the deal. Served all weekend, it mingles your standard Mexican brunch offerings—huevos rancheros, etc.—with some more interesting options. The enchiladas mineras are tasty and flavorful, packed with a dried beef that carries the dish far enough (top it with a fried egg for $2 more). For a bigger portion, we like the molletes queso, an open-faced torta piled high with beans, cheese, and a choice of meat (the tinga de res is GOOD). This new Tamale Boy outpost shares its dig with an experimental beer bar, and the atmosphere doesn't scream "brunch," but let's be real: Your stomach cares nothing for ambience. DVH Brunch hours: Sat & Sun 11 am-4 pm, $$
---
Tapalaya | 28 NE 28th
Of course I was already full when I ordered the mouthwateringly delicious beignets at Tapalaya's brunch, but really, isn't the whole point of brunch about making irresponsible choices? I have eaten at Tapalaya a half-dozen times, and each time I wonder when chef and owner Anh Luu will send out a dish that doesn't wow me. It hasn't happened yet, and that's true of her brunch offerings, too. The Fried Oyster Benedict was good, but it was no match for their Crawfish Étouffée served on a bed of homemade biscuits and topped with Cajun seasoning. They are also experimenting with a mini bagel plate, a nod to Chef Luu's willingness to rethink what a "traditional" dish should taste and look like. Go a little later in the morning when the live jazz starts and drink their potently strong chicory coffee. I can't think of a better way to begin your day. ZJ Brunch hours: Sat & Sun 9 am-3 pm, $$
---
Po'Shines Café De La Soul | 8139 N Denver
Po'Shines is one of the few Black-owned Portland businesses that's still around and, from what I can tell, is still thriving. The place is decorated with African art, jazz references, and an iconic photo of Malcolm X and Martin Luther King. There's a shelf of board games for you to play, and the staff comes around and provides service so genuine it almost feels outdated. Just about everything on Po'Shines' menu is good, brunch or not. Their baskets of things like catfish and fried chicken wings are very popular, but since breakfast is served all day, I usually like to take advantage. First things first, you would be well advised to split an order of their superb beignets, which burst with advertisement-grade steam when you crack 'em open. One of Po'Shines' greatest breakfast hits is the Bayou Breakfast Burrito, made with eggs, spinach, black-eyed peas, cheese, herbs, and blackened catfish. They don't serve alcohol here, but the Sorrel, "purple drink" made with hibiscus, is more than quenching. And I'll never go here again without getting a mason jar full of their amazing sweet tea with a hint of lemon. JENNI MOORE Brunch hours: Mon 7 am-3 pm, Tues-Thurs 7 am-8 pm, Fri 7 am-10 pm, Sat 8 am-10 pm, $$
Sponsored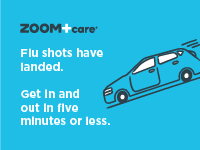 ZOOM+Care makes flu shots easy and safe. Schedule ahead, skip the line—get in and out in 5 minutes.