Eat and Drink Guide Spring 2019
I have a deep abiding respect for the Japanese concept of shokunin: picking one thing and mastering it. It's the antithesis of the fickle"be all things to all people" model, but if famed sushi master Jiro Ono has taught us anything, it's that specialization is key to success. But sometimes, a gustatory hit lurks on the B-side of many Portland restaurants, and it would be a sin to overlook these deep cuts. Here are a few of my favorites.
---
Cheese & Crack Snack Shop
Primary Concept: Cheese and Crackers
Deep Cut: Soft Serve Specials
While cheese and crackers may be what made this delectable shop famous, the deep cuts here are their rotating monthly soft serve specials, including their regular sundae, which is a sneaker hit: vanilla soft serve, chocolate ganache, graham cracker crumbs, and toasted marshmallow fluff that makes you say, "peanut buster who?" Or try the flight of breakfast cereal soft serves - your favorite childhood cereals paired with puddings and that creamy soft serve. 22 SE 28th, 11 am-10 pm daily
---
La Moule
Primary Concept: Mussels
Deep Cut: Steak Frites
Sure, you could get the mussels, which are divine and for which La Moule is named and rightly loved, or you can pivot and get the buttery flat iron steak with ethereal shoestring fries instead, cooked by some of the city's finest. For a couple bucks extra you can get it "à la Diane"—served in a savory, peppery sauce enriched with butter and flambéed with brandy. 2500 SE Clinton, 5 pm-midnight daily, 10 am-2 pm Sat & Sun
---
Pacific Pie Co.
Primary Concept: Pie
Deep Cut: Chef's Salad
You can always get a slice of your favorite dessert pie (or order whole pies to go), but Pacific Pie Co. really specializes in Australian-style savory pies. That said, you'd be a fool to overlook their chef salad - platter of organic greens positively groaning with cubes of chicken breast and Tillamook cheddar, and, bless their hearts, deviled eggs instead of regular-old hard boiled. 1520 SE 7th, 11:30 am-9 pm Wed-Sun, 11:30 am-5 pm Mon & Tues
---
Hogan's Goat Pizza
Primary Concept: Pizza
Deep Cut: Gnocchi
The pizza at this cozy Rose City Park spot is no slouch—don't get me wrong. But if there's one lesson owner Jason Blair took from his time spent at Nostrana, it was Gnocchi Thursdays. A weekly rotation of gnocchi specials, served on Thursday and in-house only, typically balances tender, hand-made pasta nugs with a rich meat ragù, but keep an eye out for wild cards like roasted cauliflower with almonds and chile flake. A small but carefully curated (and affordable!) wine list already makes dining in a small joy. 5222 NE Sacramento, 4 pm-9 pm Wed-Sun, gnocchi on Thurs
---
Ate-Oh-Ate
Primary Concept: Hawaiian food
Deep Cut: Cheeseburger
I have never had a bad plate lunch at Ate-Oh-Ate (the Loco Moco and Hekka are personal favorites), but holy fuck, their burger is a standout. Maybe it's a testament to the fact they're owned by the folks behind one of Portland's best steakhouses (Laurelhurst Market), but Ate-Oh-Ate's cheeseburger is made of good beef, with the perfect amount of char and toppings that don't try too hard (Tillamook cheddar, shredded iceberg, sweet onion, ketchup, and mayo). Best of all, the burger, normally $10.95, is only $6 at happy hour (4-6 pm every day). 2454 SE Burnside, 5200 SE Woodstock, 11 am-9 pm daily
---
King Burrito
Primary Concept: Burritos
Deep Cut: King Burger
It's worth mentioning another burger. Tucked away in the hinterlands of St. Johns, King Burrito has been slinging superb burritos for more than 20 years (nearly 50, if you include their first location in California). Why do they even have a burger? Well, I'm here to assure you that you don't have feel like an asshole for ordering the burger at the Mexican joint. I don't say this lightly, but it may be the best burger in all of NoPo, and at fast food prices to boot—not even their fully loaded double bacon cheeseburger hits $5. 2924 N Lombard, 10 am-11 pm daily
---
Staccato Gelato
Primary Concept: Gelato
Deep Cut: Donuts
It could be easy to get lost in a sea of outstanding ice cream in this town (hell, on 28th Avenue alone), but friends, my loyalty can easily be bought with donuts. Staccato Gelato's donuts (and their holes) are fried fresh daily, with a rotation of classics, seasonal flavors, and kooky originals with festive sprinkles, like my personal favorite, Fairy Princess. If you're really lucky you'll be able to score some of their exquisite French crullers. 232 NE 28th, 8 am-11 pm Sat-Mon, noon-10 pm Mon-Thurs
Sponsored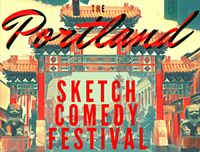 Sketch comedy troupes from all over N. America descend on The Siren Theater for 3 glorious nights.