The designer behind the new line Minnie Opal has garnered a heap of attention as the winner of the UpNXT competition as well as being awarded the Portland Fashion & Style Awards Best Emerging Designer. Her style blends a mix of Edwardian lace notions and 1960s mod A-line silhouettes in one-of-a-kind pieces that employ salvaged "upcycled" textiles such as antique doilies, fringe, and colorful vintage prints.
I caught up with Franklin for a Q&A about her new line and what direction she plans on taking following all these sudden accolades.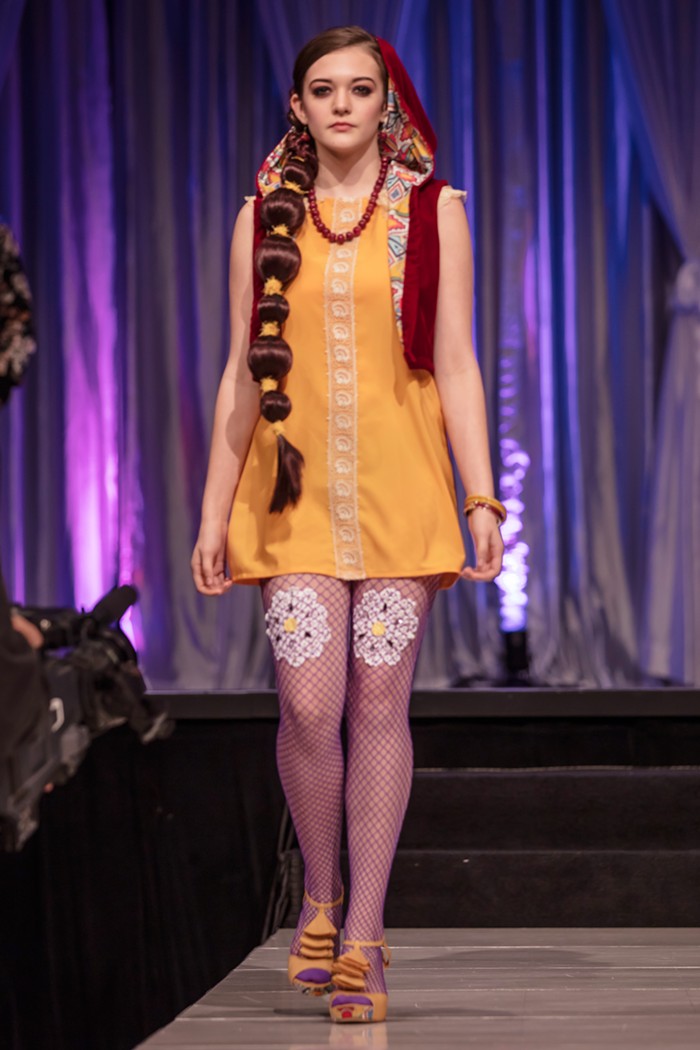 Can you tell us a little bit about your design process?
I like to drape to get a feel for what [the fabric] can do. My designs always come to life on my dress form. I rarely use patterns, but have been successful making patterns from scratch. Its definitely evolving my designs in a new way and I look forward to adding more ready to wear to my collections.  
How did it feel to win the UpNxt competition? How do you think it will change/effect your clothing company? 
Winning the Upnxt competition was amazing. FashioNXT was all I thought about and worked toward for this last year. The competition has definitely helped me become a better designer. Competing against individuals with great talent always pushes one to do and be better. Oscar Dominic and I became fast friends and the People's Choice award couldn't have gone to a better person. With the win being so fresh, I'm not sure how it will change or affect my company. I am excited to see how this will propel and inspire me. 
Overall I want to remain in step with my priorities of sustainable fashion and creating clothing that is inspired by individuals. I want to add as much beauty to the world with as little of a footprint as possible. I'm just going to keep being me and designing from the heart. If people like it—great!
Can you tell us a little bit about your re-brand from "Tattered Tailor" to "Minnie Opal" and why you decided to do that?
Rebranding myself came about for a few reasons. Primarily, I didn't feel I had room to grow with the name "The Tattered Tailor." I've grown as a designer so much this last year and wanted a name that spoke to that growth, was more sophisticated, and didn't pigeon hole me into a specific design ascetic. True to my brand and priorities, I wanted something that had meaning and a vintage appeal, so I used my two great grandmothers' names. Minnie Messer and Opal Connor.
What were your inspirations for the winning collection, and who are your style inspirations in general?
The fabrics are the cornerstone of my collections. I never know what I'm going to make until I start pulling materials and draping them. With the fabrics in place I was motivated by the competition. 
Everyday people living life is another fundamental inspiration for me. That feeling you get when you look at an individual person. It could be the little old lady walking down the street or the 8-year-old who clashes to perfection. When I make custom orders for people I let them help inspire my design. I like to get to know the people I make clothes for. I want my designs to accentuate and compliment who they are as individuals.
For this collection, I hand beaded "Nevertheless She Persisted" on my vest and jacket. That phrase was a touchstone for me throughout creating these pieces. My woman is strong, independent, and romantic. I wanted to portray that in this collection. I believe in women empowerment and will always encourage other women to succeed and grow. 
What direction do you see your clothing company going? 
I definitely want to stay along the lines of sustainable fashion. Using vintage, antique materials, and end-of-bolt fabrics. Fast fashion is so detrimental to our planet and I want to offer an alternative. I want to make sustainable high fashion and definitely think I'm on the right track.  
Where can customers access your designs?
People can find my designs locally at Anne Bocci Boutique & Gallery in the Pearl, The Fernie Brae Gallery on Hawthorne and Artisan Avenue Marketplace on 23rd Ave in Northwest You can also shop my designs on line at minnieopal.com—and at the moment I'm still using Etsy for my international and more "fairy centric" customers. Eventually that will also be changed over.
Lastly, I've been planning to rebuild a step van with all repurposed materials into a traveling fashion shop. So be on the lookout for that! I plan on doing a cross country tour in 2019 with my new shop.