DANCE NIGHTS CAN SUCK. If they're bad, you end up cowering, metaphorically, naked and afraid in a dark, humid armpit of a room among too many fedora-sporting dudes trying to find their manic pixie dream girl. But if they're good, you get to wiggle your flesh to hot beats for a few hours with your squad.
Dancing can be awkward and scary; this much you probably know. Voluntary public gyration feels odd, and for good reason. However, given the right conditions, it can also be a revelatory, sweaty catharsis. Sometimes these nights serve as places where marginalized groups can come together and dance it out—so just remember that if you check out another community's dance night, you're a guest in what for many is a hallowed space.
Sponsored

Custom framing, photo frames, printing on metal, paper and canvas.
To me, an easily spooked introvert, the best and least-intimidating dance nights are made great by either strong themes or enigmatic DJs. Luckily, Portland's got an abundance of both. Here's a survey of some of the Mercury's current favorite DJs and dance nights.
Third Fridays at Holocene, 1001 SE Morrison
Holocene's 50: A Possible History of Dance Music is your semi-regular chance to witness the frenzied emotion that invariably ripples through a dance floor when the weird little "oohs" that open Madonna's "Like a Prayer" start. A recent 50 night featured no shortage of reliable rug-cutters dispensed according to decade by DJs Cooky Parker, Gregarious, and Freaky Outty, under Holocene's neon frieze. The '80s were especially well represented, with songs from New Order, David Bowie, Erasure, and Michael Jackson that are impossible not to dance to. Attendance was decent, but the enthusiasm of the DJs and entry-level danceability on offer was met by a shocking degree of the Introvert Shuffle. Unforgivable. I hate talking to strangers too, but save that shit for some show headlined by a marginally skilled indietronica outfit named after an abstraction. When David Bowie tells you to put on your red shoes and dance, you comply! MEGAN BURBANK
---
Andaz on last Saturdays at Analog Theater, 720 SE Hawthorne; Tropitaal, semi-regularly at Goodfoot, 2845 SE Stark
For more than 15 years, DJ Anjali and the Incredible Kid have been an inimitable force in the Portland dance scene. Since 2002 the power duo has hosted Andaz—their monthly bhangra, Bollywood, and desi bass dance party (the longest running on the West Coast)—and let me tell you, last month's was WILD. When I arrived around midnight, the Analog Theater's upstairs was jam-packed for one of Portland's danciest dance parties. There were flashing lights and Bollywood movies playing on TVs. The air was thick with moisture, so thick that I'm pretty sure it was condensing on the ceiling. Surrounded by energetic dancers, DJ Anjali and the Incredible Kid inundated late-night revelers with rhythms from Southeast Asia and beyond. Anjali teaches bhangra/giddha and Bollywood dancing during the week, if you feel the need to prepare some moves. Since 2013 they've semi-regularly hosted Tropitaal: A Desi Latino Soundclash—a separate night devoted to the music of both India and Latin America. To top it all off, the pair hosts two fantastic local radio shows: Kabhi Khushi Kabhie Kush, Tuesdays at 10 pm on KBOO.fm, and Chor Bazaar, Wednesdays at 6 pm on XRAY.fm. CIARA DOLAN
---
Second Saturdays at Killingsworth Dynasty, 832 N Killingsworth
While living in LA, former Portlander DJ Automaton (Vincent Domini) started hosting CAKE, a hip-hop dance night centered on inclusion within the LGBTQ community and its allies. The event immediately gained traction, and quickly expanded to two monthly nights in LA and bi-weekly nights in Long Beach. Logistical circumstances have brought DJ Automaton back to Portland, meaning we've got ourselves a brand-new monthly dance night. CAKE's Portland incarnation is hosted by nightlife champions Coco Madrid and Bart Fitzgerald, while Northwest legend Ronin Roc (Kevin Wright) assists with DJ duties. Last month at CAKE's Portland debut, Killingsworth Dynasty was at capacity by 11 pm. The diverse and sweaty crowd ignored race and sexual orientation, instead focusing on dancing and drinking in celebration of the expertly mixed hip-hop. MINH TRAN
---
Most Fridays at Black Book, 20 NW 3rd
As a producer on LA's lauded Fade to Mind record label, Massacooramaan (Dave Quam) makes forward-thinking dark club music, eschewing a traditional four-on-the-floor ethos for twitching and sometimes brutalizing reconstructions of juke, dembow, and South African house polyrhythms. As a DJ, he delivers slappers from all corners of the rap multiverse (and the global dance scene) to an eager Black Book dance floor most Friday nights at the Cave. You'll hear Young Thug and a hot Rihanna remix, don't worry—but Massacooramaan pulls from his deep knowledge of international club bangers to keep dancers surprised, weaving through the latest mixtape fire, throwback dancehall, and crossover reggaeton without dropping the beat. He's also hosted such future club luminaries as Helix and Mexico City's NAAFI crew. Arrive early—Black Book's tiny space and the Cave's reputation for turn-up mean those looking for refuge from the Top 40 noise of the Old Town strip will be showing up, so expect a line after 11 pm. DANIELA SERNA
---
Most first Saturdays at Kenton Club, 2025 N Kilpatrick
If you're looking for a dance night that sets the evening on fire, check out Club Nitty Gritty, hosted by the always down for a good time DJ Action Slacks (Shannon Wiberg). She's been pounding the turntables for years with righteous choices in down-home dirty soul—the kind with raw sax and voices that wail and scratch. You may have caught her floor-filling classic R&B sets at the Sugar Town soul nights, but Nitty Gritty adds an extra layer of grime—and for good reason. DJ Action Slacks doesn't want Portland to further lose its soul to shiny, unstoppable growth—and she aims to preserve the good old days by spinning one hot 'n' sweaty 45 at a time. WM. STEVEN HUMPHREY
---
---
In the Cooky Jar, first Fridays at Eagles Lodge, 4904 SE Hawthorne; 50: A Possible History of Dance Music, third Fridays at Holocene, 1001 SE Morrison; last Fridays at Dig a Pony, 736 SE Grand
The Eagles Lodge is a community center on SE Hawthorne, where most activities include twilight rummage sales, bingo nights, and women's auxiliary meetings. But every first Friday of the month, 300 to 400 hip, young Portlanders put on their choicest duds and take over the Lodge to dance to rare and obscure soul and R&B 45s. DJ Cooky Parker (Scott Magee, to his mama) has hosted In the Cooky Jar for seven years, beginning at the much-missed Woods before he eventually made his way to the Eagles Lodge, where he's kept a near-constant residency since 2012. Of all the dance nights in town, In the Cooky Jar is likely the only one where you can dance to Rufus Thomas and Little Johnny Taylor underneath black-and-white photos of old dead white dudes. Fun fact: Magee is also the drummer and bandleader of Ural Thomas and the Pain, and he hosts the Friday Flashback every week at 6 pm on KMHD.fm. Another fun fact: The Fraternal Order of Eagles invented Mother's Day! SANTI ELIJAH HOLLEY
---
Second Fridays at Holocene, 1001 SE Morrison
A purple prism blasts through the smoke as Robyn blares through the speakers. There's a looming line outside, and inside the dance floor is densely populated. This is Dance Yourself Clean, an indie electro-pop dance party that originated in Seattle and has spread to Portland and LA. Though I personally prefer my dancing to be dirty, there are hidden gems in the "clean" set, if Chvrches, Phantogram, and Charli XCX beckon you to the dance floor. The music transitions from pop favorites from the last decade to songs made of piercing noises, but the party's cool laser lights might be the best part. ROSE FINN
---
Second Saturdays at Valentines, 232 SW Ankeny
DJ Wicked's Devil's Pie smoothes out the second Saturday of every month with classic golden-era R&B (like Boyz II Men, Blackstreet, Sade, D'Angelo, INOJ) that will stay in your head all damn week. Hosted at Valentines, it's off the beaten path of the weekend bridge-and-tunnel crowd, but still close to plenty of downtown rumspringa and people-watching. Valentines is a small, romantic, lounge-style bar. There's lots of close talking over cocktails. The crowd is mostly relaxed artist people up to "grown folks business." They don't drink a lot; they drink something GOOD. Dancing happens sporadically, but frequently. It only takes a couple of people to get the small floor going. This is one of those dance nights where it's okay to relax and enjoy the music, and there's an upstairs area if the lower floor gets too intense. SUZETTE SMITH
---
Last Fridays (except this month) at the Spare Room, 4830 NE 42nd
Walking into the Get Down, the energy is palpable. "She got pregnant in the Spare Room," someone jokes as DJs Honest John and Maxx Bass wake up the room. Nestled deep in Northeast, the sweaty dance party embodies the ethos of the city's punk underbelly, but still centers on current pop favorites. Made up mostly of neighborhood locals, the party gets big early and doesn't slow down until last call, with nearly 500 dancers filtering in and out through the night. While some dance night organizers boast about their growing numbers, the Get Down's want to keep its local feel as the biggest little dance party in the city. JENI WREN STOTTRUP
---
Last Saturdays at High Water Mark, 6800 NE MLK
While I approach most dance nights with an abundance of caution and absolutely no expectations or high hopes, last month's Judy on Duty was the pleasantest surprise. Since Megan Holmes and Ana Briseño started the party nearly two years ago, every month Judy on Duty celebrates one "Judy" from the local queer community at the High Water Mark, a candlelit Northeast Portland bar that's bathed in sultry red light and filled with framed pictures of tigers and skulls. It's got a large room for dancing and a back patio with picnic tables for cooling down. Last month's Judy was Katherine Paul, Genders drummer, office administrator at Mississippi Studios, ticketing manager at Revolution Hall, and all-around lovely person. I made the mistake of arriving at the sparsely populated High Water Mark early. (In dance night language, I've learned, that means before 11 pm.) Things started to get going around midnight as DJ Troubled Youth (Holmes) bumped hip-hop from artists like Nicki Minaj, Dej Loaf, and Beyoncé to a smallish but excited crowd. The vibe is genuinely comfortable and inclusive, so assholes and creeps: Stay away, or you'll have to answer to a lot of angry Judys. CD
---
---
Second Saturdays at Mississippi Studios, 3939 N Mississippi
Since 2010, the great DJ Beyonda (Casey Minatrea) and a rotating cast of like-minded backspinners have commandeered Mrs. Presents Queen (originally just called Mrs.)—a monthly party where Portland's queer community can get down to the freshest club sounds. Deep house, booty bass, and Southern trap are seamlessly strung together into a gilded necklace of subwoofer euphoria where au courant hits from R&B heartthrobs like Migos and Corona fit perfectly next to Lil Ronny and Yo Gotti's street-worn bangers. This progressive curation has kept the dance floor of Mississippi Studios constantly pulsating with dancers lost in a sea of twerks, grinds, and, best of all, communal unity. Sadly, as of this month DJ Beyonda is discontinuing Mrs. Presents Queen—but instead, at the same time and place (second Saturdays at Mississippi Studios) Natasha Kmeto and Chanticleer Tru (of Chanti Darling) will host Jump Jack Sound Machine, a new dance party featuring house, garage, disco, break, and tech. The first will be held Saturday July 9—don't miss it! CHRIS SUTTON
---
Semi-regularly at Holocene, 1001 SE Morrison
Recently local DJ Ronin Roc (Kevin Wright) has been holding semi-frequent (once every couple of months) tribute nights at Holocene, Portland's nicest-smelling warehouse. Last month he and Rev. Shines (Ryan Shortell) hosted 3 Kings: Prince, Michael Jackson, and Stevie Wonder Tribute Night—and despite his inclusion in this homage lineup, I'm happy to report that as I write this, Stevie Wonder is very much alive. This particular night was very popular; the line wound around the block outside Holocene. While at most dance nights it's bad to arrive too early, lest you appear a dance night noob, this is one you should stake out in advance. Inside were scores of costumed dancers, some dressed like the honored icons, some dressed as... Bowie. If you're feeling too tired to boogie all night, grab one of the club's boozy slushies and settle in for a night of grade-A people-watching. The next tribute night (which looks very promising) is coming up soon: Holy Trinity: Rihanna, Nicki Minaj, and Beyoncé will be held at Holocene on Friday, July 1. CD
---
First Sundays at the Lovecraft, 421 SE Grand
Every Sad Day at the Lovecraft has a theme, like Anna Nicole Smith or Lilith Phair. At June's Sad Day: Clown Frown, DJ Buckmaster (the party's ostentatious founder) encouraged attendees to dress as clowns by offering half off a $10 cover. Almost no one dressed up, so in the middle of the drag performances, when a queen wearing huge prosthetic ears finished singing an a cappella rendition of "'Til It Happens to You," Buckmaster vengefully cackled, "You all paid money for this!" Lovecraft is the sort of goth club where you can be a 50-year-old dad in a Bud Light T-shirt and no one's going to neg you for skipping around under the pentagram-ceiling dance floor to Britney Spears' "Circus." It's super inclusive, and you can drink absinthe. Before the drag performances, people mostly talked about what the drag queens were going to do. Post performances is the time to get down. SS
---
Thursdays at the Lovecraft, 421 SE Grand
I was not prepared for Shadowplay at the Lovecraft. Waiting in line outside, I watched a girl with black tears dripping down her cheeks spew a gallon of puke onto the curb, then insist she was ready as hell for the dance floor. I remember thinking, "I am an entirely-too-sober, wimpy shrimp"—but strolled in anyway. It was pretty empty at 10 pm, but then DJs Carrion, Paradox, and Horrid put on some Depeche Mode and the Cure and I began to flail my limbs the best way I knew how. Perhaps our unbridled enthusiasm was charming, or more likely, the goth regulars realized their floor was being overrun with riff-raff, but soon enough the Lovecraft was packed and we were all having a hell of a time. FIONA GABRIELLE WOODMAN
---
---
Last Fridays at Holocene, 1001 SE Morrison
After nearly nine years, Snap! has become a dance night institution in Inner Southeast, with bass-heavy R&B, hip-hop, and house music lighting up Holocene's last Fridays every month. A dress code isn't required, but when you're revisiting an era made great by artists like LL Cool J and Ice Cube, putting on a pair of Mary Janes, flannel, and a choker will help set the mood for getting grimy. Hosted by party night queen Coco Madrid, Snap! features resident DJs Dr. Adam, Colin Jones, and Freaky Outty. It attracts a mixed bag of dancers, from devotees, to bachelorette party crews, to the Friday date night set. But once the floor starts filling up, it doesn't matter who you are—it's grind city and the more you're willing to let loose, the better. JWS
---
Every Friday at Goodfoot, 2845 SE Stark
For the past 15 years, every Friday night the fertile confines of the Goodfoot's basement space play host to hours of sweaty, soul-slicked revelry. Helmed by inimitable break-beat maestro DJ Aquaman (Eric Hedford), along with DJs Brad Vachal and the Soul Mechanic (Ian Armstrong), Soul Stew attracts a decidedly younger crowd. It calls to mind inhibition-free college ragers where shattered glass and spilled drinks are par for the course and body language is communicated in some funky, multilingual sexual dialect. Aquaman, Vachal, and the Soul Mechanic—vinyl dorks with impressively thick reserves of rug-cutting jams—are a striking misalignment from the teeming dance floor of sexy, sweaty twentysomethings. But more power to the wax purists with a predilection for the funk; Soul Stew is the perfect antidote to a week full of bullshit hassle, with great late-'60s to late-'70s soul grooves in the vein of vintage Bar-Kays, Otis Redding, Baby Huey, James Brown, and more. RYAN J. PRADO
---
First Thursdays at Dig a Pony, 736 SE Grand; third Fridays at Killingsworth Dynasty, 832 N Killingsworth
Last month, Portland's preeminent DJ crew Strange Babes—DJ KM Fizzy (Kathy Foster), DJ Jen O (Jen Olesen), and DJ Magic Beans (Maggie Vail)—celebrated their fifth anniversary as a collective. That's half a decade spent blitzing eardrums with a prismatic array of pop, punk, and underground dance music with infectious camaraderie and feminist flair. Strange Babes parties are visceral extensions of their popular radio show on XRAY.fm, and for last month's anniversary bash DJs Jen O and Magic Beans held court while the third Strange Babe, KM Fizzy, was on tour with the Thermals. The DJs' styles are distinct yet complementary—Beans confidently strolled down a guitar-heavy path which included bands like the Ramones and the Bangles, while Jen O grooved on low-end trippers from Tunnels and Delta 5. This type of energetic eclecticism is all too rare and desperately needed in a town brimming with monotonous dance nights, so prioritize any opportunity to experience a Strange Babes mastermix in person. CS
---
---
Third Saturdays at District East, 2505 SE 9th
Brought to life by DJs Vera Rubin, Sappho, and StormyRoxx, along with photographer MYKL FSTR, Stranger Disco is a high-concept celebration of queer expression, an event free of assumptions and fluid in sound and appearance. With an eclectic soundtrack of euphoric disco, international new wave, and dark techno, the night relies as much on the bold and brash as the quiet and soft, transforming the cavernous District East into a haven for the transgressive. Rubin's abstract and feminine art installations decorate the room, creating an otherworldly feel, and the dance floor is filled with dancers from across the spectrum of identities caught in exhilaration. The Stranger Disco collective has managed to create a space where attendees are given the access and courage to be exactly who they want for the night—a "freak positive and creep negative" party in the tradition of subversive queer nightlife. Catch Rubin's XRAY.fm show, Shadow Cruising, Fridays at midnight for a taste. DANIELA SERNA
---
Bimonthly on last Tuesdays at Holocene, 1001 SE Morrison
If you've never identified as "Sad as Fuck," this party might not be for you. From the early '00s selection of emo and screamo hits to the balloons adorned with frowning faces, the DJs (and founders) Barbara "Babs" Szabo, TJ Petracca, and Morgan Freed have built an event where former kings and queens of the scene (and those of us who just had a lot of feelings) can go to be alone together. More "aggressive finger point in the air and sway in place" night than dance night, this traveling ode to guyliner, faux-bullet belts, and gratuitously asymmetrical haircuts is the place you're most likely to find an entire room full of people willing to sing along to your fave My Chemical Romance song with you in 2016. JENNA FLETCHER
---
First Saturdays at Holocene, 1001 SE Morrison
Yes, Please! offers ethereal electronic dance party jams, smoke and lights, and crazy abstract visuals. The monthly queer party's turnout is typical for a Saturday night at Holocene—they don't pack 'em in like they used to—but with fewer backward baseball hats. DJ Pure Noise doles out some deep techno equipped with video game sound effects and lively tempos, ideal for bumping your glow-in-the-dark bracelets, as well as your butts. Coast2C is a little more off-tempo and experimental, to complement when you're coming up on your drug(s) of choice. Chelsea Starr hails from San Francisco and creates a sound I find the most accessible of the three DJs, with linear songs and melodies, rather than a transient collection of electronic noises. RF
---
Second Fridays at Killingsworth Dynasty, 832 N Killingsworth
In a city known to many for its overwhelming lack of diversity, joyful spaces geared toward building community and shaking what your mama gave you can feel like a hard thing to come by, especially in the dance night circuit. Enter Y.G.B. Portland, taking its namesake from the Nina Simone song "To Be Young, Gifted, and Black." The local collective hosts a monthly event at the Killingsworth Dynasty that feels more like a reunion of all the coolest folks you know and wish you knew—specifically centering on the young, gifted, and brown. While the dancing might start off a little slow, with resident Y.G.B. DJ Lamar LeRoy carefully blending and building a crescendo of old and new hip-hop and rap, once bodies start moving there's no slowing down. And if you need to take a break from the small, packed dance floor, the party regularly features a photo booth setup and gorgeous visuals cast on the wall to set the mood. JF
---
Sponsored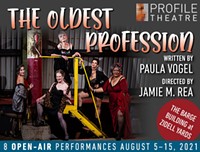 What's the retirement plan for the oldest profession? A moving comedy by the premier writer of our time.