In the beginning... there was porn. And some of it was pretty awesome! But a lot of it, you know, wasn't. Mainstream porn can be problematic in all sorts of ways—most notably that 90 percent of dirty movies are made for white dudes by white dudes. And why is there primarily only one body type (skinny and hairless)? And are any of the actors having fun? I mean, for real?
These are the kind of porn problems that inspired beloved sex columnist Dan Savage to create the HUMP! film festival—an annual celebration of amateur dirty movies that are for the people, by the people!
Sponsored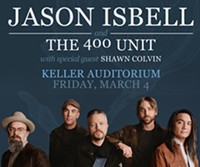 Jason Isbell has established himself as one of the most respected songwriters of his generation. Don't miss Jason Isbell and the 400 Unit, March 4th at Keller Auditorium!
HUMP! invites folks from all over the Northwest and beyond to submit five-minute mini porn flicks that are written, directed, shot, and—in a lot of cases—performed by these sex-positive amateur auteurs. The filmmakers are encouraged to express themselves sexually in whatever way they see fit—so instead of seeing the same, staid heteronormative clips you'll find on the internet, HUMP! is a virtual rainbow of diverse (AND HOT) sexuality! You'll see straight sex, sure... but you'll also see every possible combination of sexuality, body types, ages, colors, genders, kinks, fetishes, and even animation. Oh, and here's something you won't find very often on Pornhub: FUN. These films are often hilarious, hot, sincere, vulnerable, and heartfelt, made by people who actually know and, very often, love each other. And what's sexier than that? THIS is what HUMP! is all about. Now... do you have any more questions?
YES, AS A MATTER OF FACT I DO! HOW DO HUMP! FILMS GET CHOSEN?
I love your inquisitiveness. Here's how it works: Sexy people (like you) make their five-minute films and submit them to the HUMP! jury, who spend days narrowing down the delightfully filthy submissions to the 21 entries you'll see this year at the HUMP! festival. Our aim is to choose a true variety of flicks that recognize the diversity of sexuality while making sure the show is as entertaining as all get-out!
BESIDES HAVING THEIR JUNK OGLED BY STRANGERS, DO HUMP! PARTICIPANTS RECEIVE ANY OTHER REWARD?
You bet they do! At the end of all screenings, HUMP! audiences vote to decide which films receive hefty cash prizes, which are as follows: The "Best Humor" submission receives a $2,000 prize ($1,000 runner-up); the "Best Sex" flick gets a $2,000 prize ($1,000 runner-up); "Best Kink" wins $2,000 ($1,000 runne-up); and the "Best in Show" submission goes home with a whopping $10,000! HOLY CRAP! Why aren't you making a film for HUMP! right now??
ACTUALLY, I'D LOVE TO MAKE A MOVIE FOR HUMP!—BUT I DON'T WANT MY JUNK TO GET ON THE INTERNET! MY CHURCH GROUP MIGHT SEE IT!!
Your concerns are valid—but unfounded! Every single HUMP! submission is fiercely guarded and protected to ensure that your sexy movie is NEVER seen outside of the HUMP! festival. We want you to be a hot porn star for the weekend—not the rest of your life. So don't worry! The self-righteous eyes of your church group will never be sullied by graven images of your swollen junk. Unless, of course, your congregation shows up at HUMP! (By the way, we do have group rates. Wink!)
WILL WATCHING AMATEUR PORN IN A THEATER MAKE ME FEEL GROSS?
If you mean "grossly entertained," then absolutely YES. Picture this: A theater packed full of diverse, sex-positive people hooting, hollering, and having the time of their lives. They'll be laughing, squealing, and occasionally peeking at the screen through their fingers. But seeing HUMP! with this type of crowd is a fun, unforgettable, and liberating experience.
WILL I SEE THINGS THAT MIGHT MAKE ME UNCOMFORTABLE?
Mmmm... maybe? If you tend to watch a certain type of porn, then HUMP! could push the edges of your comfort zone. BUT THAT IS SUCH A GOOD THING! Seeing how other people do it can educate and make you more accepting of other people's differences. And you may discover something about yourself in the process... like getting excited about something that has never piqued your interest before... and possibly deciding to explore that something later on in the privacy of your own genitals. So keep an open mind, already!
OKAY, FINE—BUT WILL I SEE SOMETHING I WILL NEVER BE ABLE TO UNSEE?
Oh, absolutely and with 100 percent certainty! Every year HUMP! features at least one film that makes the audience squeal and squirm in their seats—and that's half the fun! You'll see something that you would never, ever do in a bajillion gazillion lifetimes—and yet? This is the submission everyone will be talking about, possibly for years to come. Do you really want to miss out on that? Trust me: You'll watch it, you'll squeal, it'll be over in less than five minutes, and it'll be fine. And (eventually) you won't even regret it.
I'M CONVINCED! HUMP! IS THE AMATEUR PORN FESTIVAL FOR ME. BUT WHAT CAN I EXPECT TO SEE AT HUMP! 2018?
Another great question! What follows are descriptions of all the films you'll see at HUMP! this year, submitted by the directors themselves! Check 'em out, get your tickets at humpfilmfest.com, AND HURRY! Historically, every show sells out!
---
THE FILMS OF HUMP! 2018
Paint Party
This gang buys a few gallons of paint. With apologies to their landlord.
Bloom
As two lovers stream through each other's bodies and consciousness, orgasmic hallucinations bloom through their synchronized minds.
Campground
A horny boy scout goes on a nighttime hike in the woods. Inspired by the gay erotic film Pink Narcissus.
Jump Start My Love
This kinky couple connects for a midday power boost. Sometimes it's watching home movies together that leaves you the most satisfied!
Unicorn
This couple has a different way of looking at love and sex, elegantly conveyed through our shared human experience.
My Cathartic Release
Take a peek into one woman's masochistic journey to find a sweet, sweet release.
Task Master
An obedient sub takes the term "Dirty Boy" to a whole new level. Chatting online can get messy.
Spin
Your favorite middle school game has turned into a big basement bang fest. You can almost hear the parents yelling, "What's going on down there?"
The Punishment
In this stylish BDSM film, a couple returns home after a night on the town to explore the arts of dominance and submission. This female lead takes control of her kink by initiating her punishment (by being a brat and misbehaving).
Porn Yesterday
A look at how terrible adults were at hiding porn and how good we were at finding it.
Whatever Floats Your Goat
It's never a dull day in the dairy room, but when a strange new breed of goat shows up this morning, our milkmaid will have to work extra hard to get that milk!
Please
Consent is sexy. Here's the proof. A deep exploration of rough sex.
Troughman
A man tries to build up the courage to ask another man to piss on him in the Leather Stallion restroom trough.
Luminous Lust
A real-life couple boldly bring the audience into the most intimate parts of their lives, sharing with the camera how the couple fell in love, what about their partner turns them on, and how they first met.
Home for Lunch
Coming home from work for lunch, a boyfriend finds something even more delicious to fill up on.
The Wheel of Fortune
Five strangers are bound by flesh and metal. Only their release can set them free.
Extreme Wild Fuck...
When you set out for a hike, you never know what you'll "come" across on top of the mountain.
Insomniacs
Hotel. Night. While everyone is asleep, the cursed creep is out, as hungry as ever. Infrared cameras, outdoor exhibition, and a sloppy hole.
Optic Perve
Put on your spectacles, open your lids, and lend us your gaze. You'll want to ogle this "cornea copia" of optical illusions and private eyes!
All of Us
Exploring the multidimensional story of two lovers' sexual and emotional relationship, expressing their passions for pain and pleasure in sweet soliloquies.
Around the World in 80 Lays
A young couple stuck in a sexual rut decides to explore Planet Earth AND BEYOND! Sometimes the greatest sexual journeys require frequent flyer miles.
---
DON'T MISS AMERICA'S SWEETEST LI'L AMATEUR PORN FESTIVAL, HUMP!
Thurs Nov 8-Sat Nov 10 and Thurs Nov 15-Sat Nov 17
Revolution Hall (1300 SE Stark)
For Screening Times and Tickets, Go to HUMPFILMFEST.COM!