The Accountant
It's not hard to imagine how Ben Affleck was convinced to sign on to The Accountant. "Hey Benny!" director Gavin O'Connor shouted into the phone, probably. "Gotta real good movie for ya. So this accountant guy, he's just like Good Will Hunting, but also he's Batman!" "I'm in," grunted Affleck, and voila! Movie magic is made. The problem, though, isn't that The Accountant is two ill-matched movies smooshed together—it's actually more like five or six, and none of them are thought-out enough to carry the day. NED LANNAMANN Various Theaters.
Sponsored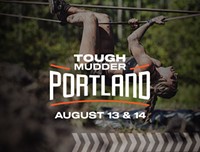 Lock in your summer adventure, Portland. Join us for world famous obstacles over a 5K or 10K distance.
The Battle of Algiers
Stop me if you've heard this one: A wealthy, powerful country invades a much smaller, poorer, more defenseless country, and occupies it for its own uses. The residents of the invaded land can't compete with the wealthier one on the battlefield in traditional warfare, so they resort to guerrilla tactics—assassinations, suicide bombings, etc. The occupying country brands these freedom fighters as terrorists, calling their tactics savage, cruel, and criminal. Even though the colonial powers win militarily, they ultimately lose the strategic war. Sound familiar? It's a scenario that has played out over and over throughout history. But one of the bloodiest insurgencies in recent history was the 1954-62 Algerian War, in which Algerians engaged in terrifying tactics to kick out the French. 1966's The Battle of Algiers, shot in Italian neorealist style, rips through this war, showing both sides for what they were. It's not an easy film to watch, but maybe more important now than ever. SCOTT MOORE Cinema 21.
The 'Burbs
The 'Burbs: Joe Dante and Tom Hanks' 1989 not-so-beloved comedy-thriller. The 'burbs: Where we're all going to have to move soon, fellow Portlanders. Unless we can't afford to live out there either. Laurelhurst Theater.
Certain Women
See review this issue. Cinema 21.
Hecklevision: The Wicker Man
Nicholas Cage's disastrous attempt to remake The Wicker Man gets the Hecklevision treatment. This feels a little like kicking someone when they're down. And also when they have bees in their eyes. Hollywood Theatre.
The Howling
Joe Dante's 1981 werewolf horror flick starring Dee Wallace. And a bunch of werewolves! Academy Theater.
Jack Reacher: Never Go Back
See review this issue. Various Theatres.
Keeping Up with the Joneses
See review this issue. Various Theatres.
A Man Called Ove
From the start of Hannes Holm's fanciful character study A Man Called Ove, Sweden's official submission for the foreign-language Oscar, it's clear where things are going: The curmudgeon of the title is going to get a wake-up call. If the tone is more overtly sentimental, A Man Called Ove plays like a Swedish variation on Gran Torino—except the cars are Volvos and Saabs. KATHY FENNESSY Cinema 21.
Maniac
The Grindhouse Film Festival presents the 1980 thriller. Trigger warning: scalping. Hollywood Theatre.
New Scandinavian Cinema
A showcase of 11 recent dramas, thrillers, and comedies from Denmark, Finland, Norway, Sweden, and Iceland. More at nwfilm.org. NW Film Center's Whitsell Auditorium.
Oasis: Supersonic
"Bruthers, man." Spoken in the thick brogue of Oasis' Noel and Liam Gallagher, that might as well be the tagline of Oasis: Supersonic, a documentary chronicling the '90s Britpop band's volatile lifespan and the brothers' enduring love-hate relationship. Though it's peppered with anecdotes about doing crystal meth and craving "the severed head of Phil Collins," the film primarily centers on their warring egos, and how this tension both made and destroyed Oasis. The Gallaghers' feuding continues to this day—Liam has repeatedly made headlines in 2016 for calling his brother a potato—so much so that their voiceovers were recorded separately. Perhaps intentionally, Supersonic edges into This Is Spinal Tap territory, particularly when its creators let Liam or Noel speak. "Oasis was definitely like a fucking Ferrari," Liam waxes, "Great to look at, great to drive, and it'd fucking spin out of control every now and again when you're going too fast." CIARA DOLAN Cinema 21.
Ouija: Origin of Evil
S-E-E-R-E-V-I-E-W-T-H-I-S-I-S-S-U-E-V-A-R-I-O-U-S-T-H-E-A-T-E-R-S
Portland EcoFilm Festival
A bunch of films focused on our natural environment. This year's selections include Seed: The Untold Story, from the filmmakers behind Queen of the Sun and The Real Dirt on Farmer John, as well as an Arthur Bradford-hosted evening of films about trees, a 35mm screening of the hippie sci-fi flick Silent Running, and more. More at portlandecofilmfest.org. Hollywood Theatre.
Portland Latin American Film Festival: From Afar
Monthly screenings from the Portland Latin American Film Festival. This month: Lorenzo Vigas' award-winning Venezuelan drama From Afar. Hollywood Theatre.
Re-run Theater: Someone's Watching Me
A big-screen presentation of John Carpenter's 1978 TV movie Someone's Watching Me, complete with vintage, Halloween-themed commercials from the '70s! Hollywood Theatre.
Train to Busan
South Korean director Yeon Sang-ho sticks a bunch of people on a bullet train, then loads it up with a shitload of pissed off fast zombies, sets the throttle wide open, and lets it go. Hollywood Theatre.
Tyler Perry's Boo! A Madea Halloween
This film was not screened for critics. Various Theaters.
Voices in Action: Human Rights on Film
The NW Film Center's human rights film series. More at nwfilm.org. NW Film Center's Whitsell Auditorium.
---
MEANS WE RECOMMEND IT. Theater locations are accurate Friday, October 21-Thursday, October 27, unless otherwise noted. Movie times are updated daily and are available here.