MAYBE YOU'RE a purist cinephile who thinks movie theaters should be judged on "image presentation" and "sound quality" and "screen size." Well, I'm not, and I don't give a shit about comfortable seats. When I'm trying to decide between theaters, I choose based on the snacks I can consume. Movie houses make more money on snacks than ticket prices anyways! Thus I have—some would say philanthropically—compiled this list for you based not upon nerdy sound system specificities (which you can't even tell the difference between, so don't even front), but upon stuff you can put in your mouth while waiting for the show to start. Let's eat some fucking snacks!
The snacks at Cinema 21 (616 NW 21st) inspired this article. I am specifically referring to their pizza slices ($4.95 for all types!). It's pretty common practice for small movie theaters around Portland to pair up with local pizza shops to offer delicious, distinctive slices. Cinema 21 sells Escape from New York pizza, which has the best structural integrity of any movie pizza I've had in Portland. The slices stand straight as an arrow. (This also amplifies the crunch experience.) If you've ever grappled with a slice in the dark you know what I mean and you've already got your coat. Slow down! There are other snacks to consider. I made this whole dumb list for you, dummy.
I thought Cinema 21 was going to unseat the Laurelhurst Theater (2735 E Burnside) as snack king of Portland movie theaters... but I have to say, at the last minute, Laurelhurst came back in a big way. Because after a long weekend of eating movie theater snacks, I dug into their excellent—better than many restaurants—spinach salad ($5.50) and it saved my life. Laurelhurst has restaurant-quality food that can be purchased in the ten-minute pre-movie crunch, because the same people who own it also own the New Deal Cafe. By far, Laurelhurst offers the most types of pizza (from vegan to meat, $3.25-4.25) and their pizza types change frequently (important if you go there a lot). Something I didn't know: They get their cookie dough from New Deal and bake it fresh in their pizza oven! This is why their cookies are often still warm to the touch.
Okay, so the Academy Theater (7818 SE Stark) has sushi! But hold on, it's not as crazy as you think. They only have it for evening shows (they get it from Miyamoto around 5 pm), the choices are avocado ($4.50) or veggie roll ($5.50), and the staff says it sells out pretty fast. That said, if you don't get the sushi, the Academy still has some of the best movie pizza ($4-5) in town. It's super cheesy and felt like a full meal. They get it from nearby Flying Pie.
A concessionist at the Academy told me that Cinemagic (2023 SE Hawthorne) has pizza now (intrigue!). BUT they don't. BUT they do let you bring slices of pizza in from neighboring spots ("not like a whole pie," the staff requests), which is amazing because it's right next door to Blackbird Pizza! So—with a little extra legwork—you can eat pizza in Cinemagic's big, cool theater and you don't even have to pay movie snack markup.
Okay OKAY, I hear you. The article is almost over! Where's my favorite snack spot? It became clear, as I wrote this roundup, that I did not have enough room to go into important stuff like the pizza window at the Hollywood Theatre (4122 NE Sandy Blvd) or the Roseway Theater's (7229 NE Sandy Blvd) Haribo candy game. I have MUCH more to say about the various theater snacks in this town. So we're going to do this is again. This is just the start! Please enjoy these recommendations, and stay tuned to an upcoming issue of the Mercury for "The Best Theater Snacks in Portland Part 2: Electric Boogaloo."
Sponsored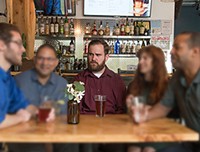 Adults aged 18-35 with good hearing will be paid for their time. Located at the Portland VA Medical Center