Atomic Blonde
Atomic Blonde is a hyper-stylized graphic novel adaptation with all the bright lights and artsy gore this usually entails, but more importantly, Charlize Theron's spy is so perfect that I want to climb inside her life, boots, hair, and sunglasses, even though I abhor violence, hard work, and heightened political climates. ELINOR JONES Various Theaters.
Sponsored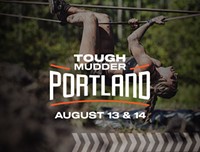 Lock in your summer adventure, Portland. Join us for world famous obstacles over a 5K or 10K distance.
★ The Big Sick
The Big Sick doesn't sound like anything extraordinary. But that's what makes it so enjoyable—this is the type of sweetly told, small-scale story that has all but evaporated from movie screens, and wouldn't work as a TV show. It's also got one or two things to say about being a Muslim in America, so it's not only different from the usual white-bread romantic comedies, it's very much connected to this political moment, too. Maybe this is putting too much significance onto a story this small. But I think The Big Sick is up for it. NED LANNAMANN Various Theaters.
★ Detroit
See review, this issue. Various Theaters.
The Dark Tower
See review this issue. Various Theaters.
★ Eve's Bayou
Kasi Lemmons' 1997 drama never quite got the love it deserved, even with Roger Ebert spending most of that year (and most of the next) pushing it as hard as he could. Sometimes films just slip through the cracks that way. Don't let this (literally) spellbinding family drama slip away again 20 years later—not just because this film isn't screened much, if at all, but because it contains career-best work from Samuel L. Jackson, Lynn Whitfield, and Debbi Morgan (All My Children fans know what's up). BOBBY ROBERTS Fifth Avenue Cinema.
★ Girls Trip
Girls Trip doubles as a $19-million ad for the Essence Festival (I'll be attending next year), but I was pleased that the comedy isn't just a Black woman's rendition of The Hangover, and nor does it contort itself into a cheesy romcom. The central love story here is that of the "Flossy Posse," four college friends who used to slay dance-offs in the '90s. Ryan (Regina Hall) seems to have it all, Lisa (Jada Pinkett Smith) needs to get laid, and Sasha (Queen Latifah) is a gossip blogger. But Tiffany Haddish steals the show as Dina, the life of the party who routinely gets the girls into trouble, and will get buck to defend her friends from fuck niggas or "Instagram ho" villains. Is Girls Trip a hilarious, turnt-up celebration of Black womanhood and sexuality? YAS! But at its core, it's about personal integrity, self-love, and female friendship. JENNI MOORE Various Theaters.
★ Hedwig and the Angry Inch
With its charming pop-art magical realism, cinematic flashbacks, and the ability to present intimate documentary-style footage of Hedwig's misfit band on tour with their charlatan business manager, the movie version of Hedwig is able to emphasize the rich plot far better than the stage version did. Although, admittedly, the movie ending—a Christ-like nude walk across a city street with a close-up on Mitchell's ass—is still wildly obscure. (I could never figure out Tommy or Rocky Horror either.) JOSH FEIT Clinton Street Theater.
An Inconvenient Sequel: Truth to Power
See review, this issue. Various Theaters.
★ Landline
See review, this issue. Various Theaters.
Night of the Comet
1984's hilariously lousy sci-fi flick about valley girls fighting zombies. Starring Robert Beltran, AKA Commander Chakotay of Star Trek: Voyager!!! Laurelhurst Theater.
★ Porco Rosso
The name Miyazaki often conjures feelings of whimsy, wonder, and eye-popping magic. But the man's work was not just twinkles and murmurs. Princess Mononoke got mean and bloody, Castle of Cagliostro was slapstick and silly, and Porco Rosso? Somehow, Miyazaki turns the story about a World War I fighter pilot cursed to be a pig into an anti-fascist action comedy that's also a coming-of-age story that's also a romance that manages to effortlessly blend emotions like longing, regret, and muted triumph with some of the silliest gag writing Miyazaki's ever done. Wonder and magic, indeed. BOBBY ROBERTS Academy Theater.
★ Raiders of the Lost Ark
Maybe the most perfectly constructed film in cinema history. Maybe. I'm sure someone out there has an argument on deck, but I'm betting their champion of choice doesn't include a giant pit of snakes; a fight inside, on top of, and hanging off the front of a truck at 50 mph; a holy box that melts Nazi faces like Totino's Party Pizza; and—most importantly—the presence of peak Harrison Ford in all his sweaty, smirky, silly-yet-sexy glory. BOBBY ROBERTS Portland Expo Center.
★ Shaft
"Who's the Black private dick that's a sex machine to all the chicks?" Part of NW Film's Top Down: Rooftop Cinema series, preceded by a local short film. Hotel DeLuxe.
★ The Shining
It says something about Stanley Kubrick's skill as a director that, of all the perfectly framed, perfectly lit, perfectly staged scenes and shots in The Shining, moments that embed themselves like patient little tumors in the soft spots of your brain, maybe the most profoundly fucking creepy thing in the whole film isn't two twins holding hands, or an elevator filled with blood, or a man in a bear suit caught mid-fellatio, or a woman transforming instantly in a single edit from siren to pile of sloughed-off skin. No, it's a little boy riding a Big Wheel around the perimeter of a carpeted dining room. That's it. A boy, his bike, and the unsettling rhythm of his plastic wheels thumping up onto the carpet, and smacking back down on the hardwood. BOBBY ROBERTS Portland Expo Center.
Star Trek II: The Wrath of Khan
"Of my friend, I can only say this: Of all the souls I have encountered in my travels, his was the most... human." Clinton Street Theater.
Violent Saturday
A lost classic of the dying days of film noir, Richard Fleischer's 1955 heist film makes the most of its Technicolor stock to bring a freaky-deaky Arizona town to nasty, lurid life. Starring Victor Mature, Lee Marvin, and Ernest Borgnine. Hollywood Theatre.
---
MEANS WE RECOMMEND IT. Theater locations are accurate Friday, August 4-Thursday, August 10, unless otherwise noted. Movie times are updated daily and are available here.