Of all the pieces that must interlock just so for a film to have even a hope of working, the element that's closest to pure magic isn't the visual effects. Nor is it the cinematography or the editing. Hell, it's not even the acting. Counterintuitive as it may seem, when you think of the most emotionally resonant moments in this visual medium, more often than not you're not seeing a scene, you're hearing it. The score isn't just the final piece of the puzzle—it's often the most crucial.
Superman. Rocky. James Bond. These names all summon potent iconography, but they also call up the indelible earworms that are their themes.
Matt Schrader's Score: A Film Music Documentary seeks to shine a light on how this magic is conjured—from the history of the form to the inspirations that fueled changes as the industry's tastes shifted and grew. Unfortunately, the very things that make film scores great are things that Score has none of: focus, flow, rhythm, and drive. Score is an excited, well-meaning friend who thinks that "Hey, you know about this cool thing? Isn't that cool?" is both the beginning and the end of a conversation.
Score hits this one note with an all-star cast (Hans Zimmer, James Cameron, Danny Elfman) and occasionally an interesting insight rings out: legendary composer Jerry Goldsmith drummed on mixing bowls for Planet of the Apes! Steven Spielberg thought John Williams was fucking with him when he first played the Jaws theme! But Score is less a documentary and more a series of mediocre YouTube videos, haphazardly glued together with no clear through-line—too simple and hollow for aficionados, too vague and redundant for anyone who can hum a few bars of Star Wars.
Sponsored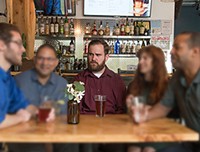 Adults aged 18-35 with good hearing will be paid for their time. Located at the Portland VA Medical Center