Future generations may never know the pleasure of digging through the shelves of a video store to find a tape so uniquely weird that the clerk gives an approving nod as they ring it up. It's a small pleasure, sure, but you'll never get it from Netflix.
Sponsored
Sketch comedy troupes from all over N. America descend on The Siren Theater for 3 glorious nights.
Over the past three decades, Portland's iconic video store Movie Madness (which, after a successful crowdfunding campaign, was acquired earlier this year by the Hollywood Theatre) has accumulated a massive catalog of rarities, oddities, and bootlegs—many of which are just about impossible to find elsewhere, and some which once required hefty deposits to rent. These days, all you need is a rental history to check out Movie Madness' rarest material, but those small deposit stickers are still on the rental cases, providing a fascinating window into which videos were seen as valuable, irreplaceable, or frequently stolen because teens didn't have immediate access to porn. (I'm looking at you, whoever made it so Wrestling Women USA required a $200 deposit.)
Some films just never made the jump from VHS to DVD, let alone streaming services. There's Rubin and Ed ($100), an absurdist early '90s anti-comedy featuring Crispin Glover that's currently only available via direct order from the director's personal website. Or On The Air ($100), David Lynch's 1992 workplace sitcom for ABC that dared to ask, "What if David Lynch tried to make 30 Rock with Twin Peaks alumni?" The answer was "please don't," as only three episodes ever aired.
One of the most coveted DVDs, then and now, is Mystery Science Theater Volume 10 ($400), which was yanked from retail shelves when the rights to Godzilla vs. Megalon expired. Since the riffs in that one get kinda racist, that's okay, but Volume 9 ($200) features Women of the Prehistoric Planet, a delightful proto-Star Trek romp featuring The Rockford Files' Stuart Margolin and the timeless moral that space racism is bad. Another sublime DVD oddity is Jackie Chan's My Stunts ($300), a feature-length tour of Jackie's stunt lab and real-world locations where he built a career out of almost dying.
Among the pantheon of cinematic physical media, few releases are more revered than the films restored and released by boutique label the Criterion Collection—especially when one goes out of print. Carol Reed's The Third Man ($200) is correctly regarded as a classic of post-war cinema, and the copies of the Criterion edition are widely sought after by collectors (though I prefer more recent restorations). Another Criterion disc, Salò, or the 120 Days of Sodom commanded the highest of Movie Madness' deposits I could find ($500!), but also presents an ethical dilemma to actually watch—the 1975 film features numerous depictions of sexualized violence against underage actors.
But I had no such reservations when it came to the NC-17 Robotrix ($200), an intensely sexual 1991 RoboCop ripoff that evidently irked American censors with some surprisingly egalitarian views on male nudity and cunnilingus. It's not always clear who's a robot, or why they're having sex, or if they're having sex with a robot, but for an erotic RoboCop knockoff, that's perhaps to be expected. And it's exactly the sort of profoundly strange treasure to be found in the back shelves of a video store, though I'll admit I didn't get an approving nod when I checked it out.
Sponsored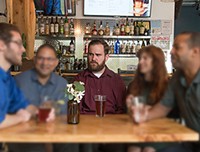 Adults aged 18-35 with good hearing will be paid for their time. Located at the Portland VA Medical Center