Between now and the Oscars, you're going to hear a lot about the best movies of the year: Alfonso Cuarón's Roma and the Coen brothers' The Ballad of Buster Scruggs, Ryan Coogler's Black Panther and Ari Aster's Hereditary, Spike Lee's BlacKkKlansman and Yorgos Lanthimos' The Favourite, Bob Persichetti and Peter Ramsey and Rodney Rothman's Spider-Man: Into the Spider-Verse, Chloé Zhao's The Rider, Barry Jenkins' If Beale Street Could Talk. But when we looked back at 2018, each of the Mercury's movie critics decided to highlight just one of our favorite movies of the year—movies that might not get as many eyes or accolades as the ones above, but movies that are still very much worth watching and rewatching. Especially as we enter January, a useless garbage month where there's literally nothing to do except watch movies.
---
Annihilation
(dir. Alex Garland, available via iTunes, Amazon, YouTube, Movie Madness)
What is this beautiful, terrifying thing called Annihilation? Is it sci-fi? Horror? Extended metaphor? Okay, fine: Metaphor for what, then? For cancer? Depression? Fuck it, maybe it's just shimmering, grotesquely gorgeous weirdness for the sake of it, since writer/director Alex Garland certainly isn't interested in making this dread-soaked daymare all that plotty. Like his previous film, Ex Machina, Annihilation's story only exists to ensnare its characters—and, once they're trapped, to squeeze until the why of them is forced into the air. Will whatever is released explode, or will it wither? It will transform, as we all do, and there's something simultaneously comforting and terrifying about that certainty. Those contradictory emotions are intertwined in every aspect of Annihilation—on the faces of its amazing cast (Natalie Portman, Jennifer Jason Leigh, Tessa Thompson, Oscar Isaac), in the grounded otherworldliness of its visuals, and in a mesmerizing score that presses lilting stringed melodies into cramped spaces filled with blawping electric gutterances. Not many films really examine all the aspects of metamorphosis, physical and psychological, the way Annihilation does. BOBBY ROBERTS
---
First Reformed
(dir. Paul Schrader, available via Amazon, iTunes, Movie Madness)
First Reformed is about a lot of things. It's about blind faith, and inevitable bodily rot, and the unknowable mysteries of life. It's about shame and sacrifice and the futility of martyrdom. It's about depression and redemption. It's about religion as big business, and about living in a capitalist country that treats business as a religion. It's about climate change, and whether rich assholes can buy their way into salvation. It's about Ethan Hawke's jaw-dropping performance as a seriously damaged reverend failing to keep his shit together in the face of Christianity's hypocrisy. It's about writer/director Paul Schrader's return from the brink of irrelevance with a searing, abyss-gazing script, gorgeously rendered in subdued blues and grays. It's about Cedric the Entertainer being billed in the credits as Cedric Kyles, because this movie isn't fucking around. It's about what it looks like when you pour Pepto-Bismol into whiskey: an evil, pink-brown apocalypse. It's about the actual apocalypse. It's about Schrader's audacious ending, which will infuriate people who don't know how to deal with ambiguity, in art or religion. It's about more than these things. It's grim, glorious, beautiful, and cruel. NED LANNAMANN
---
Love, Simon
(dir. Greg Berlanti, available via Amazon, iTunes, Movie Madness)
I started Love, Simon on an airplane, and then became infuriated when the plane landed before I was finished. After a successful second attempt to finish it, I confirmed that I do love Love, Simon. Based on the YA novel by Becky Albertalli, it's a relatable tale of the anxieties of being a non-heterosexual person in high school and keeping a romance secret from your friends and family. As Simon (Nick Robinson) tries to solve the mystery of his anonymous crush (the two trade emails, but not names), Love, Simon examines the internal struggle of knowing you're gay but not being ready to announce it to your world, even when you have supportive friends and a family that'll love you no matter what. (Simon's sweet but oblivious dad, played by Josh Duhamel, is "an annoyingly handsome quarterback who married the hot valedictorian," played by Jennifer Garner.) Unlike some seriously depressing films about coming out, Love, Simon is a dramedy that's actually funny, and it includes some excellent adult characters, like drama teacher Ms. Albright (Insecure's Natasha Rothwell) and Vice Principal Worth (Veep's Tony Hale). A tender, much-needed heart-to-heart between mother and son near Love, Simon's conclusion caused wetness to leak from my eyes as I shouted, "Goddammit, Jennifer Garner!" at my TV. But it was a good cry. JENNI MOORE
---
The Sisters Brothers
(dir. Jacques Audiard, home release forthcoming)
If 2018 taught us anything, it's that nobody knows what the fuck they're doing. But amid the deaths of climate change, the stings of tear gas, and the shadows of fascism, one way to stay sane slowly became clear: You do the best you can in an uncaring and chaotic world. You pay attention to the people that you care about the most, and you spend time and energy to make their lives better in the same way they make your life better. You keep going, even when things are awful, and even when things start to look a little bit better for just a second, and even when things get awful again. And sometimes you drink. Based on Patrick DeWitt's novel, The Sisters Brothers stars John C. Reilly and Joaquin Phoenix as Eli and Charlie Sisters, who ride and swig and shoot their way across the West, bickering as they get paid to do terrible things. With each misadventure comes a reminder: This world has always been a goddamn mess, and sometimes a bear attacks your horse. Sometimes you find gold. Sometimes you get tricked. Sometimes people shoot you and sometimes you shoot people. Sometimes you meet a mad scientist. Sometimes you rediscover a place you thought you'd lost, and sometimes you can share that place and that feeling with the people you care about the most. The Sisters Brothers is hilarious and surreal and acidicly sweet, and as Eli and Charlie tumble and stagger through it, they rarely know what the fuck they're doing—but in an uncaring and chaotic world, they do their best. This fine motion picture also includes a scene in which John C. Reilly pukes up hundreds of tiny baby spiders. ERIK HENRIKSEN
---
Suspiria
(dir. Luca Guadagnino, now playing)
As someone who would pay money to watch Tilda Swinton do just about anything, I have to admit I was predisposed to enjoy Luca Guadagnino's Suspiria remake, wherein Swinton glides around the Markos Dance Academy with the elegance of a feather carried by some preternatural breeze. But aside from the always-magnetic Swinton, the new Suspiria won my heart for several reasons: The art deco architecture, the stylish costumes, the hypnotic choreography, and the symphonies of gore that take body horror to gorgeous and terrifying new heights. It's nothing like Dario Argento's 1977 original (and some of the subplots are highly questionable), but Guadagnino's Suspiria shocked me. That's rare. CIARA DOLAN
---
You Were Never Really Here
(dir. Lynne Ramsay, available via Amazon, iTunes, Movie Madness)
In my imagination, You Were Never Really Here director Lynne Ramsay is smoking, arguing in a den with other directors and saying something in her Scottish brogue like, "You can't end a film on a slurp sound? I can end a film on a slurp sound!" You Were Never Really Here is based on a short, fast-paced novel by Jonathan Ames about Joe (Joaquin Phoenix), a man with severe PTSD who wields a hammer as he hunts down pedophiles. I'm less interested in the subject matter of meting out heinous violence in exchange for heinous crimes (I've never been all that Hammurabi) than I am in Ramsay's visuals and the masterful unfolding of the film's score, by Radiohead's Jonny Greenwood. Winner of Best Screenplay and Best Actor at Cannes, You Were Never Really Here received a standing ovation from the festival's audience, and it's easy to see why. Slurp! SUZETTE SMITH
Sponsored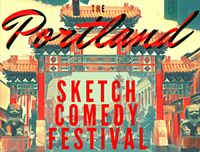 Sketch comedy troupes from all over N. America descend on The Siren Theater for 3 glorious nights.