DURING MY QUEST to rank every sushi conveyor belt in Portland, never have I thought more deeply about the title of my column: Last Supper. As I journeyed into the heart of cheap raw fish and ate more krab than any human should, I figured every piece of $1 salmon could be my last.
As I dined at 13 restaurants, ranging from hole-in-the-strip-mall to shiny and new, my odyssey actually served to restore my love of sushi trains. Sure, the worst feature the flavor of raw tuna carried around in 2008-crazy Britney's purse for a day, and the best don't really approach high art. But there's just something about sitting down to eat with a parade of multi-colored plates zipping by and an order of salmon skin hand rolls on the way that makes me want to indulge on a semi-regular basis.
Sponsored
Sketch comedy troupes from all over N. America descend on The Siren Theater for 3 glorious nights.
A note on my criteria: Service has to be responsive to a custom order, but what's on the track should be good enough for a meal. Price is important and it's critical that the variety of options don't exclusively involve deep frying, cream cheese, or slathering a roll in spicy mayo.
Here's the definitive ranking:
---
THE WINNER:
Sushi Takahashi 2
2415 SW 5th
There used to be a Sushi Takahashi 1, but it is no more. Thank goodness version 2.0, located in a strip mall south of downtown, endures. Chef Kashi loads the finest train in the West. He works alone and skips no steps, as he hand-forms nigiri and places fresh, pretty slices of fish on top. A sushi master in Tokyo, Mr. Yasuda, recently taught me that the real way to gauge sushi is by its rice, and Sushi Takahashi has got it down. The grains are all lightly flavored with vinegar, and cooked to perfection, neither gummy nor hard. It's best to augment your conveyor selections with orders from the many hand-written signs on the walls, especially the fried oyster hand roll.
Regular price plates: $1.25-5.50 (for uni). Happy hour: Mon-Fri, half off train sushi rolls from 8:30-9 pm, take out only.
---
Sensei Sushi Bar & Grill
710 SW 2nd
Sensei Sushi may be showing off because it's new, but this conveyor belt is bringing it. At 5:30 pm on a Saturday, they had a crazy good selection of nigiri, including octopus and pepper tuna. The rolls showed editing: The Oregon roll with crab and cucumber topped with salmon and avocado didn't come drenched in mayonnaise or teriyaki. Plus, on weekends and during happy hour, you can get any of it for $1.95 or less—and they don't charge extra for special orders, like so many other places do.
Regular price plates: $1.35-4.75. Happy hour: Mon-Fri 3-6 pm, all hours weekends, $1.95 (or less) per plate with drink purchase.
---
Sushi Chiyo
4029 NE Sandy
I'm going to come out and say it: The salmon nigiri at the new Sushi Chiyo in the Hollywood District is obscene (like, big). Real pros know better than to try and bite a nigiri in half, thereby corrupting the structure of the rice and fish stack, but these $1.85 slabs pretty much require two chomps. The salmon and all the other fish have been among the freshest tasting on my trips to Sushi Chiyo. Northeast Portland already has the city's finest sushi belts, and this is the best of them.
Regular price plates: $1.35-3.25. Happy hour: Sun-Fri 2-4 pm, $1.95 per plate.
---
Marinepolis Sushi Land
Multiple locations
Marinepolis is a West Coast chain, with spots all over the Portland Metro area, Seattle, and Los Angeles. This supply chain helps the food turnover and keeps the quality pretty darn high. I eat here the most, as it's near my office, and I've never eaten an off piece. The service is always quick with a soda and a special order, and their options for $1 plates are on point: salmon skin rolls, cucumber and avocado rolls, inari, and tamago are always on the belt.
Regular price plates: $1-3. No happy hour.
---
Sushi Ohana
1422 NE Broadway
If you're trying to get a seat here at noon on a weekday, bring a book. Sushi Ohana's daytime $1.85 prices mean you can snag quality rolls and a nice variety of nigiri, including the elusive okay-tasting conveyor-belt tuna, on the cheapy-cheap. The worker drones of the Lloyd District have caught on and there's no stopping the lunch rush.
Regular price plates: $1.35-3.15. Happy hour: daily 11 am- 5 pm, all plates $1.85 (green plates $1.35).
---
Sushi Ichiban
24 NW Broadway
I used to love this place—once, someone sent around a game of tic-tac-toe on the actual train that carries the sushi. But it's dropped some in quality over the years, and it's perpetually understaffed. The rice has grown too vinegary, and a recent dinner involved a swamped staff trying their best to keep plates on the track. But their salmon skin hand roll, a heaping of fresh-fried fish with cucumber and avocado, is still one of the best.
Regular price plates: $1.25-4. Happy hour: Wed night and all day Sat, selected plates $1.25.
---
O'Sushi
2838 SE 82nd
There's a smattering of sushi tracks along SE 82nd, and O'Sushi gets the title of the worthiest. Located in the Fubonn parking lot, they have a crazy "happy hour" that runs all day with $1.50 plates. O'Sushi is a working-class affair, with big-bellied construction guys building stacks of plates higher than their hardhats. Like its clientele, O'Sushi is straightforward and gets the job done.
Happy hour: all day, dine in only $1.50 plates.
---
Umenoki Kaiten Sushi
9738 SE Washington, Ste. M
I have never felt more neutral about a place. Maybe it's because it was my last stop on this oceanic odyssey, but Umenoki produced neither joy nor sorrow. It was fish on a belt. It was one of the cheapest of all. The sushi chef was nice. If I was hungry and leaving Home Depot, I'd go there instead of the Panda Express or the other nearby chain restaurants.
Regular price plates: $1.35 for everything. Happy hour: all day Sat, $1.10 plates.
---
Sushiville
1514 NW 23rd
When I worked for another alternative weekly that SHALL REMAIN UNNAMED, I used to eat here when I was sad or stressed out. Frankly, I'm surprised I didn't eat here daily. Recent return trips have shown a marked downturn since then (the sushi is still decent though), accompanied by some of the higher prices in Portland. I ordered a hand roll when I sat down... it didn't arrive until I was ready to go. Mostly, an owner-looking guy barked angrily at his sushi chefs while I bolted down some basic rolls and nigiri. Maybe the misery is spreading.
Regular price plates: $1.25-3.75. No happy hour.
---
Sushi Sakura
506 SW 6th
I don't envy Sushi Sakura's position on the bus mall—our happy hour dinner with plates all $1.95 or less involved some screaming from the sidewalk outside. This is a just fine place to get a plate or three. Service was among the most attentive, refilling my soda without me asking and quickly bringing out special orders. It was just fine.
Regular price plates: $1.35-3.75. Happy hour: daily 3-9:30 pm, $1.95 plates ($1.35 red plates) with drink purchase.
---
Hot Pot 'n Sushi
10127 NE Cascades
If you're into sushi drenched in chili sauce, sushi with tempura dipped in tempura, and sushi with unagi sauce, spicy mayo, and then dipped in tempura, this is your place. At least it's clean.
Regular price plates: $1.25-3.25. Happy hour: Sun-Thurs 6 pm-close, $1.25 for all plates with drink purchase.
---
Sushi Sushi
5428 SE 82nd
I hate to say it, but the overwhelming feeling I had the whole time I was here was sad. The fish was of questionable taste, and the track, despite it being prime dinner time with about 10 people inside, was pretty bare. They do have a punch card for return customers.
Regular price plates: $1-1.50. No happy hour.
---
Fujiyama Sushi Bar and Grill
4124 SE 82nd, Ste. 550
I peeled some green plastic off a smoked mussel. Things didn't look up from there. It won't kill you, but it won't make you stronger.
Regular price plates: $1-4. Happy hour: Mon-Tues 30 percent off, Thurs $1.85 all plates all day.
Sponsored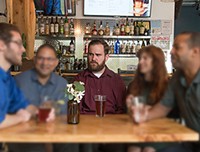 Adults aged 18-35 with good hearing will be paid for their time. Located at the Portland VA Medical Center