It's jamboree time again! Chili Jamboree time, that is—when Portland's best chefs get together and concoct their finest chili for a chance at winning the much-vaunted Chili Jamboree belt! And that's no metaphor: the winner will take home the custom-made, one-of-a-kind Portland Mercury Chili Jamboree belt buckle, which is larger and heavier than all get out. And you get to decide who deserves it most!
Sponsored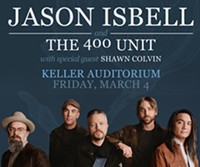 Jason Isbell has established himself as one of the most respected songwriters of his generation. Don't miss Jason Isbell and the 400 Unit, March 4th at Keller Auditorium!
This marks year five of the Chili Jamboree, and if you've already got your ticket in hand, you've got some spicy, savory, slow-cooked goodness in store. (Don't have a ticket yet? What are you waiting for? Head to chilijampdx.com right now and get yours before they're all gone.) Get ready to taste some of the best, most creative chili you've ever had, and vote for your favorite.
The Chili Jamboree is brought to you from our good friends at Nicky USA, and since no self-respecting chili cookoff would be complete without whiskey and beer, we're also sponsored by the fine folks at Jim Beam and Rainier. We've also teamed up with Amberlight Cannabis House to make this year's event extra celebratory.
Of course, every chili cookoff requires a stellar soundtrack, too, and to that end we've got great tunes provided by Mike Coykendall and Kory Quinn and the Quintessentials.
Mike Coykendall is one of Portland's hidden gems, a singer, songwriter, multi-instrumentalist, and producer who's worked with M. Ward, Blitzen Trapper, and far too many other acts to mention. There's a reason Portland musicians call him "Bandpa." Coykendall's own songs are wide-ranging and display his unique sonic imprint, reaching into all the genres that American rock 'n' roll touches upon, from garage rock to folk to psychedelia to country.
Kory Quinn and the Quintessentials are one of the city's best country bands—although "country" is only the tip of the iceberg of what these guys are capable of. They're one of the city's most hardworking bands, too, having played more than 1,600 gigs across the world, bringing Quinn's expertly crafted tunes to audiences in every nook and cranny. Quinn and the Quintessential's latest is the very fine Black Gold Blues EP, which packs the band's uniquely American twang into five terrific tracks.
But what about the chili? This year's Chili Jamboree features 10 amazing local chefs, and their recipes run the gamut, with influences from Japan to China to Hungary to Greece to the Middle East. There's also plenty of homegrown American style chili to be found, from beanless Texas style to Mexican-influenced innovations to even a Cincinnati variety. Here's what the fifth annual Chili Jamboree will deliver to your tastebuds!
---
Ricky Bella, Bit House Saloon
Why settle for chili when you can combine chili and tamale? That's what Ricky Bella of Bit House Saloon is doing, offering up what he dubs a "wild boar chili tamale." Naturally, it'll be a small tamale filled with smoked wild boar, and it's going to be smothered in chili made with Cascade Organic Domingo Rojo heirloom red beans.
---
Gabe Rosen, Biwa/Noraneko
Japan's northern island Hokkaido is reknowned for its incredible seafood, but as Biwa and Noraneko chef Gabe Rosen tells us, it's also the only part of Japan that embraces lamb as a staple of the menu. "All of the food in Hokkaido is way better than it is anywhere else in Japan," Rosen says. "Hokkaido is like the Japanese analog to the American West Coast. It's totally the frontier, unbound by tradition. This is where Japanese go to get away from 'traditional' Japan." Inspired by the island's cuisine, Rosen is bringing a Hokkaido-style lamb chili, with lamb (of course), peppers, beans, beer, and miso.
---
Keith Morris, Coopers Hall
Goulash and chili are distant cousins, and for Coopers Hall's entry, chef Keith Morris has put together a dish that shows how Hungarian cuisine, with a few tweaks, can turn preconceived notions about American-style chili on their ear. He's making a pörkölt, a Hungarian dish that is a descendant of goulash (gulyas in Hungarian) but typically served drier and with less sauce. Morris' pörkölt is made with braised pork cheek and includes pickled gypsy pepper, dill crème fraiche, and crispy and creamy polenta.
---
Johnny Ricci, Dots Cafe
"My chili is a favorite recipe that my drinking buddies and I make at least once a year," says Johnny Ricci of Southeast Clinton standby Dots. "It's got a little bit of everything. No rules." What that means is lots of meat, lots of beans, and lots of spice. Ricci adds, "And like any of my drinking buddies, it's got a few beers and plenty of whiskey in it!"
---
Rick Gencarelli, Lardo
Bringing a Hellenic flavor to the jam, Rick Gencarelli of the Lardo sandwich shops dubs his chili "Greek Tragedy." But the only tragedy is if you miss out on tasting it, because it's made with smoked lamb ribs and fried lamb's tongue. With the addition of tzatziki sauce, this one has the potential to rewrite history.
---
Anton Pace, LeRoy's Familiar Vittles
Our hosts at Landmark Saloon share their phenomenal patio with barbecue joint extraordinaire LeRoy's Familiar Vittle, which means chef Anton Pace is playing on his home turf. He's whipping up a traditional Texas red chili, which means beef, tomato, chilies, and more heat than the Rio Grande valley in July. No extra fuss. Pace is twisting his Bowie knife a little, too, adding that his concoction is "made from the tears and dreams of Dodger fans."
---
Matt Vicedomini, Matt's BBQ
Chili goes with everything—burgers, cheese fries, macaroni, you name it. It even goes with tacos, which is why Matt Vicedomini of the much-esteemed Matt's BBQ food cart is bringing tacos into the Chili Jam mix. It's a welcome addition. Vicedomini's chili taco is made with smoked pork belly from his terrific smoker and served on a fresh flour tortilla. No spoon required, but you'll probably want to lick those fingers.
---
Ryan Day, Podnah's Pit Barbecue/Wayfinder Beer
It wouldn't be a Chili Jam without some Cincinnati-style chili, that most unorthodox of American-style chilis. Ryan Day of Podnah's is serving one up, and although the details are a mystery, Cincinnati chili has been known to include outrageous ingredients like cinnamon, chocolate, and noodles. Before you scoff, keep in mind that Day took home the prizewinning Chili Jamboree belt in 2014. He tells us, "I guarantee that this chili will be better than the football teams in Ohio. I know that's not saying much, but it will be delicious!"
---
Jenn Louis, Ray
Bringing a Middle Eastern element to this year's Chili Jam, chef Jenn Louis and her team at Ray are bringing a Persian-style dish to the competition, with ingredients that show just how versatile chili can be. As Ray's chef de cuisine Sara Woods tells us, "Our chili this year is going to be ground chuck and scarlet runner bean Persian chili with dried limes and Soom tahini."
---
Anh Lou, Tapalaya
Hold the beans—Tapalaya chef Anh Lou says her chili "will be like Texas meets Louisiana meets a Chinese restaurant." It'll include beef brisket, ground pork, and Andouille sausage, so meat-eaters will be in heaven. Plus there's five—that's right, five—types of chilies, some tomatoey goodness, and five-spiced "frontons," which Lou says are fried wonton wrappers cut into strips like Fritos. It's all topped with shredded cheddar and green onions. Who needs beans?
---