An 11-story, 179-room lifestyle hotel is in the works for a downtown corner that's currently home to one of Portland's favorite food cart pods.
Benjamin Graves, the CEO of Minneapolis-based Graves Hospitality has confirmed that his company is teaming up with Marriott to build a Moxy-branded lifestyle hotel at the corner of SW Alder Street and 10th Avenue.
Right now, the lot is home to Food Koma, The Dump Truck, and Nong's Khao Man Gai, among others.
Graves says that his company had been looking to expand into the Portland market for the last 18 months, before ultimately choosing the parking lot at the corner of Alder and 10th that's owned by the parking magnates of the Goodman family, which owns several parking lots in the downtown core.
The lot has long been zoned by the city for just such a project.
Construction for hotel projects generally take about 15 months, Graves says, adding that it's his hope that crews could break ground as early as April 2018.
Graves says the project will go through the design review with city planners in the next two months. He's hoping the city will sign off on a plan where the hotel's lobby, which will seat about 130 to 150 people, will double as a bar. The idea, he says, is for guests to check in at the bar, where the concierge-bartender will offer them complimentary drinks after a long flight.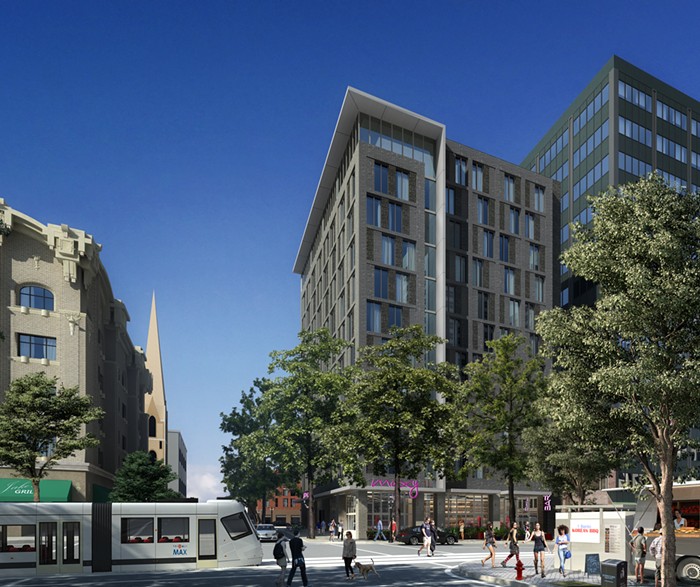 The hotel won't serve food, but it does plan to incorporate local vendors into the hotel's operations. Graves says if the city signs off on the design, he hopes to lease out his loading dock to four or five food carts who can tend to the eating needs of the hotel's guests, as well as people wandering the sidewalks outside the hotel in search of lunch or dinner. Think of it as a small de facto indoor-outdoor food hall.
Nong Poonsukwattana of Nong's Khao Man Gai says she recently learned of the development and is already shopping for another downtown location.
Stay tuned.