I was wondering: Can I die from eating cheese bread? The thought partly arose from the fact that I'm genetically predisposed towards high cholesterol levels, but also because I can't seem to stop eating the khachapuri, or Georgian flatbread, at Kargi Gogo. I imagined my doctor's look of horror as I tucked into another bite of pure, rich joy.
Sponsored
Sketch comedy troupes from all over N. America descend on The Siren Theater for 3 glorious nights.
Stuffed breads are a specialty of Georgia (we're talking the country, if you weren't sure), as well as Kargi Gogo—once a food cart and now in the former Big Egg space on Alberta.
The cheese bread ($8) is a classic, and my favorite dish due to its simplicity, though the acharuli ($12) adds an egg and butter if you want to upgrade to the sumptuous, deluxe version.
There's also a spinach and herb khachapuri ($11), which still has cheese but is brightened by the savory veg flavors. The lobiani ($8) consists of slow-cooked beans and pepper, and has a beguiling smokiness that I'd like to try more of in the coming cloudy months. I didn't get to the kubdari ($11), which is the meat option with minced beef and pork.
Though the bread isn't dense—in fact, it's light and surprisingly crispy, almost pizza-like—these things fill a dinner plate, so either go easy or share one, as you'll want room for Kargi Gogo's other specialty: dumplings. Known as khinkali, they're basically twisted lumps of dough stuffed with various fillings. The mushroom, herb, and garlic version was a bomb of flavor ($8 for three). Holding the dumpling by the neck, the idea is to bite into it while sucking the juices out (you don't want to waste any of that precious nectar).
The day's special, which during one visit had a filling of potato, cheese, and leek ($9), had less "geez, gadzooks" about it. It didn't manage to surpass the sum of its parts, though the parts were all good. It also came in a bit dry, but this was soon remedied with a side of adjika ($1), a housemade condiment. As a warning, the red one is salty, spicy, and only for those who go around slathering hot sauce on everything. (You can also cool the situation down with yogurt and sour cream dips.)
Seasonal sides make up the rest of the menu. I spurned the summer salad ($7) and went for the trio of pkhali ($7), consisting of tasty hummus-like spreads made from spinach, beet, and leek. There was more bread on hand, if needed, to scoop it up.
The badrijani ($7), meanwhile, was deceptively simple. Eggplant was wrapped around a paste of walnut and garlic, which doesn't sound especially mouthwatering, but the precision of the cooking brought out the best in the ingredients. It's not something I say often, but they really nailed the eggplant.
I love that you can get Georgian wine by the glass here. It's not commonly found around town, especially by the pour, so it's a treat to be able to sample red, white rosé, and orange. Georgia boasts thousands of years of winemaking history and produces some of the most alluring wines around.
Intriguingly, they also have Georgian sodas. Go for the lime mint as it does a fair impression of a refreshing (non-alcoholic) mojito, or try a Borjomi mineral water that has a vivid, salty taste and a reputation as a hangover cure.
I can't speak to the authenticity of the food, though I've seen the Kargi folks serve Georgian winemakers without complaint. My only quibble is that I wish there was more variety on the menu. Most of it is devoted to bread and dumplings, which can get carb heavy, and cheese crops up everywhere—fresher dishes would help balance the richness. I like it when places focus on what they're good at, but I—and my doctor—would still like to see what else Georgian food can be.
Sponsored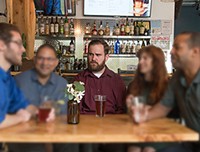 Adults aged 18-35 with good hearing will be paid for their time. Located at the Portland VA Medical Center