Portland's beer scene is completely saturated, and that's putting it mildly. The Rose City's density of breweries verges on ridiculousness, with multiple neighborhoods boasting three, four, or even five brewpubs within a stone's throw. So it's an understandable temptation for out-of-town beer makers to jump into the Rose City's highly competitive market and see if they can run with the big dogs.
Sponsored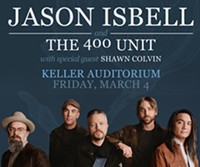 Jason Isbell has established himself as one of the most respected songwriters of his generation. Don't miss Jason Isbell and the 400 Unit, March 4th at Keller Auditorium!
Mikkeller is the latest carpetbagger to try its hand with Portland drinkers. The nomadic brewery, with roots in Denmark, is shipping up beer from San Diego—one of several brewing locations the company has around the globe—and serving them at a pop-up in the former Burnside Brewing space. The temporary pub opened to eager crowds during Portland Beer Week in June and will remain through the end of 2019, with the possibility of launching a permanent brewing facility.
With ample outdoor seating and a centralized location just east of the Burnside Bridge, Mikkeller has plenty going for it. But the beer, which arrived in Portland to no small degree of hype, simply doesn't stand up to the rabid esteem it has cultivated from beer nerds around the world. Mikkeller's adventurous tweaking of established beer styles and forging new ones comes off as little more than quaint in a city packed with master brewers.
A recent sampling of Mikkeller's lengthy beer menu resulted in little to recommend. The best of the bunch was their Windy Hill hazy IPA, showcasing the style's expected tropical and citrus notes and a cleansing finish. The Passion Pool gose was a decent, not-too-sour foray into the style, and their Building Blocks unfiltered lager could make for a session beer in a pinch.
But their Ripple Effect IPA was a weirdly vacant stab at a style with which Portland's already spoiled for choice. And their line of Beer Geek stouts—five different ones, in varying degrees of strength—failed to impress, with overbearingly intense flavors that seemed, perhaps fittingly, geared toward beer geeks whose palates have long since been demolished by the burly, over-the-top flavors of imperial-strength and bourbon-aged novelties. Worst of all was the Brut IPA, whose metallic flavors overpowered all other elements.
---
A globally regarded cult brewery and a little-known one from Salem have each opened up shop in Portland. Which one's worth your time and money?
---
Here's the good news: A far less flashy but much more consistent brewery has also opened a Portland outpost in recent months, and while it will never attract the same amount of hoopla as Mikkeller, this carpetbagger is already more than holding its own against the city's standbys.
The brewery is Vagabond Brewing, which opened in Salem in 2014; the new location—inside the Dairy Building next to the Darigold production facility near the east end of the Ross Island Bridge—is their fourth pub and first venture in Portland. Just a jump away from the Clinton/SE 12th MAX stop, Vagabond Portland has parking and outdoor seating, but be sure to go inside and take a look at the 1958 Cessna 310B airplane hanging above the bar. A seven-barrel brewhouse is due to break ground at this location in the coming months, but for now Vagabond's beer comes up from Salem.
And it's very good beer. The Tropical Helles Lager is crisp, sweet, and affable, and the Travel Buddy ISA is a perfect session beer, with a succinct hop finish and a low-alcohol content perfect for compulsive drinking. The Justice Brew NE IPA, a citrus- and guava-flavored hazy, is appealingly wax-yellow and punchy, while the Master Shake NE IPA adds lactose for a tangy, sour twist on the hazy style. The seasonal Farmhouse Ale is peppery and earthily deep, the Outpost Pale is sharp and dry, and the NW Passage Stout is smoky and intriguing, with a hearty coffee twang. The only beer we found less than great was the On the Road Red, whose malty caramel sweetness ran a bit too rampant.
Vagabond's food—from chef Victor Deras, formerly of Olympia Provisions—is excellent, too, with some brewpub standards and a few welcome left turns. The elote, a very dirty and delicious cob of corn, is a must, as is the shrimp ceviche, and the fish and chips—battered trout served with the head on—passed muster with a British member of our party. Vagabond's fried chicken sandwich offers spice and vinegar, while the rainbow melt vegetarian sandwich is appealingly pickle-y.
With superb beer and food and a casually inviting setting, Vagabond may never be the mold-breaking hotspot Mikkeller was designed to be, but it's an exponentially more satisfying experience, with beers of subtlety and complexity served in the kind of laidback pub you wouldn't mind wasting a lazy afternoon in. Portland has a lot of these types of places, sure—but Vagabond proves that, when they're done this well, there's always room for another.