All the squeeeeeee noises in the world aren't enough to capture how painfully adorable every last thing is at Soro Soro Coffee & Dessert.
Sponsored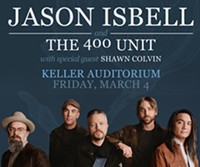 Jason Isbell has established himself as one of the most respected songwriters of his generation. Don't miss Jason Isbell and the 400 Unit, March 4th at Keller Auditorium!
The cheesecakes have kitten faces. The chocolate Earl Grey cake—a splash of ganache frosting with googly eyes—looks like a sprite from Spirited Away turned into a confection. Oat milk and matcha lattes are served on a wooden tray, with fluffy smiling bears traced into the foam on top and a single cream puff on the side.
Calling food #instaworthy is lazy writing, but I will say I'm guilty of taking about one million selfies of me with their miniature chocolate cheesecake adorned with ears as I sip thyme-infused black iced tea through a pink heart-shaped straw. And there's no way you won't be tempted to video yourself pouring espresso over the snow affogato ($8.50): a two-foot-high pile of white cotton candy over a bowl of vanilla ice cream, which slowly collapses as the bitter brew trickles through the sugar. It's all sooooo cuttteeee aguggghhh I can't stand it.
It's also really good.
Soro Soro is the work of Tae Kim and his wife, Bobae Choi, both Korean natives in their mid-30s who emigrated to the US and ran similar cute cafés in Arcadia and Cerritos, California. In 2017, they sold the business and hopped in an RV to tour the US for five months. They landed in Portland, Kim says, because they liked it best.
The couple had their sights set on Beaverton to open their new Soro Soro, but Kim says they couldn't find a spot, so when they found a space at East Burnside and 22nd, they jumped. And by opening in the heart of trendy East Burnside, they tapped a nerve: Each time I've visited, the café has been filled with families, study-abroad students, and enchanted neighbors.
"It's been really hot," Kim says, adding that the couple have put some new menu items on hold while they adjust to the crowds. "We knew there will be some customers who like cute design lattes, but it was a lot more than our expectations."
Drawing from Korean café culture, there are sweet milk teas with assam or Earl Grey; espresso drinks made with Stumptown beans; and iced, hot, and honey tea options. The desserts, all designed by Choi, trend toward subtle, not overly sweet flavors (except that snow affogato, but that's sugar melted onto ice cream).
That subtlety makes it surprisingly easy to eat an entire small cheesecake ($7) or that Earl Grey chocolate cake ($6). In a few other cases, the results are just a touch flavorless, like a sweet potato cake ($7.50), or the six-layer rainbow cake ($6.50), each layer dyed an intense hue and topped with a frosting cloud.
Soro Soro's space is also painfully adorbz, with little cat figurines and paintings tucked into nooks in the open, white-walled space. It would have been easy for Kim and Choi to create a style-only space to bring in the influencer demographic, but from the personalized service, extra touches, and tasty creations, they've provided a lot of great substance, too.