In a city spoiled for choice in the brewery department, it's never easy for a new place to distinguish itself from the crowd. There are already more than enough joints in Portland that offer endless taps full of good, small-batch beer, served insanely fresh at inviting locations. You probably have a creeping backlog of spots you've been meaning to check out—I certainly do.
Sponsored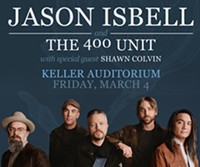 Jason Isbell has established himself as one of the most respected songwriters of his generation. Don't miss Jason Isbell and the 400 Unit, March 4th at Keller Auditorium!
Even with all this taken into account, Away Days Brewing Co. stands out. I realize your backlog is looming, but really: Make time for a visit.
Away Days takes over the space just off Southeast Hawthorne that was previously occupied by Scout Brewing (who are still going strong at the Lot at Scout on Southeast Division). The new proprietors are Niki Diamond and Pete Hoppins of the Toffee Club, the British-themed soccer pub next door; their team also includes bar and brewery manager Jack Hoppins, and David Carbo, who runs the kitchen shared by both pubs. The beers are made by Marshall Kunz, who formerly brewed for local stalwart Alameda Brewhouse before it closed in November 2018.
The Toffee Club's soccer theme has been carried over into Away Days—the name itself refers to when a footy club is scheduled to be on the road—but the traditional English pub vibes have not. Instead, Away Days achieves a more continental feel, echoing soccer's transglobal appeal with a nonspecific sparseness that could either be Scandinavian or South American. Bright white walls are offset by gentle accents of color. A cartoon mural mapping North America and Europe overlooks a foosball table, and a garage door opens up the west wall so that a nifty little bracket-shaped bar can be wheeled outside onto the sidewalk. There's also more permanent outdoor seating, lending a streetside café ambience that contrasts with the clear-cut functionality of the taproom inside. It's an absurdly appealing space, and while the seating—predominantly backless stools—doesn't necessarily stimulate you into hunkering down for a multi-hour bender, it does effortlessly invite contact and conversation with the pub's other patrons.
Kunz is making (relatively) low-alcohol beers designed for session drinking. I could not locate a single dud on the tap list, which ran nine beers strong on a recent visit, plus the Liverpudlian-themed (and ingeniously named) Mersey Cider for good measure. Two beer engines dispense cask-conditioned ale—although only one was pouring on a recent visit—and the beers ranged from English-style sippers, hop-forward Northwest ales, and Euro-German lagers.
I was charmed by their Deadline Day Fresh Hop IPA, a lively, complexly herbal beer that didn't get too bitter; I also loved the cask-conditioned presentation of their bright and smooth Gareth Pale. Their lagers were all keenly on-point for the style and were satisfyingly drinkable, too—particularly their ultra-clean Klassiker Helles and their golden Festbier, which emulates what Germans actually drink during Oktoberfest as opposed to the malty marzens brewed primarily for export. The Post Match Pilsner, meant to evoke everyday beers brewed in Italy, was concise, easygoing, and thirst-quenching, while the Bus Stop Bitter was surprisingly smoky while not being overly astringent (the misleading "bitter" name, of course, comes from the days when an English pub's primary offerings were named in relation to each other: mild or bitter).
The presence of cask-conditioned beers and an embrace of continental lager styles signify that Away Days is capable of filling a gap in the market—one that extols the virtues of old-world beer styles and their integration into everyday life. While some Northwest hop-forward recipes are present on the beer list, Kunz's renditions are subtle and subdued; for instance, the Picture Perfect Hazy Refresher tops out at an almost shockingly low 3.7 percent ABV. Fans of high-octane, double, bourbon-barrel-aged, or otherwise behemoth-sized beers may not find what they're looking for, but virtually everyone else will. Better yet, Kunz has put his own stamp on these styles, none of which mimic existing, better-known beers.
Away Days' food menu is short but to the point. A variety of sandwiches include a harissa-laden doner kebab wrap ($14); a Scandinavian smørrebrød of brie, vegetables, and either ham or sardines on toasted rye ($12); and Spanish chorizo on a baguette ($14). Snacks include chicharrones ($3), pâté ($7), tinned sardines ($7), and a recent special of Gouda cheese fondue ($9). It's all meant to line the belly rather than wow the palate.
In all, it's a fantastic spot. The place feels equally homey during a slow, sunny Friday afternoon and on a crowded Sunday during a Timbers game, with Toffee Club overflow filling the stools. This is a city downright lousy with breweries, and the newest ones often try to make themselves noticed by making the biggest splash possible. Away Days proves that modest charms and well-made beer are all it takes to stand out from the pack.