By last count, I ate approximately ELEVENTY MILLION meals and snacks on the streets of Portland this year, and frankly, even a lot of very excellent food can become a blur. But here are five things I ate in 2019 that I can't stop thinking about—and that you should try as well.
Sponsored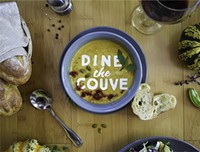 Experience the bounty of northwest flavor with special menus at Clark County restaurants all month.
---
Everything at Eem
Eem is the restaurant equivalent of Lizzo: infectious, critically and commercially acclaimed, and addictive AF. By far the best new restaurant to open in 2019, this North Williams Thai barbecue venture from Earl Ninsom (Paadee, Hat Yai, Langbaan), Eric Nelson (Shipwreck), and Matt Vicedomini (Matt's BBQ) has raked in crowds and accolades. You cannot go wrong in ordering, from the hot fried cauliflower to the divine brisket in white curry to the fried rice with burnt ends. And both the cocktails and mocktails are some of the best in town—my favorite piña colada, made with coffee and salt to keep it from being too cloying, is on the menu again. (eemportland.com)
---
Red Oregon Octopus at Erizo
Erizo is deeply ambitious, with chef/owners Jacob Harth and Nicholas Van Eck traveling to the coast each week to hand-harvest much of what appears on their tasting menus. In July, I had the best bite of octopus I've ever had: a red Oregon octopus that was a bycatch of crab and cod fishermen in Astoria. The limbs were blanched repeatedly, grilled over a fire, and then fried, served over a romesco-style sauce of puffed rice grown on Sauvie Island. The smoky octopus was somehow made more tender while becoming denser in texture and concentrated in flavor, with crispy bits on the outside. Perfection. Both Harth and Van Eck are still in their 20s, so I can't wait to see what they achieve in the future. (erizopdx.com)
---
Snow Affogato at Soro Soro Coffee & Dessert
Soro Soro is debilitatingly cute, with its tiny bear-face cheesecakes and adorable pink, heart-shaped straws. But the owners, Tae Kim and Bobae Choi, somehow manage to make the fluff substantial too—especially in the case of the snow affogato, a towering cloud of spun sugar served over a bowl of vanilla ice cream, melted down in a dramatic fashion by hot Stumptown espresso. It's an instant icon. (instagram.com/cafe_sorosoro)
---
Ordering a Mess of Food at Yonder
Yonder opened in the spring, and owners Maya Lovelace and Zach Lefler have been tinkering with the format since, moving from counter to table service, and getting their haute Southern dinner series Mae back up and running. I've been more times than I can remember this year, and my favorite time was rolling in with a crew of eight, and just going to town on the classic dusted fried chicken, piles of hushpuppies, filets of spicy catfish (this is the best fried fish in town), pimento mac 'n' cheese, topped off with a gorgeous chocolate layer cake with cacao nibs. I moved a queen-sized mattress after that dinner and almost barfed and passed out. Worth it. (yonderpdx.com)
---
Braised Elk Shoulder at Bullard
Doug Adams' Bullard, inside the Woodlark Hotel, is one of those spots that's sure to please anyone you send there. From Sunday smoked fried chicken to a Texas red tamale that's full of flavor, it's a treat. For now, my favorite dish is back on the menu: a braised elk shoulder, tender and exceedingly succulent, piled over pillowy mashed potatoes and mushrooms, and dusted with ample black truffles. It's winter padding food at its finest. (bullardpdx.com)
Sponsored
This 9th floor patio boasts stunning views of the city, three mountains, and Portland's West Hills.